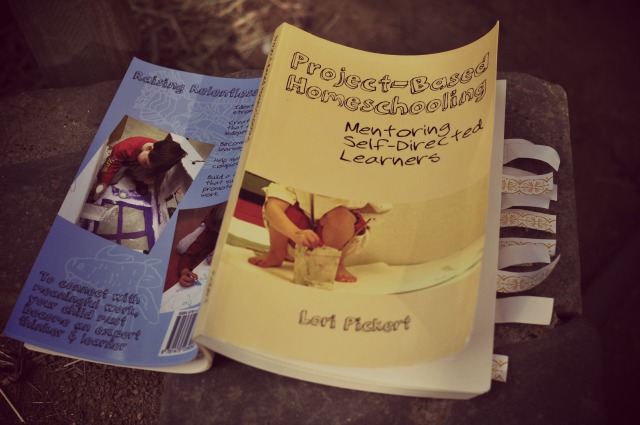 Often, when I talk to fellow parents about how we homeschool, I hear things like this:
"What do you mean, you follow your kids' interests?"

"My kids aren't interested in anything."

"How do your kids come up with projects?"

"I need to tell my kids what to do or they don't do anything."
These are complex questions and statements to respond to. I can't explain in a few sentences how we got to this point in our homeschooling; there are so many underlying beliefs and habits that have brought my family to our ways of doing things. Which is why, for several years now, when it's too much to explain, I send folks over to Lori Pickert's blog, Camp Creek. Lori is a master at this project-based homeschooling thing and she explains it very well.
And now she has a book: Project-Based Homeschooling: Mentoring Self-Directed Learners. Now when people question me, I can foist a book on them!
There is so much that I love about this book. Allow me to entice you with a few quotes.
"This book is not a recipe for how to homeschool that you can confidently follow to bake up a nice loaf of educated child."

"When we talk about project-based homeschooling, we are moving beyond knowledge and skills and probing underneath for the machinery of learning. We are thinking less about the specific facts that will be learned (radius of Mars, exports of Peru) and more about what makes a person want to learn and how we can help them become adept at doing the things they want to do."

"Never think that 'playing' doesn't count as real learning, no matter how old your child is. Play enhances learning. Play reinforces learning. Play is how your child begins to use what he knows in a real way. Play is how children learn."

"Hopefully, everything you want for your child, you also want for yourself: intellectual curiosity, playful learning, passion, and purpose. Let your life reflect your values, because your child will take his most serious lessons from the way you live."

"Many parents and teachers agree readily that children have these abilities (inventive thought, decisive action, perceptive connections), but they want to believe they can (and perhaps should) blossom naturally with no interference from adults…Many parents want to believe it will happen if their child has adequate free time. They hope their child will drift naturally away from the TV set and the video game console toward literature, nature, and science. They know that their child is intelligent and creative, and they expect –or hope– that deep thinking, rich exploration, and a strong work ethic will follow.

We can do better than that."

"The goal of project-based homeschooling is to support your child so he can direct and manage his own learning. The focus is on his interests and his ideas. You create an environment and provide the tools, materials, and support he needs to make his ideas happen."
Do you get a sense of where Lori is going with this? This is a book about helping kids find and develop their interests. It's about dedicating time in your day to fostering your kids' projects. It's about helping them become confident, independent researchers and (I love this phrase) relentless learners. It's about learning how to mentor your kids, rather than teaching them, or simply deferring to them. It's about cultivating a family culture and environment that invites and encourages authentic, meaningful work.
I wish I'd had this book when we started homeschooling, fifteen years ago. Funny thing is, our homeschooling evolved into something very much like what Lori proposes–but it took a long time. It took a few years of draining the former schoolteacher out of me. And while I recognized the power and importance of my kids' interests early on, it took time for me to allow those interests to take prime real estate in our homeschooling lives. I had to work through all my wonderings about whether there was a place somewhere in between traditional school learning and radical unschooling that would work for us. I had to figure out how to hold on to the habitual learning time that seemed satisfying to my kids and to me, while still encouraging creativity and kid-directed learning. The entire process was a slow evolution. If you've ever read my how we homeschool post at the top of this page, you know what I'm talking about.
If I'd had Lori's book fifteen years ago, we could have avoided lots of frustration, arguing, missteps, wasted time and pulled-out hair.
Lori digs in with lots of detail: how do you help kids discover their interests; what might a project look like; how do you set up a space to foster learning and independence? She answers these questions, but she also shovels deeper into the underlying family values and habits necessary to cultivate project-based learning. Lori writes, "This book posits a simple idea–that children need the opportunity to direct and manage their own learning–and then suggests ways that we adults can help them do that." The book suggests many ways, many specific possibilities, often in sections labeled things you might do. It offers suggestions for where you might begin, but it will also inspire you and your child to find your own way.
This book is nothing like a curriculum; instead it's a revolutionary vision of how kids can learn–and an idea book for making that learning happen.
Even as a parent whose family has embraced project-based learning for many years, I learned as I read this book. I finally recognized, for instance, that when I check out armloads of library books on my kid's chosen topic of interest, and bring them home for the kid's perusal, I'm denying him an important learning opportunity. My kid should be researching those books and selecting the most interesting ones at the library himself. How can he become an independent learner if I'm the researcher? I also appreciated Lori's ideas for setting up a work space that makes tools and supplies accessible and inviting for kids. The desk we set up in Mr. T's room–a room where he doesn't spend much time at this point in his life–isn't really cutting it. I'm excited with the notion of having T help design a space in our downstairs office that will better serve his beloved drawing, diagramming and computer research.
I have never read another writer of homeschooling matters whose approach aligns so closely with my own beliefs and experiences. And trust me, after more than fifteen years, I've read a lot! While Lori writes about learning in general, and I tend to focus on learning to write, I think we promote similar ideas. Lori writes that to discover kids' interests, you should look at what they're already doing; I say to help kids find engaging writing fodder you should pay attention to what they yammer on and on about. Lori writes about the importance of a family culture, "the combination of your values and your habits"; I write about the importance of raising kids in a literature-rich, word-loving home. Lori encourages parents to find their own meaningful work and "do as much of it as possible"; I tell parents that if they want to help their kids with writing, they need to write themselves.
Quite honestly, if you read Lori's book, you might not need to read my blog at all. After all, I've been telling parents that if you want to encourage your kids to write, you need to help them find meaningful, authentic reasons to write. If kids grow up learning through Lori's style of project work, meaningful, authentic writing will likely be built right in, a part of the process. The kids' writing will develop organically.
Dang it all, I may be sinking my own project. But still I'll say it: you should read Lori's book. It describes the sort of learning I think every kid should experience. And it gives you the tools to make that kind of learning happen.