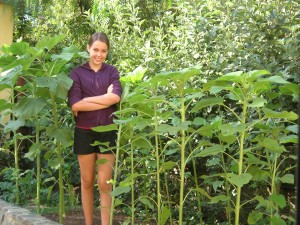 I post this photo of our sunflower-house-in-progress* to mollify My Waldorf Guilt.
Long ago–so long ago–when H was a bald baby with a big head, I read about Waldorf. There were so many things I loved about Waldorf education–the focus on play, and handiwork, and the ebb and flow of the seasons. The way it values the imagination. As a former public school teacher, I had questions too–methods of learning for older kids seemed somewhat unprogressive; technology seemed to have no place in the curriculum.
As I made our home a learning place when the kids were young, I included lots of Waldorf-ish things–wooden toys, instruments, garden tools, book with fairies and princes, and copious, copious craft supplies. But somehow other things managed to sneak in through the backdoor, things like computers and (shudder) gaming systems.
And that's when this little creature I call My Waldorf Guilt began to sit on my shoulder and taunt me, to whisper how much I have failed.
Lots of items call forth My Waldorf Guilt. The storytelling book in the hallway that I was sure would transform me into a great storyteller—though I have yet to tell my kids a single story. The wooden kitchen that gathers dust in Mr. T's room, the one that once found its way into so many of H and Lulu's games, but sits waiting for me to "play restaurant" with my boy. The space on the counter that would be such a lovely place to display seasonal treasures—but instead has become a repository for laptops and iPods and all their requisite cords.
The computers have been an issue since H was three and my parents bought him a Richard Scarry computer game. H would gladly have spent hours maneuvering Huckle around Busytown if I would have let him. But I didn't let him. I went on to spend years monitoring his computer use—trying to limit the time spent in passive entertainment, to give free reign when the computer was used as a tool. My Waldorf Guilt nagged at me when he played too much Age of Empires; I told it to shut up when H used the computer to write stories, to record music, to make movies.
Almost all H's creativity is connected to the computer these days. He's taught himself to podcast, to record soundtracks for his films, to use professional film editing software. I'm glad I listened when he argued for more computer time; sometimes kids know what they need.
But I'm sure kids don't need gaming systems. I've stayed stubborn on that one for years. But this past spring the kids wore me down after they played on a Wii at a neighbor's house. They needed one. They would pay for it themselves, they insisted. They would be moving when they played, instead of sitting at a computer! It would be a fun thing for the family to do together! Something H could do with his brother, ten years younger! And knowing their mother, they promised to monitor their time.
I caved. And My Waldorf Guilt screamed in my ear.
I'm not so concerned about the Wii for my sixteen and twelve-year-old. But having my six-year-old grow up with a gaming system puts My Waldorf Guilt on overdrive.
Still, I want to listen to my kids. If they're willing to work with me and all my limits, I need to work with them.
And the Wii hasn't been so bad. After an initial week or so of gorging on gaming, their play has been reasonable. But the one thing that still gets My Waldorf Guilt hollering is that the stories Mr. T tells are now filled with characters named Mario and Luigi.
Sigh.
I argue back at My Waldorf Guilt, taking on the role that H has always taken with me: Mr. T's characters may be named Mario and Luigi, but the stories are all Mr. T's. Pure, unrestrained, stream-of-conciousness imagination. And quite honestly, the stories themselves would no different, even if the characters had Waldorf-y names, like Little Pip Acorn or King Beetle-Tamer.
Oh, My Waldorf Guilt. Surely the saga will continue.
* The sunflower house is "built" by planting sunflower seeds in a rectangle–don't forget to leave a door! At the same time, sow morning glory seeds around the sunflower perimeter. As the plants grow, thin the sunflowers to about 2 feet apart. The sunflowers will grow up; the morning glories will wrap around them. When the sunflowers are near maturity and the vines are reaching their heads, wind twine back and forth, from one sunflower head to another, spider web-style, and form a roof. The morning glories should crawl across the twine, forming a glorious roof of green and morning-glory-violet. I'll post photos if ours works. Here's where we learned how to do it.
(Edited to add: this early post inspired a collection of similar posts, which fellow guilty folks can now find by heading over to the my waldorf guilt category.)