homeschooling
Hey there! Are you a homeschooling parent? An educator? A parent who likes to think outside the box when it comes to kids and learning? Someone who wants to help kids love writing?
I have many posts here that might interest you.
I homeschooled my three kids for twenty years. Before that, I was an elementary school teacher. (Although my teaching experience did not exactly prepare me to be a homeschooling parent; it was more often a hindrance than a help. My kids helped to beat the schoolteacher out of me, as you may discover in many posts here.)
Those kids appear here, although without their real names, or too many revealing details. They're 25, 22 and 16, and don't want web searches of their names to lead to their mama's blog. They all homeschooled from the start. H until he was sixteen, when he decided to go to high school as a junior. He started making films as a teenager, studied film in college and is now pursuing life as a freelance cinematographer in Brooklyn. Lulu homeschooled until high school. The girl was born knowing her own mind; now she's in college, pursuing individualized studies not far from her older brother. Mr. T attends high school these days, while trying to keep time in his schedule to design role-playing games, and create vast invented worlds.
I describe how our family approached homeschooling in this post.
There are many posts about child-led learning here.
At a certain point in our homeschooling life, my own experiences teaching myself to write dovetailed with what I witnessed as my kids became writers. I developed some fairly radical ideas about how kids really learn to write, summarized in this post—which must contain something worthy along with the radical, as it's gone somewhat viral.
For several years I wrote posts on kids and writing, planning to write a book on the topic. Although I've put that project aside to write a memoir of our homeschooling life, you can find those posts collected here.
Among those writing posts are two specific series: one on taking dictation from kids (also known as the best way to help a reluctant writer of any age!) and another on becoming a writing mentor to your child.
I'm a huge fan of using writer's workshops to motivate kids to write—and I wrote a book for parents so you can facilitate a workshop too. Easy-peasy, and your kids are likely to love the workshop and writing—even if they don't enjoy writing now.
You can read other posts on our homeschooling life by digging through the archives, or searching the tag "homeschooling."
Over time, my writing here has slowly shifted away from how-to style posts directed at homeschoolers to more essayistic musings on writing and life in general. Nevertheless, I hope you'll consider reading along. I often share stories about my grown kids; if you're in the thick of homeschooling right now, it might be useful to get a sense of life on the other side. (Spoiler: it's exciting for all parties!)
For a few years I wrote a quarterly homeschooling column for home/school/life magazine. You can read my first column online here–if you haven't discovered the magazine, it's wonderful.
Please consider subscribing to the blog, here! You'll receive an email whenever a new post goes up, rarely more than once or twice a month–and I never share email addresses, promise. I hope you'll join us in the comments section of each post. I get giddy encouraging fellow homeschoolers, so say hello and hit me with your questions! I don't have all the answers–no way–but I'm always a sucker for the conversation.
xo,
Patricia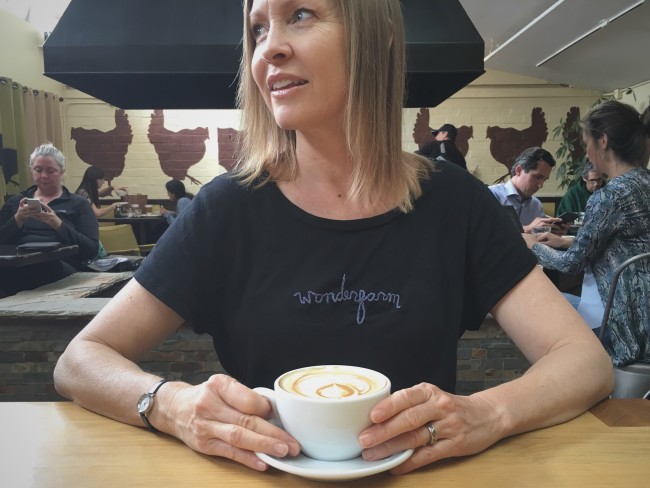 T-shirt embroidered for my birthday by my ever-crafty girl