So Lulu and Mr. T want to learn about China. Here's their brainstorming list:
learn to write in Chinese symbols with ink
read about Chinese goddesses and myths
write a Chinese version of an American Fairy tale (Lon Po Po comes to my mind)
learn the history of chopsticks
research and prepare Chinese food ("Potstickers!" says Mr. T)
learn how to speak some Mandarin
go to China
That last suggestion was from Mr. T.  I explained that such a trip was probably not in the budget this year.
A few more ideas popped into my head:
learn about items invented in China (so many!)
raise silkworms (if I can find a mulberry tree closer to home than the one in the botanical garden from which I guiltily stole leaves when we did this years ago)
make Chinese kites
learn how rice is grown (oooh! I found a great website on growing rice as a houseplant! And my neighbor owns one of the seed supply companies mentioned!)
learn how tea is grown
learn about religion and spirituality in China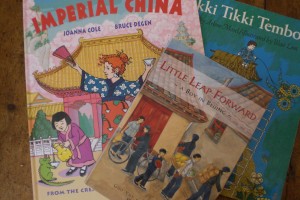 Then Lulu came up with the Best Idea Ever. She wants to write a fake blog about traveling in China.
This would be her second fake blog. Not long after starting a real blog, she and her friend thought it would be fun to write a fake one together, based on characters they play in a movie they've been filming for two years now. No wait, the blog is supposedly written by the fake actresses who play the characters in the movie they've been filming. (Are you following this?) Since the actresses are well-paid movie stars, money is no object. They have purebred dogs, which Lulu and her friend researched online, of course. I believe one of them has an emu. And a few weeks ago, the two actresses decided to take a trip around the world.
Lulu and her friend spent a lovely summer afternoon at the computer, mapping out their trip. They researched how long flights would take, and searched for "quaint little beach villages" on the western coast of Ireland. (How do two young girls use the internet to find quaint beach villages in western Ireland? I have no idea.) They looked for the ritziest hotel possible in Madrid. Lulu insisted I come to the computer to check out her suite at the beach resort where they'll be staying in the French Riviera. She was so pleased with finding the place, you'd think she'd actually be staying there.
Then they started blogging about their trip.
Anyway, when we started talking about Asia, Lulu lit up over the idea of writing an Asia travel blog. Or a fake Asia travel blog. This blog won't be written by a movie actress, mind you; it will be written in the voice of a more lowly, Average Jane. It's a brilliant idea, if you think of it.  In addition to lots of writing, Lulu will incorporate photos–both hers and ones found on the internet. She'll link to interesting websites. She'll do all sorts of research on cities and sites in Asia. She'll be able to take advantage of all the cool features on Google maps and Google Earth.
And it will be much cheaper than Mr. T's suggestion of actually going to China.
Got any good recommendations for a study of China? Do leave a comment!