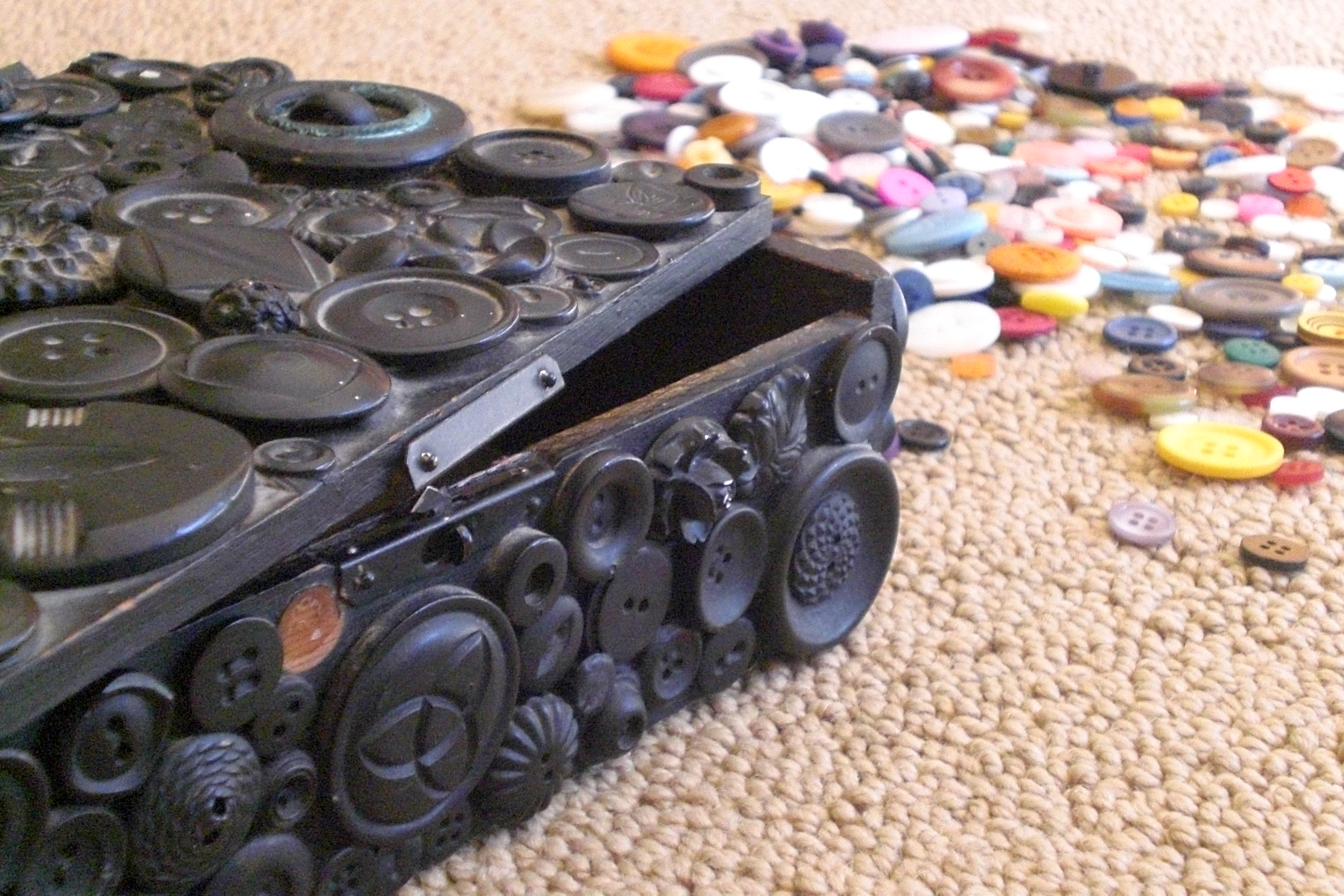 Somewhere along the way, I inherited my grandmother's button box. I don't think I originally appreciated it as much as I do now. My grandmother (I assume) made it from an old cigar box. She covered it with lots of beautiful buttons, and painted it in matte black paint.
There are buttons missing in spots now, and the cover doesn't stay on. And there are a couple of buttons on the top with metal trim that have tarnished green through the black paint. (Could they be made with copper?)
It's not in the best shape, but I love it. 
When each of the kids has been about five, six or seven, we've done math with the buttons in the box. Last week the box came to mind, and I realized it was Mr. T's turn.
We had fun just admiring and playing with the buttons inside. And then he naturally began sorting them, without any prompting from me: buttons with words, buttons that are tiny, buttons in yellow, buttons in shapes other than round.
Today we made Venn diagrams with the buttons. I made two intersecting circles with yarn, and put buttons sharing a particular attribute in one, buttons with another attribute in the other. In the intersection I placed buttons that shared both attributes. Then I asked Mr. T to guess the rule that sorted them. After he figured it out, he made labels for each section.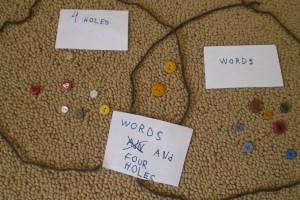 Then it was his turn.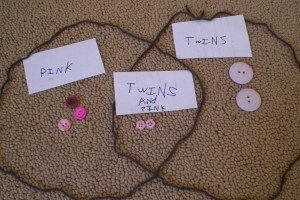 Don't you love how kids personify everything? They're not matching buttons, they're twins.
When we're finished playing with the buttons, I'm displaying the box beside my desk, rather than sticking it back in Lulu's closet. Because not only is it full of my grandmother's history, now it also overflows with memories of playing with buttons with each of my kids.
And because, despite its dilapidated appearance, it's a beautiful box.
(edited to add: Oops! Mr. T labeled that first diagram wrong. It should say two holes, not four. We were having so much fun that neither of us noticed.)