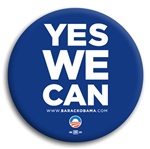 Stole this button from my friend Emily. Cause that's what friends are for. Check out what she did with it. I'm proud to have friends who do such noble work.
My focus for this blog is learning and creativity. I've never planned to discuss politics here. But listening to our next president's acceptance speech the other night brought to mind some past conversations with my kids.
A few years ago, when we studied the Civil War era, we read speeches and quotes by Lincoln. Oh, I thought then, to have a president who could speak with such wisdom and eloquence! It seemed like something from a bygone time. The kids and I talked about this.
Listening to Obama speak, I remembered our conversations. We've elected a president who can move people with his words. He may not be another Abraham Lincoln, but can you listen to him without being stirred? After his speech, as the newscasters yammered on, some talked about his gifts as an orator. They said that in a time of soundbites, he is "bringing back the spoken word".
Can I tell you how much that excites me?
The history-making reasons for Obama's election move my heart. But the fact that we'll have a president who can speak with eloquence thrills my mind. I'm delighted that we've elected a president who seems so, well, presidential.
For fellow word-lovers, check out this short yet inspiring post on the power of words in this election.