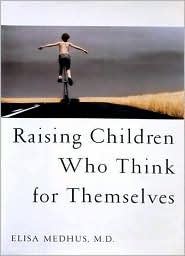 I don't think this book can help me.
I might be interested in a companion volume, however. Something along the lines of Surviving with Children Who Think For Themselves. Or, Raising Children Who Aren't So Dang Sure of Themselves. Or, say, Raising Children Who Think for Themselves but Will Occasionally Toy With the Idea That Their Parents Might Actually Know Something.
Any of you come across a book along those lines?
What parenting book do you wish you could get your hands on? (Come on, folks, that's a call to leave a comment. Indulge me.)