A few of you kind readers have been oh-so-gently urging me to provide a link here to the essay I wrote for Mothering last spring. I've finally done it. You can find it here.
About that title…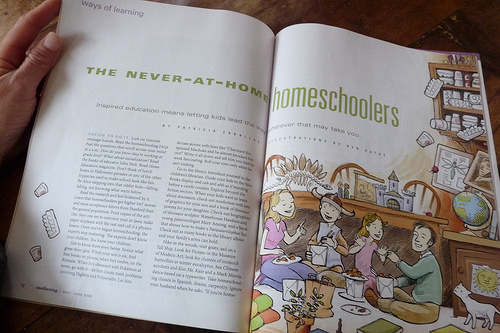 I had, cheekily, submitted the essay with the title "How to Homeschool" since the piece is written in the guise of a how-to-manual. There had been some emails back and forth with Mothering about changes to the essay; one of their suggestions was adding a subtitle to my title, something like One Mother's Instruction Manual.
It wasn't until I saw the published article–while shopping at Whole Foods with Mr. T–that I realized they'd changed the title altogether to "The-Never-At-Home Homeschoolers". The title seemed a little odd to me, since never-being-at-home is only one small part of the essay. But I was too thrilled about seeing my writing in a magazine to fret about it. Plus there was another surprise: those charming illustrations, which I hadn't known about either. Aren't they fabulous? What amazes me is that they really look like our family, although the illustrator, Ben Hatke, had only the text of the essay to work from. (Do check out Ben's website–his work is impressive, and his blog lets you into the intriguing life of an artist.)
The illustrations were my main reason for linking the essay as a PDF file. I'll bet I don't really have the rights to display the essay in this format, but I'll give it a go. I'd like the essay to be accessible to folks who are considering homeschooling, so please feel free to pass the link along. Let me know if you have trouble opening the file.
* * *
In other news of things I'm doing that I really shouldn't, one of my dear friends sent an email about the tadpole-collecting of my last post. She pointed out that collecting animals in California is illegal. Yikes. She also noted that if I was going to partake in illegal activities, I should probably not mention in the post the location of my illicitness. And also the concern that I might have inadvertently collected eggs of a protected species.
Oh dear. And here I was thinking it would be better to raise a local species that could be returned to the proper habitat.
Life seems so complicated these days. Oh, for the summer days of my childhood, when my brother and I could ride our bikes, unaccompanied, to the creek that ran at the edge of our housing tract and collect interesting creatures in jars without anyone caring. Kids these days seem to have fewer and fewer opportunities to interact with life as directly as we did.
Sigh.