Several years back, right at this time of year, we were driving up the dusty monotony that is Highway 5 in California. We were on our way home from Legoland, and then Los Angeles, where we'd celebrated H's ninth birthday. Lulu was in the back seat with H, just five herself. We were listening to one of the early Harry Potter books on tape. I was four months pregnant with Mr. T.
Somewhere near the stink of the cattle farms of Kettleman City, I began to cry. I tried to be quiet about it, not wanting the kids to notice, and I just let the tears roll down behind my sunglasses. But eventually I couldn't help gasping for breath and Chris, from the driver's seat, noticed that something was up.
"What's wrong?"
"He's nine," I sniffed. "He's halfway to eighteen."
Maybe it was pregnancy hormones, but that birthday was hard for me. Before that, I suppose, the kids seemed like little kids, and growing up was a far-off land. But something about hitting that birthday, the halfway mark to adulthood, felt like we'd taken a turn down a whole new road.
That was exactly nine years ago. My baby turned eighteen this week.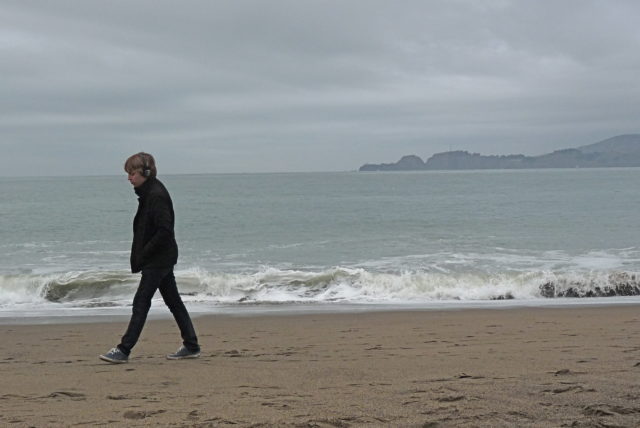 I'm getting a little teary as I type this. But just a little. 'Cause, see, back nine years ago, when I imagined how I'd feel right now, I was sure I'd be unbearably sad. All I could imagine was my little boy growing up and growing away from me. But there was something missing from that image. I couldn't see the actual person H would be at eighteen.
I'm going to apologize in advance right now. I'm about to do something downright uncouth. I'm going to brag about my kid.
And my bragging is all the more reprehensible because I've already gone on about the kid here recently, talking about his video project and his college plans. But H has had a few rather thrilling weeks.
A few weeks back, I accompanied him to Spotlight! a local film competition for teenagers. The ceremony was structured like a mini-Academy Awards; filmmakers didn't know whether their work had been nominated until categories were announced during the ceremony. With each category, four or five films were announced, and a short clip was shown from each. Then the winner was announced, he or she went to the front to make an acceptance speech, and his or her entire film was screened.
The theater was packed; the vibe was thrilling. The Best Cinematography category was announced and H's film was nominated. Very exciting to see a clip of his film on that big screen!
He didn't win, but he was nominated again in the next category: Best Editing. He didn't win that one either, but the fact that he'd been nominated twice was pretty fabulous.
Then they got to the final award: Best of Show. This category included a $1,500 prize. Six films were nominated. When H's film was announced among them, he and I giggled together in disbelief.
Guess who won?
Absolutely unbelievable. H. went to the front and made a speech. He remembered to thank his parents. And he got a huge, fake check. Haven't we all hoped to be awarded one of those big checks at some point in our lives?
I was proud to the point of giddiness. For about twenty-four hours straight.
But wait, dear Reader, the bragging must go on. I know, I know, I'm terrible. I promise to be humble after this. Really I do.
Because the next week, H's same film had a chance of being nominated in the CineYouth festival in Chicago. This festival is particularly prestigious because it's part of the Chicago International Film Festival, and it receives submissions from all over the country.
Check out the winners. Make sure to scroll all the way to the bottom. (Edited to add: That link now leads to the current year's winners. If you'd been able to scroll down for 2010, you would have seen he won Best Overall.)
Astounding. I don't know what else to say.
All this excitement tempers the melancholy of my oldest turning eighteen. How could I not be thrilled at the idea of this kid going out into the world to pursue what fires him?
But H is more than a handful of awards, or a list of college acceptances. He's a complicated, fascinating person. He's someone I (almost!) always enjoy spending time with; someone whose insights and opinions matter more to me than almost anyone's.
When I wrote about him deciding to go to college in New York, my Ravelry friend Therese, a former homeschooler with grown daughters, left me these wise words.
"How wonderful – it is so exciting to watch our grown and almost-grown homeschoolers go off and follow their interests. Mine are both far away, but it makes me happy, not sad, to see them busily studying, working, and making art. This is the way it's supposed to be!"
Therese is right. This is the way it's supposed to be. Which is why this eighteenth birthday, the thought of which had me in sobs nine years ago, came and went, more hopeful than sad.
Thanks for letting me brag. That felt much better than crying all over my computer.
This is the way it's supposed to be.