There isn't one way to take dictation from a child. But there are a few tips that might help, so I'll offer some possibilities.
Most important: choose a favorable time to get started. My last post had ideas for this.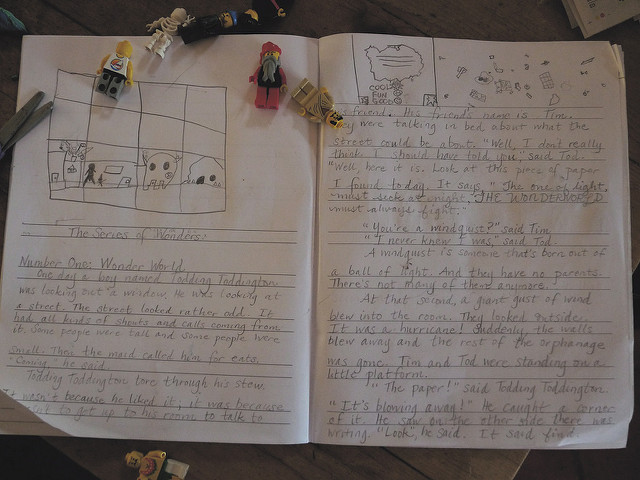 the one with the windquist (see below)
Written by hand or on a computer?
For younger kids, I think it's best if a parent writes by hand–at least some of the time. Yes, it's tedious and tiring. But if you expect your child to learn to write by hand, it's only fair that you model the skill. And writing by hand will remind you how difficult it can be, which will make you more sympathetic when your child writes independently.
Also, I think the tangibility of seeing you write and erase can be helpful in a way that computer transcription can't. For instance, when Mr. T dictates to me and ends a sentence, he sees me write a period. But sometimes he'll decide to extend the sentence, in which case he sees me erase the period, and add more. As a result, he grasped the notion of how periods work at a very young age. I never had to explain this to him; he just observed their use and picked it up. If I'd done this via deletion on the computer keyboard, I'm not sure he would have recognized what was happening.
Of course, transcribing dictation into a computer can be much easier for the transcriber, and it also makes revising simpler. I think this is a great method for older kids, or kids who can write by hand somewhat independently. You might want to try writing by hand sometimes, and via the computer at other times. And if you really can't stand writing by hand, taking dictation via computer is better than not taking it at all! But if you possibly can, try transcribing by hand, at least initially.
Should the child sit beside the parent and watch what is being transcribed?
Not necessarily. One of the great benefits of writing through dictation is that the dictator can move. For many kids, the ability to move is freeing, allowing them to come up with better ideas. I came to recognize this benefit when I worked with my oldest as a teen, when he took an online Advanced Placement writing class for homeschoolers, and again when I helped him with his college application essays. In both cases, the initial writing overwhelmed and frustrated H, and the last thing this particular kid wants to do when he is frustrated is sit down! Instead, I would encourage him to pace and brainstorm, while I took dictation from him. This allowed H to get his initial ideas out, and it allowed him to calm down. It turned out to be a very effective technique which H often requested when he had a big project to begin.
For younger kids, clearly, the ability to move can be helpful. Surely many of us are parents of young kids–often sons–who are more compelled to leap across sofas than to sit at a desk with a piece of paper. Taking dictation allows those kids to leap and compose at the same time! But the ability to move while dictating can also help kids who are typically willing to sit and focus. I've learned this over the years while working at my own writing. I've always been the sort of person who can sit for long periods of time, intent on a single piece of work. Yet I've discovered that being still can keep me stagnant in my thinking. I finally began to recognize that when I become stuck in my writing, the best thing for me to do is get up and move. Instantly, this gives me access to bigger ideas; it helps me shift to a different level of thinking, making me see metaphors and connections. If you have a child who is content to sit while dictating, you may want to encourage occasional getting-up-and-moving, to see if this changes the ideas being conveyed. (The book Open Mind: Discovering the Six Patterns of Natural Intelligence by Dawna Markova gave me much insight into my own learning style, and helped me see how movement can be used to access different sorts of learning, for different types of learners. Her book How Your Child Is Smart contains the same information, but applied just to kids.)
That said, a lot of learning can happen when a child watches you write down his or her words. I've already shared how Mr. T learned how to use periods simply by watching me write. Ideally a kid will spend some time watching the words being transcribed to the page, and some time moving. With Mr. T, this happens quite naturally. He tends to move around while he's thinking, but then, while he waits for me to write down a line he's just said, he'll come and check on what I'm doing, to make sure I've gotten it down right. Sometimes he'll stay beside me for a while, watching; other times he won't watch much at all.
Again, know your child. From the start, ask if he or she would rather sit beside you while you write, or would rather move around. Once you begin transcribing, watch what happens. If the child doesn't naturally approach to watch you write, encourage her to observe occasionally, to make sure the transcription looks okay. And if your child is content to sit beside watching, if it seems like the ideas are coming slowly, you may want to encourage him to try walking about a bit. Balance is key here, as always.
Do you "fix" things as you write down their words?
The main idea to remember: while you may be transcribing, this is your child's writing. It's very important that they feel that they own the work, and that you aren't trying to improve it, or teach with it. You don't want your child to feel as if you're stealing their work from them, and making it your own. And believe me, that's an easy unintentional result of helping others with their writing.
In the beginning, it's best to err on the side of simply transcribing their words, and commenting little. If they say a line that's grammatically incorrect, go ahead and write it down that way. Do not offer help if it isn't requested. In other words, don't try to encourage them to make their beginnings more exciting, or to use more interesting words, or to add some dialogue, or to make a piece longer. As soon as you start in like this, the kid is likely to see this as your teaching opportunity, rather than his or her writing session. It will change the nature of the experience. Don't do it. Bite your tongue, squeeze the pencil, bang your feet together–do whatever it takes to transcribe and not teach.
You can ask questions if you are genuinely curious. For instance, once Mr. T was dictating a story, when he suddenly referenced a sort of character called a windquist. He continued to dictate the story without explaining what a windquist was, and I was a bit confused. So I asked, "What's a windquist?" and he explained. "Do you want to put that in the story?," I wondered, knowing that if he said no, I needed to accept that. Turns out that he wanted to add the explanation, and we talked about where he might insert it.
Still, you need to be cautious with this sort of question, especially in the beginning. You are there to help your kids become excited about their own writing ideas–not to make them feel that you know more than they do about writing. Too many questions may make them doubt their abilities, and may freeze them up in their writing. Your job is to let them guide the enterprise, while you get the words down.
The payoff in all this is that your child will begin to see you as a writing colleague. You are someone who helps them convey their ideas–not a teacher, not a judge. If you nurture this sort of relationship, your kids will be more likely to come to you for help with their writing. They will learn from you because they want to–not because you are insisting upon it. And when it comes to writing, this sort of relationship goes a long way. Taking dictation is only the beginning.
How do you know when to stop?
More often than not, we stop because I can't write any longer–not because T is out of ideas. Then again, I know parents who are willing to transcribe pages and pages in one sitting! Do what works for you and your child. It's never bad to have them begging for more…
Don't forget to share the writing!
One of the best reasons for writing is that it gives you a record of your ideas, which you can share with others later. (That's a much better incentive for writing than doing it because your mom or dad insists upon it.) Encourage your child to share the dictation, if this is the sort of thing he or she would enjoy. If they can read, have them read their work to a friend or family member–in person, or over the phone. (And even if they can't read, they are often able to "read" their own work, via memory.) Alternately, you can read it for them, if they approve of this idea. Sharing dictated writing helps kids experience, from an early age, one of the true joys of writing: the opportunity to share your thoughts with others. Once kids have experienced this, they're likely to want to continue dictating, and eventually will be motivated to write on their own. There is nothing like having an audience for your words.
Whew! That was a lot of information, and I'm sure I've left things out. Please help me be more clear by asking questions. And please continue to share your own experiences!
These last few posts have been very nutsy-boltsy. But they seemed necessary, so we could move on to conversations about the more interesting benefits of dictation. I'm looking forward to next week: more stories! More anecdotes! See you then.