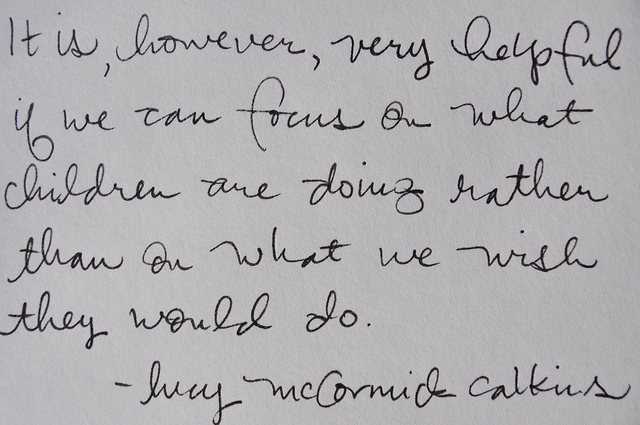 I found this line while re-reading Calkins' classic The Art of Teaching Writing. Calkins uses it as a lead-in to the story of a kindergartener whose teacher worried over how he seemed to draw the same thing, day after day.
"When I looked at the child's most recent book, I found that the teacher was right. On each page, the boy had drawn a little square person standing in midair–and that was all. Only the final page was different. On it there was a funny looking shape that could have been a flower. Because I wondered about the drawing (and because I had no encouraging words to say to the teacher,) I asked the boy to tell me about the book, and to my astonishment, he responded by opening to page one and then reading the entire book to me, turning the pages as he went along.

'Once upon a time Mr. Toastman wanted to make a flower,' he said, 'so he got a seed.' The boy showed me page one, with Mr. Toastman and the seed. 'You can't see the seed,' he explained. Then, on page two, Mr. Toastman got some dirt (and sure enough, there was a smudge on his hand,) and on page three he got some more dirt (a bigger smudge). The book ends with the seed growing into a flower."
Calkins' story is almost as lovely as the boy's. But I think the quote can apply to more than writing. Looking back on my last post, on Mr. T and his timeline of his "own world," I see that my initial disappointment was tied to my expectations– that T would work on a timeline based on actual history. Only when I let go of my own notions and watched what he was actually doing did I see the richness in the act.
It's really all about stepping outside ourselves and watching what's already unfolding.
It is, however, very helpful if we can focus on what children are doing rather than on what we wish they would do.
Come to think of it, this bit of wisdom can apply to more than writing, to more than learning, even. It might, if you think about it, be right up there with the best parenting advice ever.