Yep, Little Man, I get it. I get what it's like to be fired up about something.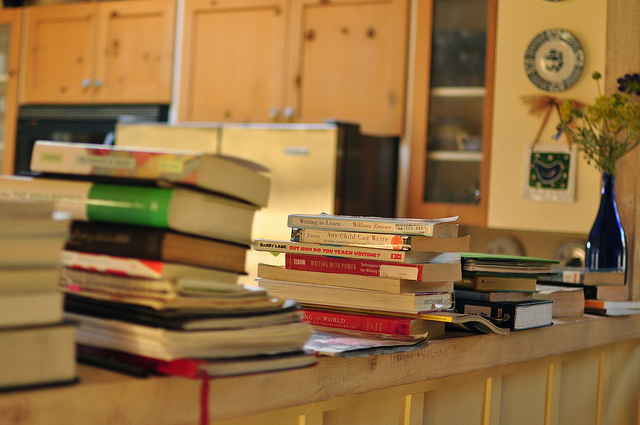 This weekend I went out of town with a couple of writing friends. We woke and walked along the beach and wrote and walked to the beach again and wrote some more. We cooked from what seems to be our cooking bible, Deborah Madison's Vegetarian Cooking for Everyone. (Weekend highlights: Smooth Pinto Bean Soup with Chile, Pine Nuts and Mint; Thai Tofu and Winter Squash Stew and even a galette with figs from our tree back home.) We ate by candlelight and talked about our afternoon writing sessions. We read aloud: Michael Chabon, Kenneth Koch, Wallace Stevens. (We laughed over stanza my stone.) We walked to the beach in the dark and then climbed into beds with our books.
And I came home fired up.
Over the weekend I made good progress on my book. For the last year-and-a-half I've been filling a notebook with jottings, and trying to write my way towards a format for this book project. Here's the conundrum: It's hard to work at parts when you can't envision the whole, yet it's hard to envision the whole when you haven't played with the parts. So this weekend I took my notebook apart and considered what I have. I sorted sections one way, and then another, and another. And suddenly an outline began to reveal itself, like a new house showing its shape as the framing goes up.
I need a word stronger than thrilled to describe how I'm feeling.
Finally I feel ready to write this book rather than to write in circles around it. So on my first morning back, I sidled up to my writing chair and began my introduction. And that felt mighty fine.
After a while I got up to help Mr. T with his breakfast. He's been re-reading the Percy Jackson series and reading the new book in its sequel series, The Lost Hero. He was quizzing me on the Roman gods and testing whether I knew their Greek counterparts when suddenly a new idea began to bubble in his brain.
"I could write a book about the Greek and Roman gods!" He thought a bit, nibbling on his bagel. "No, I could make a book about all the Gods! Greek, Roman, Norse, Egyptian, Chinese, Indian, Native American…" He started pacing around the kitchen.
At some point in the next few minutes the book idea morphed into a card game. (Yet another card game.) This one would involve the gods of many cultures and would be called Myth and Magic.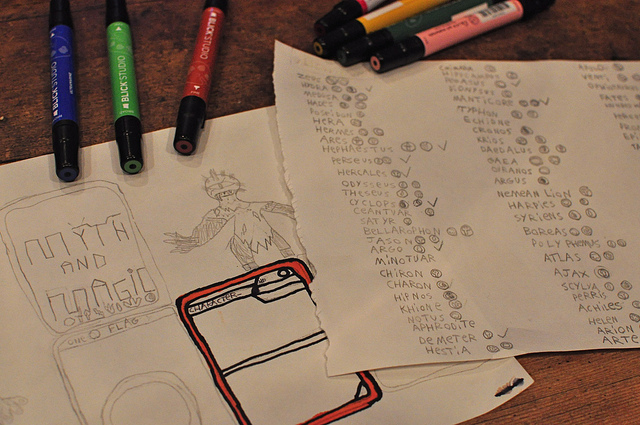 He spent the rest of the morning chattering about his project, and drawing templates for the cards, and making lists of gods to include. I went back to my writing desk, and worked at that introduction and he tried very hard not to interrupt me. But he was…oh, I wish I could think of a stronger word than thrilled. He only came in a few times to give me updates. I'm going to have character cards and flag cards and item cards! And then a few minutes later: I'm going to have harpies and minotaurs and manticores!
The kid was fired up.
And really, we had other things we needed to do that day. He had a comic he needed to finish for a science class. He has a stack of thank you notes to write, and we really ought to get to some math. But I know that fired up feeling. That feeling of being utterly ignited by a creative project you've dreamed up, to the point that you just want to work at it, to talk about it, to keep from letting it go.
I think it's probably one of the most satisfying, important feelings in life. It matters. And when you're lucky enough to be struck by it, you need to hop on and go. Comics and thank you notes and everything else be damned.
And so he did. And so I did.
Both of us beyond thrilled. Fired up. We were fired up.