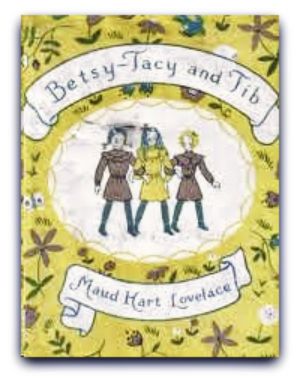 I have this old friend named Betsy Warrington Ray. Do you know her?
Any of you Betsy-Tacy fans?
Maud Hart Lovelace's Betsy-Tacy books were my no-contest favorite books as a girl. I can still see the particular corner where the "L" books were shelved in the portable that served as my hometown library. In fact, I sat on the floor in that corner reading those books so often, that I can remember with reasonable confidence how the books ran along the shelf one-up from the bottom. I read those books over and over. And over and over.
For the Betsy-uninitiated, the books are set in Minnesota at the turn of the 20th century. The series comes in two parts–the first four books begin with Betsy at age five meeting Tacy, the girl who would become her best friend. Before long they meet up with the other corner in their triangle, Tib. The series starts up again when Betsy is older and entering high school, then follows her on a trip to Europe and into marriage.
I won't bother with more backstory, since Meg Cabot already did it better than I would in this article about her own Betsy-love.
And look, Betsy's turned with the new century: she and Tacy have a wikipedia page!
As a kid, I liked the first few Laura Ingalls Wilder books, but was a bit put-off by the intensity of the later books. I never made it through them all. The Betsy-Tacy books were different. They were set in a suburbia before anyone called it suburbia, and although they took place a good seventy years before my childhood, as a suburban kid I could relate to them. Betsy did the kind of things I liked to do, and the younger books inspired lots of my play: I rallied my friends to do a "flying lady" show with a hidden see-saw like Betsy did; I got them to walk around my house looking into hand-mirrors that we directed towards the ceiling, discovering a secret house-inside-a-house called The Mirror Palace. (You can't imagine how much fun this can be. Try it with your kids.) I even requested Uncle Tom's Cabin from the adult librarian when I was nine because Betsy was wowed by a performance of it; when the librarian questioned whether my parents would allow it, my face burned. I was afraid I'd requested something filthy and inappropriate.
My school history education was a mess of dates and wars and I learned very little from it. But the Betsy books were a historical hook for me: I knew that at the turn of the century they had phones and were just beginning to drive cars. Women wore shirtwaists tucked into long skirts and stylish grown-ups combed their hair into pompadours. They entertained themselves with the latest piano scores instead of television. Even as an adult I find myself thinking back to the Betsy-Tacy books as a historical reference. It's an era I have a handle on.
Reading this series of plot summaries made me feel like I'd run into Betsy at Trader Joe's, buying granola. I remember every event! Like they happened to me! I'm not just saying that as a figure of speech; I read these books so many times that it almost does feel as if I knew these people, these situations. Like I was just another member of the Crowd, writing essays and boy-crazy.
You may think I'm a bit off, but I'm not the only one. There are plenty of us Betsy-Tacy loons out there. Many of us never realized this until the internet made it possible to find each other. Just Google Betsy-Tacy and you'll see. The second part of the series was re-issued in recent years, thanks to collaborating fans who made it happen.  Melissa Wiley and Matali Perkins, both children's book authors themselves, are fans. Both wrote introductions to recent re-releases of books in the Deep Valley series, companion books to the Betsy-Tacy series, set in the same town. (And both wrote books that Lulu loved when she was younger.) This week they did an endearing radio show with book club girl about their love for Betsy. Listen if you're a fan, or listen to become a fan.
I kid you not: when Lulu was born, and it turned out she was a girl, one of my ecstatic thoughts on the first day of her life was the realization that I could read the Betsy-Tacy books to her. And I did. At least the first four. She read the rest on her own, hungrily, and then had me track down those companion books: Winona's Pony Cart, Carney's House Party, and Emily of Deep Valley. All those books I couldn't get back in my own childhood, in the neanderthal days of card catalogues, when there was no such thing as inter-library loan.
I'm not sure whether they'd fly with Mr. T. But I'm going to read him the chapter about the Mirror Palace. I think he might dig that. If you have a daughter, you really must introduce her to my old friend, Betsy Ray.
Just the other day, I ordered some vintage Betsy-Tacy books on eBay. Old library editions can be had fairly cheaply. The spines are often slightly cracked, and they still bear library stickers. But that's just how I want them, 'cause that's just how they looked to me when I sat on the floor in the corner of the library, reading, back when I loved them best.