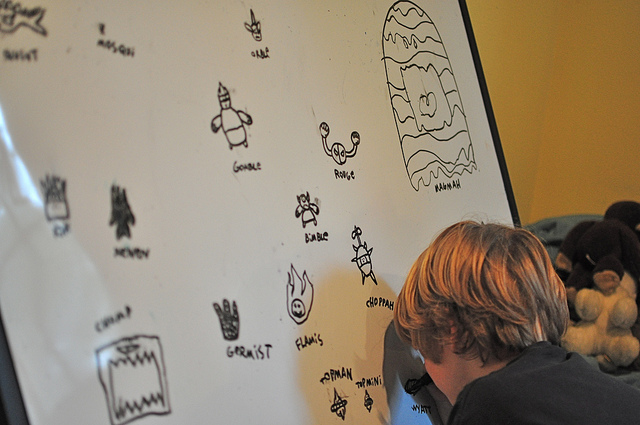 I came upon this quote the other day from Jeffrey Wilhelm, a professor of English Education who has written several books on kids and writing:
"Students now need more time to immerse themselves in curricular topics, more time to read, write, and reflect; they need more informal writing, they need more exploration, and they need to do things that really matter to them…When I refer to informal writing, I mean writing that is used to explore and express, writing that is for trying things out, for bricolage, for practice that is risk free, where taking chances is encouraged and rewarded."
Hard as it is, I'm going to completely ignore the fabulousness of the quote in general and focus on that one little word that glittered in the middle of the paragraph, calling for my attention: bricolage.
I didn't know what it meant, but I was intrigued. So, word geek that I am, I looked it up.
My gargantuan "Compact" Oxford English Dictionary–ten volumes in one, to be read with magnifying lens!–didn't list it. But Wikipedia did.
"Bricolage (pronounced /ˌbriːkɵˈlɑːʒ/ or /ˌbrɪkɵˈlɑːʒ/) is a term used in several disciplines, among them the visual arts and literature, to refer to the construction or creation of a work from a diverse range of things that happen to be available, or a work created by such a process."
Interesting.
"The term is borrowed from the French word bricolage, from the verb bricoler, the core meaning in French being, 'fiddle, tinker' and, by extension, 'to make creative and resourceful use of whatever materials are at hand (regardless of their original purpose)'."
Ooh, fiddling and tinkering! Two favorite verbs! And you know I like the idea of making creative and resourceful use of things…
"In contemporary French the word is the equivalent of the English do it yourself, and is seen on large shed retail outlets throughout France. A person who engages in bricolage is a bricoleur."
Leave it to the French to have such a poetic way to say DIY.
But it was reading the rest of the entry, and the wildly diverse examples used to define bricolage that really blew my mind. Listed there is Michel Gondry, who happened to be one of the first filmmakers to captivate H., with his eye-exploding visual style. (And how I love Eternal Sunshine of the Spotless Mind!) There's Seymour Papert, whose ideas about kids and computers and learning captivated me years ago. The term is also used in biology, cultural studies, philosophy, information technology. There's mention of instruments made from tea chests, and Improv, and how the safety pin became the symbol for punks. Oh, and MacGyver is mentioned as "the paragon of a bricoleur."
All references to one word.
One minute I didn't know the meaning of the word; a few minutes later I realized that it's a concept I embrace in education. There's little I love more than watching my kids take bits from their worlds and craft them into something new and utterly unique to them. The other day, Mr. T was sketching a crowd of  characters for a new story he's been dictating.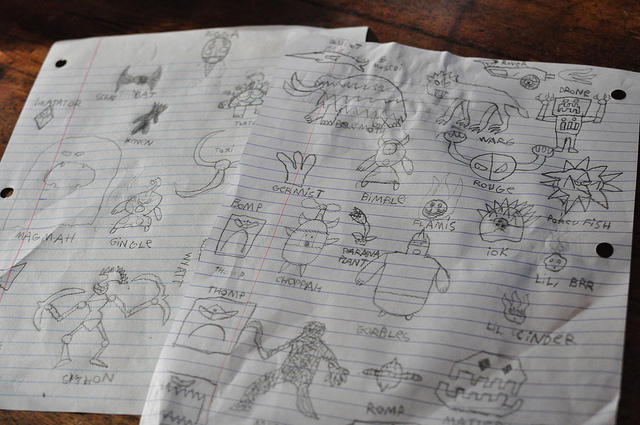 I asked where he got the ideas for his characters.
"Oh, Mario Galaxy. And Medieval myths. And nature. And Artemis Fowl. And Egyptian myths. And Pokemon. And…"
Made my heart sing. Maybe bricolage should be the ultimate learning mode for the post-modern kid. Kids do it naturally, but it might be useful to point out when they're using bricolage, and help them see the value in it. There's so much information out there and accessible these days: the thinkers and shakers of the future will be the ones who can pull it all together and make something compelling of it. Remember Daniel Pink, and his sense of symphony? Or that quote from Michael Chabon that I love, from his Lego essay?
"Time after time, playing Legos with my kids, I would fall under the spell of the old familiar crunching. It's the sound of creativity itself, of the inventive mind at work, making something new out of what you have been given by your culture, what you know you will need to do the job, and what you happen to stumble upon along the way."
May our kids all become paragons of bricolage. Bricoleurs for the 21st century!
(Last night we watched Micmacs, a film by yet another wildly visually-inventive filmmaker, Jean-Pierre Jeunet. He also made Amelie, which I adore. This particular film revolves around a troupe of bricoleurs –actual French ones–who live in a trash dump. If you like creative, visually stunning films, this one will fascinate you. Isn't it crazy how once you stumble upon an idea that's new to you, it suddenly keeps showing up?)