In which Lulu and I go visit H in New York City, and get worked up about all sorts of things.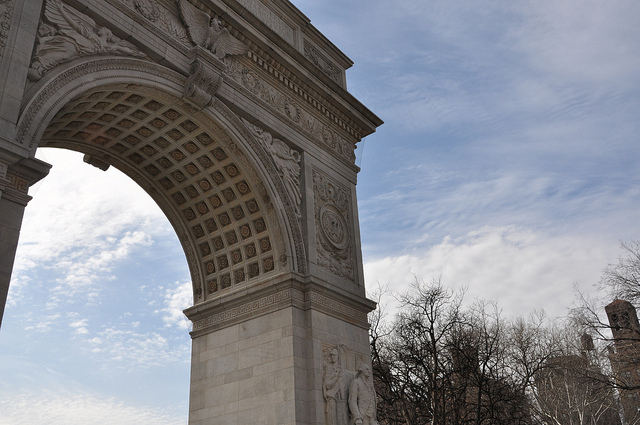 the washington square arch. Washington Square is such a haven in the middle of the city. Now I've seen the arch in every season but fall. H's new dorm is right on the square, which almost makes up for the fact that he is crammed into a room the size of a typical bathroom with two other guys.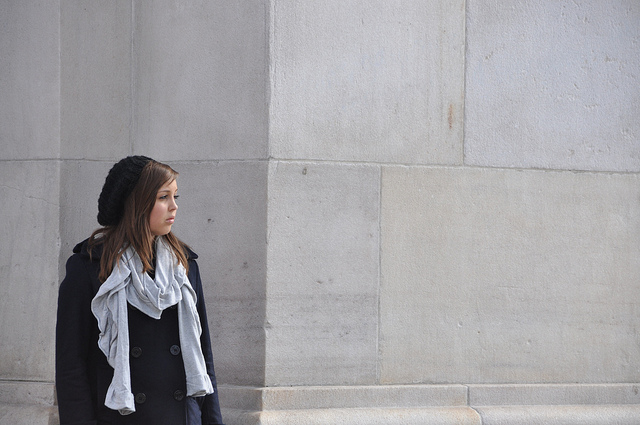 the mud truck. Best antidote to red eye flights. And we always take the red eye. Here's the cheap way to visit New York from California: Catch your plane on Thursday at 10:30 p.m. Will yourself to sleep; when that doesn't work, watch Mary Kate and Ashley as infants on Full House on the screen of the kid one row in front of you through the gap between the seats; surely this will make you nod off briefly. Arrive at JFK at before dawn cracks and pray that your hotel will give you an early check-in. If they do, lay down for no longer than half an hour, then take the subway to the Mud Truck parked in all its orange glory at Astor Place. Sufficiently amped, plow through Friday and make yourself stay up late. A 9:00pm dinner reservation might do the trick, as could a Broadway show. (Lulu and I saw Chicago and stayed awake through the slower numbers by chomping on Milk Duds.) By Saturday you'll be perky as ever, and if you catch the 7:00 pm plane home on Sunday, you'll have had three full days in NYC at the cost of two nights in a hotel—and with the time change you'll be home before midnight. But to make this plan feasible, the Mud Truck is key.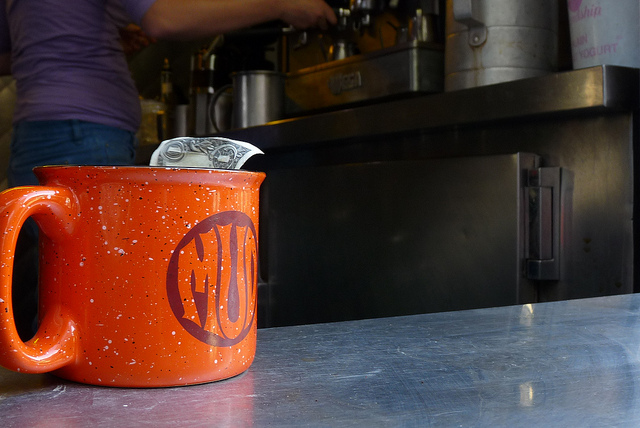 muji. I can't believe I didn't take any photos in Muji, the Japanese shop that makes you lust after things you never knew you needed. Sixty colored pencils in a tube, or a foldable hairbrush, or a beanie made from recycled yarn. Or an inflatable neck pillow wrapped nattily in purple striped t-shirt fabric—something I actually did need the night before while dozing to Full House. Now I have one for my next trip. And also a small zipped mesh bag for my knitting notions that manages to be see-through without being plastic.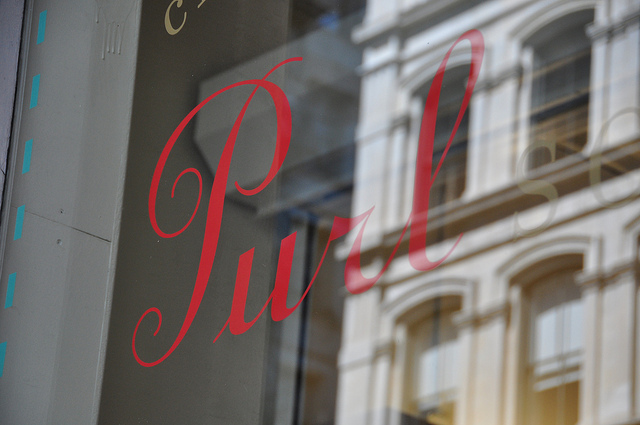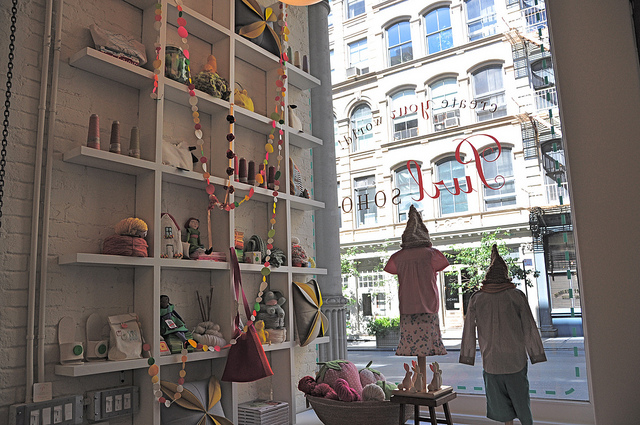 purl. I didn't take any photos here, either—I'm cheating with photos taken on my last trip. (I can't believe I lugged my camera with hefty 18-200mm lens around New York city all weekend and took as few photos as I did. Doh!) Purl is a pilgrimage for knitters, just to see how yarn can be displayed like beautiful candy. This shop has an eye for color like no other. I'm sorry to say that I didn't buy any yarn; I admit to not being a stasher. See, buying yarn solely for projects I'm ready to start saves me money, I've justified, which makes me more deserving of the good stuff when I do buy. Right? So I just ogled and felt up yarn, and then bought a new measuring tape. To put in my cool Japanese mesh bag. Oh! Look what Chris and I discovered just next to Purl, on our last visit: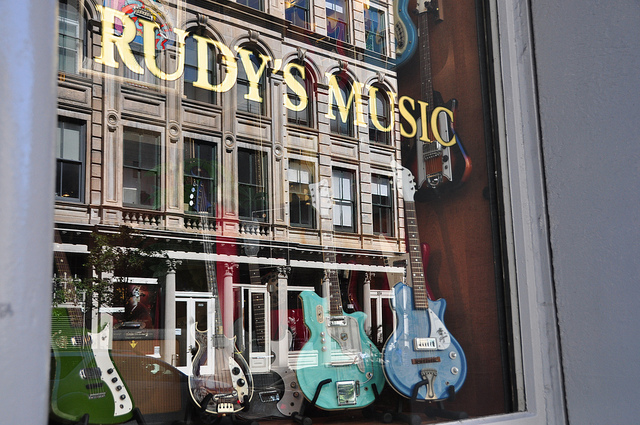 A guitar shop next to a yarn store. Indulgences for both him and her. Someone was thinking there.
lomography. I love this place. Fabulous photos from cheap-o cameras! I bought a Diana lens for my d90. (Chris about snorted when he saw the camera back home, all dolled up in its plastic lens. Sort of like Martha Stewart dressed in K-Mart. Oh, wait…) We hadn't really figured out the lens yet, but that didn't keep us from snapping away as we wandered Greenwich Village. Lulu got some good ones: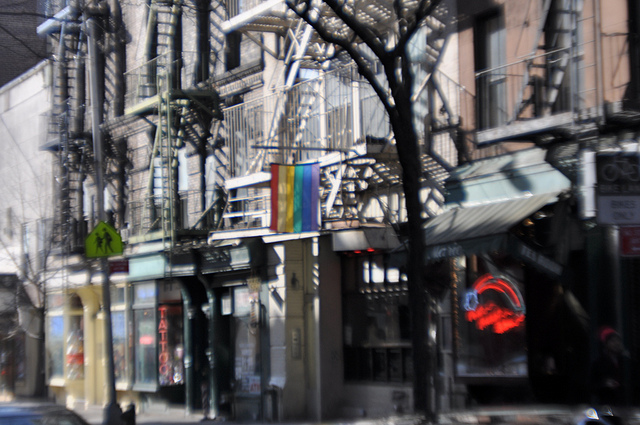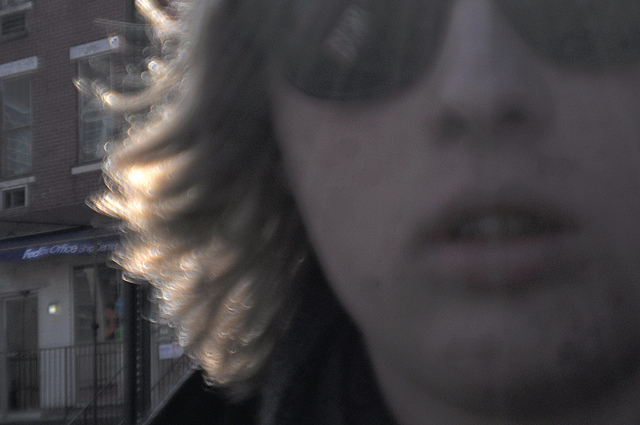 (He hates it when I put him on my blog. But this shot is arty and obscure! And it makes good use of that hair which he insists does not need a cutting!)
I took a few more once back home.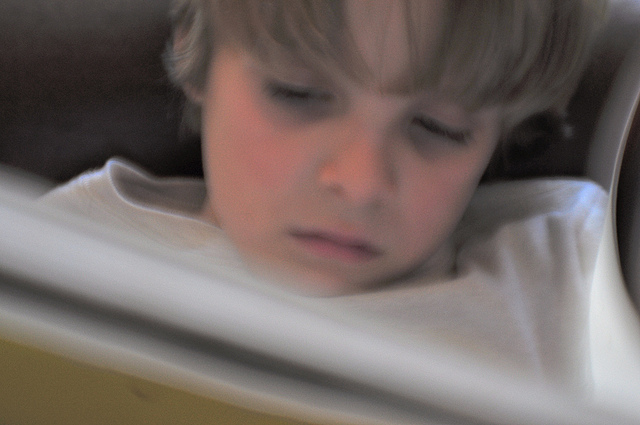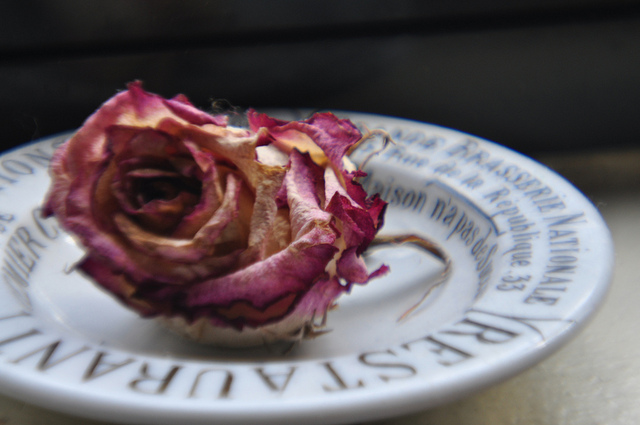 So fun to make your photos look bad on purpose!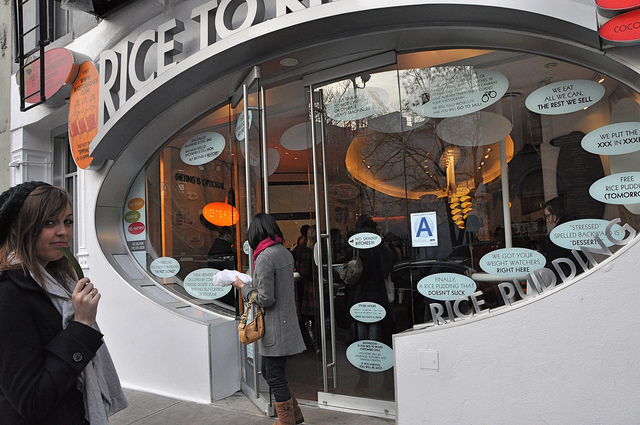 rice to riches. When you've had enough all those newfangled yogurt places, there's nothing like a shop that sells only vats of pure sugar-and-fat rice pudding! H got caramel, Lulu got chocolate chip, and I wasn't going to get any until I tasted theirs and needed a container of my own. There must have been at least twenty flavors, but I sure liked that caramel. Plus, you've got to love their signage.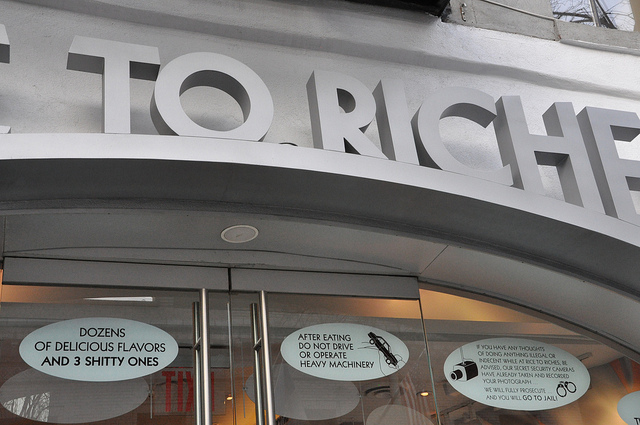 giggling with my big kids. Oh, how much we laughed. When we noted how much those big circle scarves in American Apparel look like baby slings. ("Hey, look! I can fit a baby in my scarf!") When H and I poured some "testers" of mints into our hands in a tea shop, from a glass teapot which Lulu, horrified, was certain was just a display, only to discover that, yes, they had a really off texture, and we had no place to spit them out. When we saw some hipster in Pastis, standing at the bar at night in sunglasses and a puffy jacket and a black and white striped hat that looked uncannily Smurf-ish and thinking he was so chill, until some other guy walked in wearing his own puffy jacket and the same striped Smurf hat. What really had us in fits was trying to get both of them in a photo without being obvious about it because H really wanted to post it to some site that features this sort of snark, with hipster and profanity in the title. This was the best we could do. Note Smurf #2, blurry, but still there on the right.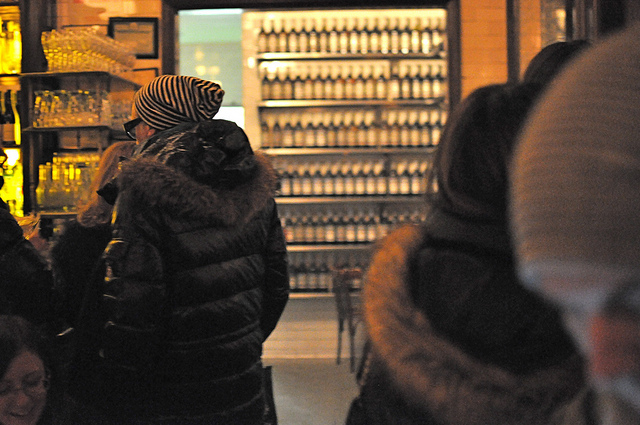 Oh gosh, it was fun. This is the reward, I think, of putting up with all the sibling bickering, and whining about where to eat while traveling when they're little. We had such a good time, eating and wandering, and eating and shopping, and buying H $66 worth of groceries at an absolutely mad Whole Foods on Union Square—"You'll eat this huge bag of oranges if I buy it, right?"—and eating some more. And laughing at hipsters and baby sling scarves and clips from Jimmy Kimmel in the back of a cab. There's nothing like hanging out with your big kids. In New York City. Nothing like it at all.