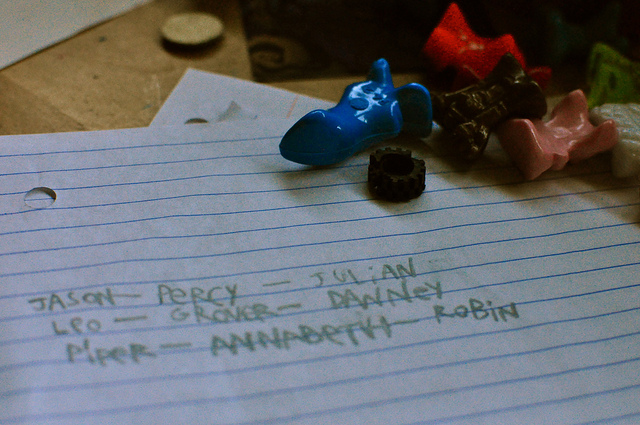 Here's a crazy idea for a post. I'm going to tell you about a book that you probably don't need. And I'm going to give you a link to a review that you can probably skip.
I've been doing lots of reading about teaching writing in the last few months, as I work on my book. I very much appreciate the thinking in books by Jeffrey Wilhelm and Michael Smith. Recently I browsed a copy of their Fresh Takes On Teaching Literary Elements: How to Teach What Really Matters About Character, Setting, Point of View and Theme from the library. Rather than try to summarize the book myself, I'm going to let this handy-dandy helpful review do the work for me. Go ahead and read it, if you're interested.
Then again, maybe you don't need to. Because this is a book for teachers. And it's a fantastic book for teachers. But in reading it, I realized that homeschoolers and other parents don't really need this book. We have it easy.
We don't need to devise lessons to learn about literary elements. We can explore them as they come up, as we lap up wonderful books with our kids.
What's that you say? You don't know how to explore literary elements? You don't, for that matter, even know what I mean by a literary element? (I'm not talking about fictional appearances by hydrogen and sulphur, surely.) And could I quit with all the teacher-y talk?
Okey doke, let me tell you a story instead.
The other night, T was supposed to be getting ready for bed. You know, putting on his pajamas, brushing his teeth so we could climb on his bed for our nightly read-aloud. Instead, he came running into my bedroom, hollering,
"There are so many parallel characters in Percy Jackson and Operation Redwood! Think about it!"
Before I had a chance to process what the heck he was talking about, he began breathlessly explaining how Percy is like Julian, and Annabeth is like Robin…
When he paused for half a second, I asked where he got the term parallel characters. It's not a phrase I remember using with him. I didn't even realize that he knew how to use the word parallel correctly.
"I don't know where I learned it. Maybe I made it up. It makes sense though, right? 'Cause look at this."
And he showed me a little chart he'd made–when he was supposed to be brushing his teeth–with characters from  the Percy Jackson books, their sequel book, The Lost Hero, and Operation Redwood, our current read-aloud.
For once I wasn't irritated by the kid's typical tendency to get sidetracked. He was talking literature, and he knows that's always a free pass in his mama's coupon book. He went on to explain to me how Percy, Julian and Jason are characters on a quest; Grover, Danny and Leo are their sidekicks; and Annabeth, Robin and Piper are the girls along for the ride. (And a big part of the brains in the respective operations, I might add.)
The fact that he'd worked through this notion, and charted it, while I thought he was putting on his jammies left me feeling rather gobsmacked.
But here's the thing: if you talk about books with your kids as you read them, they'll begin thinking more deeply about books. I'm not talking about formal lessons; I'm not suggesting you take a list of literary elements with terms like characterization and foreshadowing and begin pointing them out as you read. Your kid might want to stop reading with you altogether if you pull that sort of thing. You might even get a book thrown at your head.
No, I'm just suggesting that you and your kids talk about what you like and dislike about books as you read them. The more you discuss, the more specific your conversations will become. Chatting about A Series of Unfortunate Events' Count Olaf may lead to a conversation about whether he's a likable character or an unlikable one. You might find yourself talking about the point of a villain in a story, or even the irony of a villain who's funny. Next thing you know, you're driving to the park, listening to the third book in the series on audiobook, and your kid tells you to stop the disc because he wants to point out which words in a specific line make that villain funny.
And you thought you were just driving to the park. And enjoying an audiobook. Nope! You're helping your kid learn the elements of literature!
My guess is that parents who enjoy books with their kids have these conversations naturally. Pay attention to them, and see where they take you. Try starting up a conversation. Begin with something you like or dislike about a book you and your child are sharing. You might say something like:
"I like this main character. She's feisty. Do you like her?"
"This book took a long time to get going. When do you think it started to get interesting?"
"I don't think that character would have done that, do you? It doesn't seem in keeping with his personality."
"I'm liking this book, but I don't think it's as inventive as the Artemis Fowl books are." (This line walked out of my mouth last week. And led to a grand conversation.)
It's crucial, I think, that your statements or questions are authentic wonders on your part. Don't say something unless it's something you're really pondering, or it will come across as You trying to play Teacher. Once you start posing such questions, your child is likely to do the same, and it's your child's observations that you really want to nurture. The fun happens when the two of you disagree with each other, or when the whole family disagrees, or when you and your kids disagree with what an author has written. Defending your perspective, you'll delve into the writing. You'll find yourself examining what the writer is doing–and the tools the writer pulls from his or her toolbox. Those tools are precisely the "literary elements" that educators refer to, those concepts featured in the subtitle of the Smith/Wilhelm book mentioned above: Character, setting, point of view, theme. And so on.
In their book, Smith and Wilhelm write about the importance of "transfer." The following quote comes from the National Writing Project review linked above:
Smith and Wilhelm name a number of kinds of "transfer" that teachers might hope for in the teaching of literature: "We want [students] to transfer the knowledge they have gained about people and stories to their understanding of the literature they read, and to their writing. We want them to transfer what they learn from reading one text to their reading of other texts. And we want them to transfer the understanding they've gained from reading to the way they think through problems and their lives."

They then name a central problem in all teaching: "Although teachers often count on the fact that transfer occurs, the evidence suggests that it typically doesn't."
It can be a challenge for teachers to create meaningful lessons that will impact kids in a classroom. This book does a good job of it. But think about it: when literature learning comes from conversations in the home, you can be pretty sure that transfer is occurring. The conversations stem from the kid's own observations! It's a more casual, child-led sort of learning, but it's valuable learning. Real learning about literature and how it works.
I think that we parents tend to discount this sort of learning. After so many years in school, we often have a (perhaps unconscious) belief that formal learning in classrooms, or from pre-determined curricula is somehow superior. But learning based on the child's own curiosities and discoveries is rich and meaningful. And that sort of knowledge can accumulate into something bigger than you might expect. Years of enjoying books and talking about them can cultivate a deep understanding of literature and how it works. You don't need canned activities and lessons to make that happen. In fact, canned activities and lessons can't possibly reach your child like your own parent-child conversations can.
This is one of the big ideas I'm planning to focus on in my book, and I'm hoping to write more about it. Please share your thoughts!
If you feel a bit rusty on literary elements–or what goes on under the hood that makes literature satisfying–I have a book recommendation: Live Writing, by Ralph Fletcher. I'm sure there are plenty of good books out there on this topic, but I like this one because it's insightful, it's well-written, it's cheap–and it's written for kids. I'm recommending it for you because we all know that the easiest, breeziest way to learn anything is to read a children's book on the subject! Plus, you might leave it lying in the path of an older child, and find him or her appreciating it as well.
I hope you'll pay attention to the conversations you and your kids have about books, and try to nurture them. And if your kid neglects his responsibilities in favor of chatting literature, I apologize. But not really.
Next up: another literature conversation, this one from one of my recent writer's workshops.