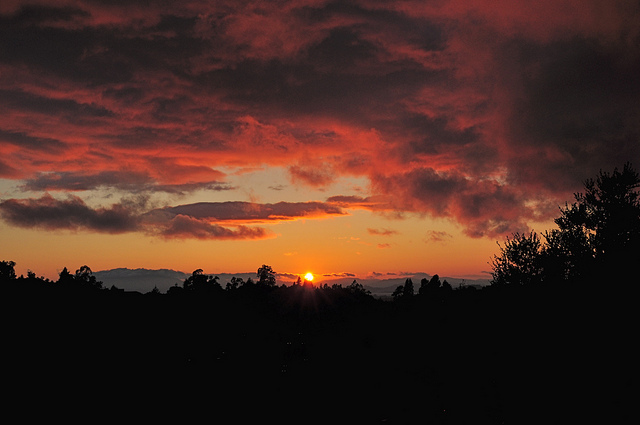 Surely this photo is more interesting than the expected stack-of-books photo. I just put it here 'cause I like it. It was the view from our patio the other night, the sort of view that makes you reflect on anything good you might be reading, and think deep, literary thoughts. And then realize that it was probably just the red wine you had with dinner.
Heather, over at Beauty That Moves, kindly posted a link to this here Wonder Farm recently. If you're here via that link, hello! Nice to meet you. Come on in, and feel free to poke around.
Heather occasionally asks her readers to share what they're reading, and I love scrolling through the comments on those posts. So I thought I'd ask the same.
What books are grabbing you these days?
Me? I'm inhaling Lit by Mary Karr. Her memoir of getting drunk and getting sober and becoming a writer and a mother in the meanwhile. I'm not a fan of memoir unless the writing is stunning, and Karr's is. Having a background in poetry will do that. She writes lines like this:
What's a typical journey to college? I couldn't tell you. I hope my son, Dev, had one last summer. His dad was staring owlishly into the computer screen, trying to download music, while I slipped folded shirts into fiberboard drawers and ran extension cords. Before I left, Dev heard a series of moist-eyed platitudes till he said, Mom, don't Polonius me with this nagging. Still, he hugged me–his huge form ripe with shaving lotion–hugged me right in front of his backward-ballcap-wearing roomies. Dev's parting words: Love you. Don't forget to mail those CDs.

My passage involved three blue-ribbon hangovers and the genial loneliness of a South American novel and an image of Mother charging out of a liquor store in blinding sun holding a gallon of vodka aloft like a trophy.

On the morning Mother's yellow station wagon deposited me at a dorm and pulled away from the curb, I was seventeen, thin and malleable as a coat hanger wire, and Mother was the silky shadow stitched to my feet that I nonetheless believed I could outrun. I didn't cry when she pulled away, for there were cute hippie boys playing guitar cross-legged on the lawn, but my throat had a cold stone lodged in it. I was thirsty.
Man. After starting with a library copy, I had to buy the book so I could do my usual highlighting tricks with lines I admire. Trouble is, the story draws me in and I leave my highlighter lying.
I've also picked up poet Robert Hass' The Apple Trees at Olema. One of my dear poet friends is a great fan of Hass, so I grabbed the pretty paperback with apple and bird on the cover at the library and am glad I did. These lines made me read twice:
Afternoon cooking in the fall sun–

who is more naked

than the man

yelling, "Hey, I'm home!"

to an empty house?

thinking because the bay is clear,

the hills in yellow heat,

& scrub oaks red in gullies

that great crowds of family

should tumble from rooms

to throw their bodies on the Papa-body,

I-am-loved.
Funny that both of these snippets are about transitions in parenting. Guess I can relate. Mostly, this evocative writing reminds me that my journals are gathering dust. I write here, I write on my projects, but less and less in my journals. Both of these books are encouraging me to pay better attention, and to scribble down details. So I'll remember. So they'll find their way into my writing. Because detail is what makes words memorable and is the surest way to engage a reader. The right detail is like a foxtail caught in a sock. Seed snared and carried along.
So tell us, my friends, what'cha reading?