I can never resist a web link about creativity. Clicked on this one recently, about a creativity experiment with undergrads based on thinking like a kid. What interested me more than the experiment was this analysis of it:
From The Frontal Cortex:
Why does age make us less mature? Why accounts for the infamous 4th grade slump in creativity? One possibility is that we trade away the ingenuity of our youth for executive function. As the brain develops, the prefrontal cortex expands in density and volume. As a result, we're able to exhibit impulse control and focused attention. The unfortunate side-effect of this cortical growth is an increased ability to repress errant thoughts. While many of these thoughts deserve to be suppressed, it turns out that we also censor the imagination. We're so scared of saying the wrong thing that we end up saying nothing at all.
I had an experience during my teaching days that illuminated that 4th grade slump for me. One year, we had a program in which pairs of teachers visited classes throughout our elementary school, facilitating an activity based on a famous artist. Usually I taught third grade, but for two days I got to teach art in every grade, from kindergarten through sixth.
It was the second grade classrooms that stunned me.
There were two of them in our school, and they were filled with artists. The kids jumped into our Matisse project with glee. They made bold lines, they used lots of color. They didn't ask questions; they just sprawled across their pages and poured themselves on to them. And then they cried for us teachers to come see what each of them had created.
I couldn't believe that the kids were just a year younger than my third graders. Already, the third grade kids were doubtful when it came to art. They asked lots of questions. They dawdled. They crumpled papers. They hid them. Most of the kids still seemed to enjoy art once they got going, but they didn't leap in, with joy and without reservation, as the second graders had. It wasn't just my third grade class; the other third grade at the school was the same way. (The school's kindergarten and first graders were avid artists as well. But as a third grade teacher, it was those second graders that captivated me. How could so much creative drive get lost in the course of a year?)
If I'd just watched a single second grader work, and a single third grader, I wouldn't have realized the magnitude of the difference. It was the palpable change in creative energy between the second grade and the third grade classrooms that was impossible not to notice.
And the fourth graders? That was the end of it all. Many of those kids had pretty much given up on art, and simply made half-hearted scrawls on the page. There were still a handful of artists in the room, but it wasn't a roomful of artists. It was a little heartbreaking.
All of this got me thinking about one of my theories about taking dictation from kids. If you're newer to this blog, you may have missed my posts about dictation. I'm not talking about dictation in the Charlotte Mason sense, but dictation in the secretarial sense. In other words, writing down what kids want to say. You can read much more in my series of posts, The Dictation Project. Or here it is in a nutshell: Dictation is a fantastic, underused tool for helping kids learn to write. By simply transcribing  for them for a few years, you can help them develop their writing voices while they simultaneously learn the mechanics of writing–slowly, organically and painlessly.
Dictation is especially effective, I think, because it helps kids express themselves on paper while they're still young and, well, expressive. The creative energy that bubbled in those kindergarten, first and second grade classrooms isn't limited to art. The kids speak with the same unbounded joy and imagination. All we adults have to do is transcribe those words to see the vivid, original writer already living within the child appear on the page.
Here's the sad irony: if we wait for kids to become proficient writers to translate their unique voices to the page, it might be too late. Because guess how long it takes to develop from being a beginning writer to becoming a fluent one? One who doesn't have to think much about letter formation, spelling and grammar, who can focus on the thoughts at hand? I don't have a scientific, proven answer, but experience tells me that it tends to take three or four years. Might happen faster for homeschoolers who start later, and surely it happens faster and slower for different individuals, but I'd say that three or four years is a pretty good average.
Calculate that. If kids start writing at five or six, when will they become fluent writers who can fairly easily transcribe what they want to say? That's right. Their writing skills will come together right in time for the 4th grade slump. Right when, quite possibly, their prefrontal cortexes are becoming distracted with new functions, and beginning to censor the imagination.
If you don't think this is an issue, pick up any book for adults who want to write. There will nearly always be a chapter on voice. A chapter trying to show adult writers how to find their own unique styles. How to put their personalities on the page. Such a chapter is almost always there because voice is so important in writing. It's a big part of what engages a reader. Yet many of us make it to adulthood without any sense of our voices as writers. It isn't something cultivated in traditional English classes.
But young kids already have voices! Quirky, expressive voices—each and every one of them! They just don't yet have the skills to put those words to the page at any length. Dictation helps young writers discover their voices and develop them, long before the 4th grade slump hits. Which makes it much easier to hold on those voices as their brains move on to new skills.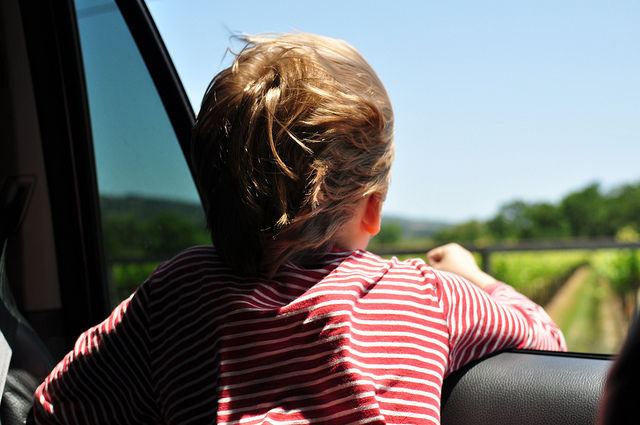 My youngest is nine. If he went to school, he'd be a fourth grader this fall. Which gives me pause. This kid has an endless imagination; the notion that his prefrontal cortex might start getting sidetracked by "impulse control and focused attention" gives me pangs. I'd always thought that dwindling creativity had more to do with peer pressure than anything else, and that homeschooling might help prevent it. I still believe that, to a degree. But I suppose I can no more stop T's brain from changing than I can stop the sea from sending in waves.
At least his writing voice is intact. The kid is a storyteller, and no future crank of a teacher with a red pen will ever drive that out of him. Phew.