This makes me happy.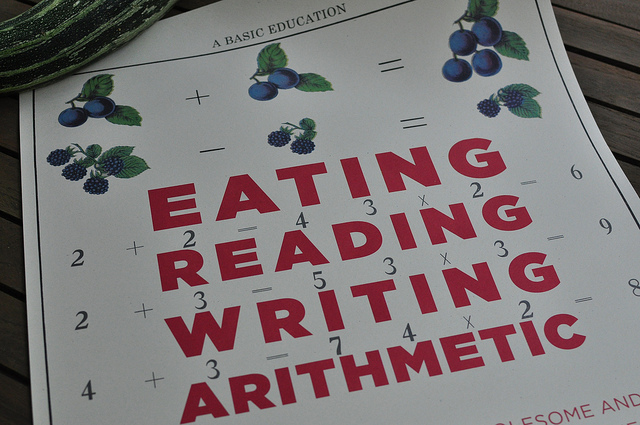 I don't often write about food in this spot. Sometimes in an atwitter post. Mostly, I try to concentrate on learning and creativity–but I love how this poster reminds me that food is part of a basic education. That's a belief that I hold so deeply that I'm going to have this poster mounted so I can hang it in my kitchen.
I bought it at Pop-up Panisse, a little temporary shop that's gone up next door to Chez Panisse in Berkeley this week, to celebrate the restaurant's 40th anniversary. There's a whole lot of hoopla going on locally with that celebration. (We live about ten minutes away from the restaurant.) But it isn't just local. Did you hear the Alice Waters interview on Fresh Air?
I probably take for granted how much Alice and her restaurant have influenced me, and the way I shop for food and cook. I imagine that I first stumbled across Alice in 1987, in the introduction to The Greens Cookbook, the first real cookbook I bought for myself. I'd become vegetarian a few years before, when I went off to college–if you don't count a childhood spent pushing meat around my plate as avoidance technique–and I had a thing or two to learn about how to cook for myself and others.
I have an old magazine clipping from Metropolitan Home that must have run around 1990. It's the story of a lunch in Alice Waters' backyard, with photos of lilacs and Alice's now-grown daughter Fanny, as a little girl with bangs and braids. There are recipes for egg salad sandwiches and fava beans with pecorino. I don't think I even knew what fava beans were at the time. (This was before Silence of the Lambs, if you know what I mean.) The story coincided with Chris' and my first backyard, and the hand-tinted photos of lunch with rosé in the vegetable garden were all the inspiration I needed.
I found Chez Panisse Vegetables a few years later, and it became, and still is, an education in how to shop seasonally for vegetables, and how to prepare them to actually taste good. (I grew up in the 70s, when vegetable meant microwaved bags of frozen peas and cubed carrots, understand.) I learned from Alice not to buy tomatoes in February, and what to do with a bunch of swiss chard. And how to turn fava beans, once I'd grown them myself, into a gorgeous, garlicky, chartreuse puree that I now crave every year when May rolls around.
I've only eaten at Chez Panisse a few times. (I'm a parent. And this is the San Francisco Bay Area! So many restaurants, so little time.) I keep the beautiful menus in my copy of Chez Panisse Vegetables. These are from the summer of 1999, on the occasion of Chris' and my 11th anniversary. One was for the regular fixed menu; the other the vegetarian version.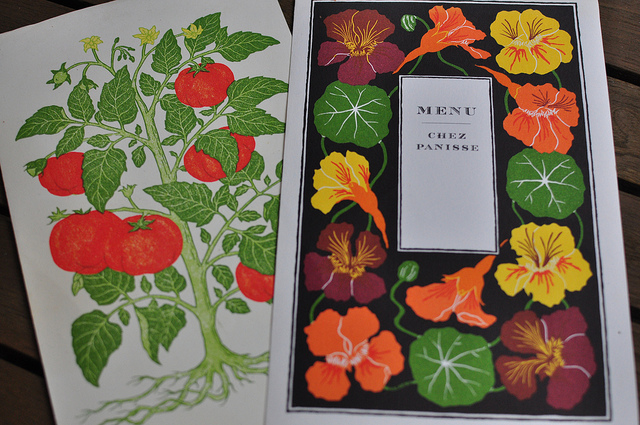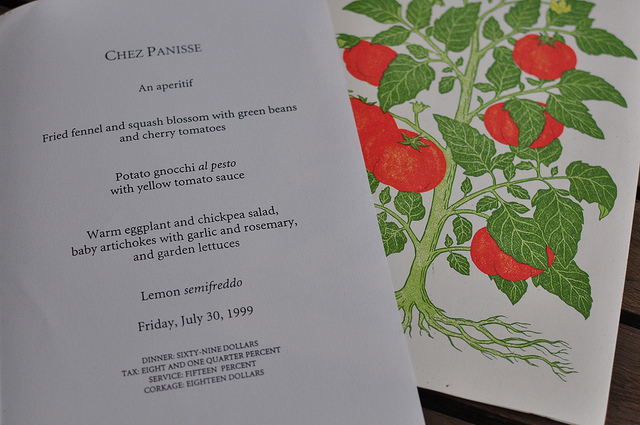 We like to imagine ourselves someday when we're old and all three kids are grown, driving over to Chez Panisse for the Downstairs Monday Night Dinners.
But anyone who pays any attention to food in the Bay Area knows that Chez Panisse is more than just a restaurant.
I've read the San Francisco Chronicle's food section religiously for more than twenty years now, and I'd bet a cafe au lait that Chez Panisse, Alice or one of her proteges get mentioned in at least a third of the issues. I've followed the restaurant's anniversaries, its movement toward organics and sustainability, and the beginnings of the Edible Schoolyard Project. (I even ate a burrito beside Alice at Picante once. Not that I said anything. But I did point her out with an excited jerk of my head to Lulu, who must have been nine or ten at the time, and I'm proud to say that she actually knew who Alice was when I whispered her name, thanks to her love of the book Fanny at Chez Panisse.)
As Michael Pollan writes in the afterword of Alice's new book:
"…Alice Waters genius has been to show us there can be no inspired cooking without inspired shopping, and beyond that, inspired farming. It's become a cliché of restaurant menus to mention farms, but Chez Panisse was the first to share bylines–pride of authorship–with the men and women who grow the food, recognizing that many of them are as gifted as any who have passed through the fabled kitchen."
I once took a poetry workshop for teachers which was held in the Edible Schoolyard garden at Martin Luther King, Jr. Middle School in Berkeley. We wrote haiku in the shade of young apple trees while anise swallowtails flitted around us. It was a sigh-inducing spot; still I couldn't fathom that I was sitting in a garden that would soon inspire schoolyard gardens all over the country, and a global revolution for healthy lunches for kids.
My own efforts to get my kids to garden with me, to cook with me, have been mixed. They've been happy to interrupt their backyard play to poke a few seeds into the soil, or to pick and eat a few alpine strawberries, but that's the extent of it. Lulu has loved to cook since she could stir a bowl of popover batter, but her brothers would only join us when the rare whim struck.
But they have a mother who believes that good, wholesome food matters, and you know what? I think that sinks in.
Longtime readers here may remember Lulu's 100 Years Of Food project, her last big project as homeschooler before she decided to go to high school. That link includes the final section of Lulu's project: her analysis of what happened with food in the years between 2000 and 2010. Her analysis is full of insight and hope–and it has everything to do with Alice Waters.
And then there was the story that unfolded in our kitchen this summer. My oldest has always been an enthusiastic eater, but he's also been the kind of kid who wished soda came out of the faucet and that bread came only in sourdough. "Why isn't there anything to eat in this house?" he ranted last summer. "Why can't you buy anything without nuts and seeds in it?"
And then he spent a year eating in the dorms of NYU. Apparently the food revolution has not hit the halls of higher education in New York City. H described his freshman-year diet in a single word: appalling.
Some doppelgänger of my 19-year-old son showed up in my kitchen this summer. He wanted to learn to cook! He begged me to buy more vegetables! He refused sourdough rolls and asked for some real grainy bread!
The other night before he left for school, he helped me make dinner. I was explaining how to saute mushrooms, how he needed to give them enough space in the pan or they'd steam instead of brown. And that he needed to leave them alone to sizzle a bit, and not go stirring them up too soon.
"How would I know that?" he asked. The dorm he'll be moving into this year is apartment-style, with a kitchen, and he is determined to cook for himself.
"You can always call me when you're cooking something new," I said. And then I remembered something.
I pulled a copy of Alice Waters' The Art of Simple Food off my shelf. It was given to me as a gift, and it's the only one of my Alice Waters cookbooks that isn't food-splattered and dog-eared. It was written for beginning cooks, and while there are plenty of fine recipes inside, I suppose I am somewhat beyond it. But it explains how to roast a chicken, how to make pesto, how to prepare a chopped salad to your liking.
And it tells precisely how to saute mushrooms.
When I showed it to H his response was simply, "Awesome."
So the cookbook flew back east in a suitcase and a new kitchen will be born.
Alice Water's new book, 40 Years of Chez Panisse, is a gorgeous thing. It's packed with photos and stories of the restaurant's history. At fifty-five dollars it was a splurge, but I had to have it. It tells so much about the place where I live, and my own coming of age with food.
I especially love the book's subtitle: The Power of Gathering. That's the heart of it all. I believe that one of the greatest gifts we can give our kids is time to gather together, over food lovingly grown, shopped for and prepared, with our undivided attention.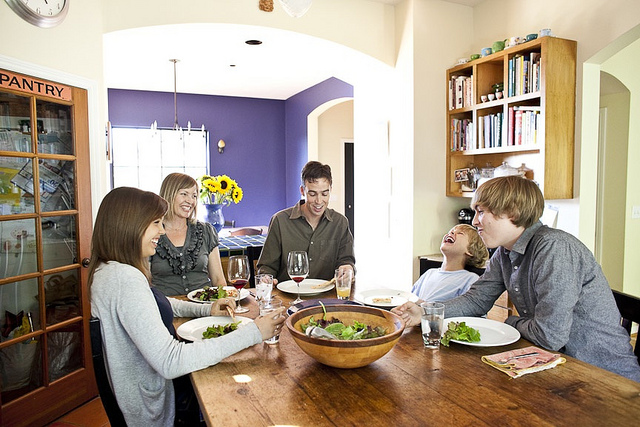 It makes a difference.
Happy anniversary, Chez Panisse!
And thank you, Alice Waters.