Dearest H,
I know, I know, you told me not to put this on my blog. I understand that you're nineteen and a college student and all, and being written about on your mom's little blog could be pretty embarrassing.
But really, buddy, who's gonna know? I don't use your real name, so anyone googling you isn't going to wind up here.  And if any of your friends read this, you can ask them why the heck they're reading your mom's blog anyway.
How did you expect me not to write about this? I mean, you come home for Thanksgiving telling your dad and me about this big project that you needed help with.  You knew we'd jump on it—we've been helping you with your projects since you first encountered play dough at two and didn't know how to roll a snake.  We've helped you make a trebuchet, a model of the Duomo, scale papier-mâché planets, a Lord of the Rings game terrain, endless costumes. To name just a few.
And we've always loved helping you on your films. Whether we're scouting out the farm location you need, or making a costume for a boy-king, or hitting up friends to act, or doing nothing more than fetching burritos for your crew.
And this project was cool. You know how much I love The Royal Tenenbaums. I fell hard for that quirkfest when it first came out ten years ago, when you were just nine and still worked  up over the first Harry Potter movie.
Ten years later you're filming a scene from the movie for one of your film classes. Specifically the scene with Ritchie and Margot in the tent in the living room. And you needed a tent.
Not just any tent, but a tent that could be hung from the rigging (is that the right term?) That would be tiny and tent-sized at the back, but would widen gradually at the front, to accommodate three cameras. And that you could fold up and bring back to New York in a duffel bag. No problem, right?
Hey, if we could make a model of the Duomo out of foam core with no plans, surely we could make such a tent. So off to the fabric store we went, with your sketched plans. Twenty yards of purchased muslin later, and we were back in the family room, moving furniture, rolling fabric across the floor and trying to decide where to make cuts. I said I'd sew if you pinned. (I hate pinning.) You thought I was nuts for insisting on a French seam for the back of the tent, but that seam showed up in your film, didn't it?  Mothers know these things.
I loved watching you and your dad trying to figure how and where to hammer the eyelets. Felt like the old days, watching you build duct tape sabers together.
You went back to school, and we were all happy and hopeful that your contraption would work.
Still I wasn't prepared for how much this texted photo would take my breath away: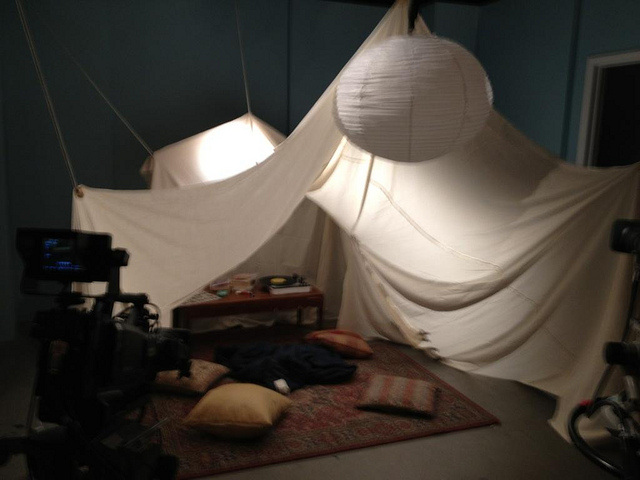 It's a blurry shot, taken with your phone in low light, but look at that thing! You can see the traditional tent lines at the back, but something about that splayed-open front strikes me as glorious. More impressive than I envisioned. Somehow a sea of muslin, some eyelets, rope and the right lighting came together into something grand.
That tent is some kind of metaphor to me. A metaphor for how people can come together and create something big with very little. Sort of like homeschooling: it's really just a series of days made up of books and ideas and small projects, but somehow, over time, it becomes something more. It creates a mindset that says, I can make that winged tent that I'm imagining. I can dream something up, and I can make it real.
I'm being sappier than Wes Anderson, aren't I? I'm sure this whole post seems a little ridiculous to you, but here's why I wrote it (even after you asked me not to): Many of the people who read my blog are newer homeschoolers. And while they seem perfectly willing to come back week after week to read endless stories about your little brother–because he's the only one who still lets me write about him–what really seems to inspire many of them are stories of what happens to homeschoolers when they grow up. (And dream up tents for films. And make them.)
Your dad and I loved helping you with your project. And now you've helped me with mine.
Thank you for indulging me, sweetie. I can't wait to see your finished film.
Love, Mama