I'm binding off on the last row of this shawl. (The pattern is Cloud Illusions.) Being that I'm on the last row, I should be close to the finish, but this shawl has a picot bind-off. For the non-knitters out there, that means that while binding the yarn off the needles in the last row, the knitter must also form those cute little pearl-like nubbins that dangle from the finished shawl. And each of those 244 nubbins requires casting on three stitches and immediately binding them off, in addition to binding off the already existing three stitches per nubbin. That takes longer than you might imagine. Other knitters on Ravelry have reported that this single row takes five to seven hours of knitting. I'm almost there.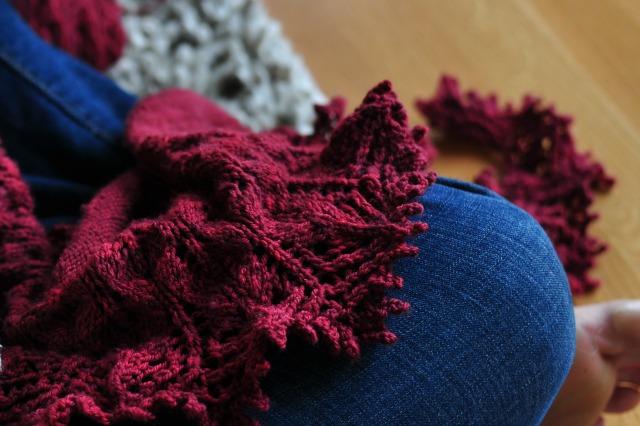 But that's not the project that's really keeping me busy.
The big project is the release of my book, Workshops Work! A Parent's Guide to Facilitating Writer's Workshops for Kids. I've been busily formatting the print version of the book as well as the e-book, and designing the accompanying web pages. It's been sort of like doing a picot bind-off on a shawl for a football field. The book's launch day is next Monday, November 26. I'm giddy and panicking that I won't get everything finished in time. But I will. And I hope you'll come back to see that I do.
There will be book giveaways, and I'll be sending out free chapter samples to Wonder Farm email subscribers. If that sounds tempting and you don't subscribe already, you can do so by clicking here, or on the button in the upper right sidebar.
Catch you on the other side of the picots and the publishing.