I found the book in a little indie bookstore by the beach when we were in Los Angeles for a long weekend. Super Human looked like something he'd like: heroes, villains, characters with names like Quantum and Paragon. I showed it to him and asked if it looked interesting, but he was sprawled under a display table, deep in a Dungeons & Dragons encyclopedia, and he wasn't convinced. But mamas sometimes know better, so I bought it anyway.
Back beside the hotel pool, free of too-expensive D & D encyclopedias, he dug in and proved that I know what he likes.
When we got home, I found the next book in the series for him. But he's the sort of kid who gets sidetracked (League of Legends, a new trampoline, Cleverbot, a favorite 21-year-old brother in town) and didn't finish it.
Something led him back to the books this week, and he asked me to find the third book in the series. He became entranced again, reading all three of them at once (how does he do that?) and researching the series and the author online. (Chuckling aloud at the "are you the same Michael Carroll?" part of the author page.)
The other day, he told me all about the books, how they're about ordinary people with extra-ordinary powers. Who fight people with much more advanced powers. Quantum computers are also involved, which pretty much makes the series like candy for a certain type of 11-year-old boy.
"It's too bad I already read them because you could read one to me." He paused, thinking.
And then he said, "Want me to read it to you?"
Read it to me? This was new. I suppose that after a lifetime of being read to, and of seeing how my reading draws him into books, he hoped to do the same for me. He wants to bring me into his world.
And so he read to me. For half an hour. We sat side by side on the green couch in our office and I knitted on this. T reads with great inflection and energy and just the right pacing—the result, I'm sure, of the countless audiobooks we've listened to over the years. And he does voices, including a scratchy, malevolent one for the guy who runs the work camp.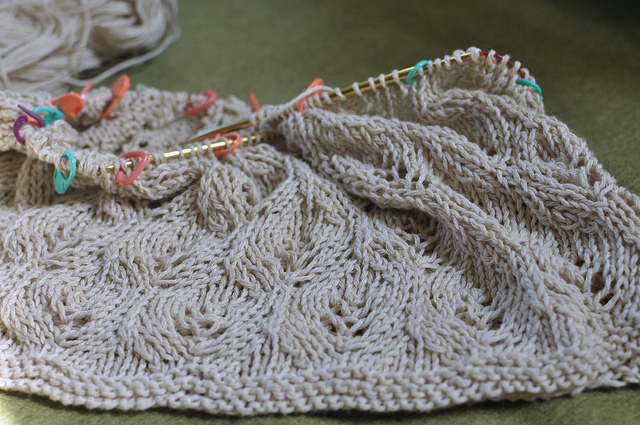 "It's so sad," I said. "Does it get better?"
"I don't know about that. But it's the kind of book that makes you want to keep reading." And then he asked if he could read to me again the next day.
It all comes back to you. I only have one kid that I still get to read to. It's one of my favorite parts of parenting and I'm doing it for as long as I'm allowed. I've done it because I wanted my kids to love books, because I wanted to read books with them, because it's one time they are happy to listen to me, because it's intimate act. I never did it in the hope that one day someone would offer to read to me.
It's one of the marvels of parenting. You don't do it because there's something in it for you. But then, along the way, you discover there is.
_ _ _
P.S. Thank you for your thoughtful feedback on my last post. You give me direction, dear readers.
P.P.S. After reading Renee's compelling post about her new Facebook blog page, and making it work for her, I am newly intrigued with the idea of making my Facebook Wonder Farm page work for me. I've always been rather grumbly about Facebook, but I know that lots of readers come my way via the Facebook machine. So I'm planning to show up there more often; if you show up there too, please come join me.