Coming home to the empty bedroom is the hardest part. She took all the things she loved, and cleaned up the rest. Filled bags with old Vans and ballet flats to donate. Now her room looks like a fake teenage bedroom in a suburban housing tract model home.
The week before she left, she brought down a small stack of books that she planned to bring with her. She'd curated them carefully; she could only bring four suitcases to school, fifty pounds each. Books are heavy.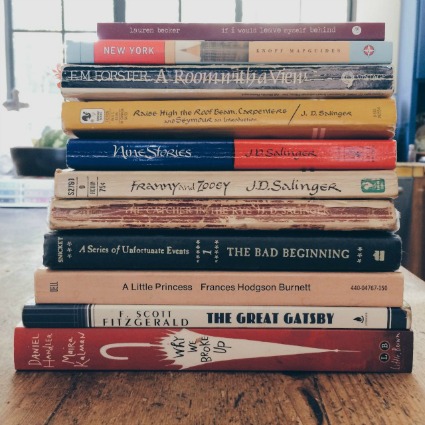 She took my copy of A Room With A View. My favorite. I let her.
I sat on her bed in her empty room, the night we got back. Crying, of course. I looked at what remained on her bookshelf. Four shelves full, books crammed into every space. She'd read just about every one over the course of a childhood. Every word.
There it was: her childhood in a bookshelf. It was what I kept thinking, in the days before she left. This is the end of her childhood. A week before, I'd gone up to her room when she wasn't home. She'd started laying out things that she planned to take, and propped up in the middle of it all was her doll, Cookie. She'd named her when she was almost two. For months I'd asked what her baby's name was, and finally one day she told me: Cookie. Cookie is a small doll, the perfect size to fit in the crook of a two-year-old's arm, the perfect size for squeezing into a suitcase when you go to Italy at eleven.
Or to college at eighteen. I picked that doll up, held her to my chest and sobbed. Said goodbye.
Chris and I saw the film Boyhood this weekend. It was eerie in a way. The boy in the film is exactly L's age. The film starts with him being six in 2001, just as she was, his mother reading Harry Potter to him and his sister at bedtime. It ends with him at eighteen, leaving for college. His mother cries on the day he leaves, says, This is the worst day of my life. I didn't feel that way when we left L at school, although I wasn't sending off my last child, as the mother in the film is. Still, seeing that boy grow up over the course of two hours and forty-five minutes is a mesmerizing thing, and sort of terrible if you've just left your daughter at college all the way across the country. Her childhood flew by too. Not two-hours-and-forty-five-minutes flew, but flew.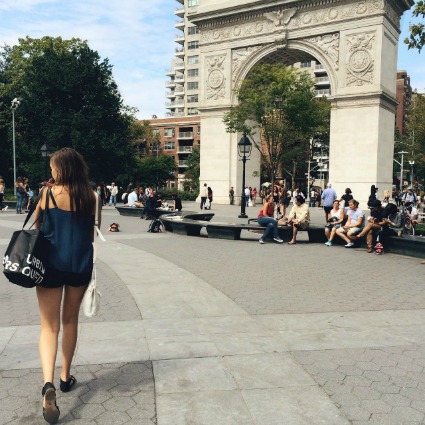 It would be harder, though, if she were unhappy. She's not. She's making friends, she's thrilled about her individualized studies program, she's navigating New York City like a native. She responds to my texts like she promised she would, and calls to tell about her day. She's visited two art museums in her first week.
It's always the last goodbye that we parents dread the most, isn't it? Her dad and I spent the morning with her, picking up paper and pens for her dorm room; she had a meeting to get to for her program. We found a spot on a quiet street and exchanged our hugs. It would have been harder if she fell apart, but she didn't. She just said, Oh, Mama, and hugged me like she did when I was sad when she was two, when she kissed me square on the mouth and said you my best friend. Then she hugged us once more, turned the corner and walked up Broadway to her meeting, looking like someone who knew where she was going. We followed her with our eyes, our girl, until she slipped into the crowd.