I fly into Ohio on the redeye. I get to sit in the window seat, since I have no kids with me, and watch Lake Erie come into view, all misty in the dawn.
It's 6:15 a.m. when I land, and I have a morning to fill. I take the Red Line into downtown Cleveland, and drag my carry-on to the hipster coffee shop that I've researched at home. I drink one of the best almond milk cappuccinos I've ever had and write in my journal because this is what the weekend is all about.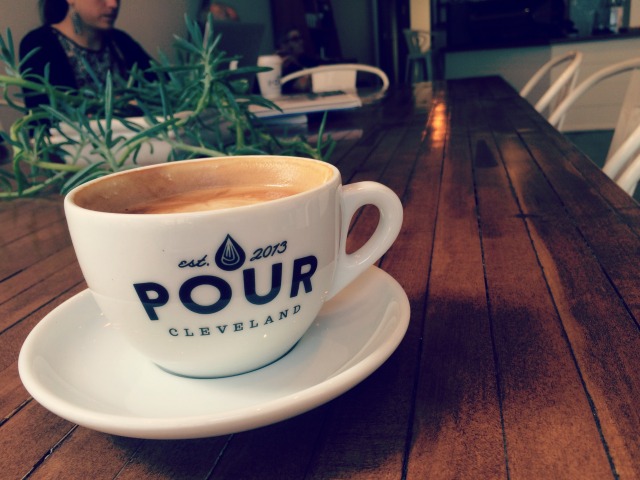 I make my way back to the airport where I'm shuttled to the small town of Ashland, an hour away, headed to the River Teeth Nonfiction Conference. The writer Ana Maria Spagna, a conference presenter, is in the van with me. She's chatty and generous, asking questions about my homeschooling life, which always seems a little small when I'm outside my homeschooling world.
Everything is green, green, green, so different from the droughty late May golden hills of California. Square farmhouses with siding. No stucco.
I see my first Amish wagon, led by a horse on the side of the road.
I have a few hours to kill, so I walk to Main Street, looking for a salad, maybe a sandwich. The streets are almost empty. Elevator music is piped in on outdoor speakers. The only restaurant that seems open is a dusty Chinese place.
I walk back to the Subway I'd passed on the way into town, desperate, and text my husband not to tell Mr. T.
We're staying in the campus dorms. One of my suitemates turns out to be an outgoing psychotherapist. The second is an undergrad who says few words to the rest of us. My roommate is a beautiful 28-year-old, newly engaged. She's there to see Cheryl Strayed. Her own mother died when she was 19, and she wants to write her mother's story.
Lulu is 19. I feel myself gathering this beautiful young woman under my wing.
That night we listen to Jerald Walker read from his work. I sit in the front row, terrified that the redeye of the night before will cause my eyes to close, which would give entirely the wrong impression since every essay Walker reads is wonderful. I'm not sure if I prefer "How to Make a Slave," which appeared in Best American Essays 2014 and features Walker hiding in the closet of his young sons, worrying over their hearts, or his ode to Michael Jackson.
On Saturday I'm back in the front row of the lecture hall with my suitemates, listening to lectures and scratching excited notes. (And you can listen too! To all of the lectures and readings! Here!) Steve Harvey and Ana Maria Spagna speak on the essay in ten parts, my favorite parts being "the white space" and "the bridge." Jill Christman and Sarah Wells talk about Jo Ann Beard's masterful essay, "The Fourth State of Matter," which I love and have graffiti-ed with more marginalia than any other essay.
These are my people!
I have a consultation with Steve Harvey about an essay I've submitted for feedback. It isn't the essay I wanted to submit, the one about owning one of Kim Gordon's dresses–I couldn't get that essay to come together in time. Instead I've sent an older one about a trip our family took to Spain ten years ago.
Harvey's feedback is spot on. What he says doesn't apply just to the Spain essay, but to my writing in general.
"Cleverness can be both a gift and a limitation for the writer. It can take an essay over and hide the writer–and the reader–from serious but important truths."
"Your writing is often breezy–which is good for exposition–but we long for you to slow down and savor important moments in a scene."
I'm always afraid to dwell in scenes in my writing, nervous that I'll bore readers if I linger somewhere too long. Instead, I fall back on that cleverness, like a kid in junior high. I knew this about myself and didn't know it. It's what I need to hear.
I tell him that I don't know what to do next in my writing. Dig into the memoir on homeschooling that I've been circling around, or try to get more essays published, to make myself more legitimate?
"Only your heart can tell you," he says.
Happy hour is at a wine bar on Main Street. I order a glass of Italian Nebbiolo, thinking that it doesn't make sense for a Californian to order California wine when in Ohio. It turns out to be a truly awful glass of wine and I am a snob.
While I'm taking my first awful sips, I receive an emailed rejection for an essay I've submitted to a magazine. The very essay I'd consulted with Steve Harvey on earlier. It's a form rejection. The timing makes me chuckle.
My roommate and I find new bar seats across from Jerald Walker, who seems genuinely interested in homeschooling when the conversation–and what are you writing? –comes to it. He tells a very funny story of his son who wants to be a chef, but who wouldn't eat a bite of solid food until he was almost two. Until the day he walked into the kitchen where his parents were meeting with a food therapist, casually eating a cracker.
I order a glass of California Syrah. I don't know if it's better because it is truly better, or because the second glass of wine is bound to taste better than the first.
My roommate and I nab a ride back to the college campus with Walker and a few others, one of whom received her MFA in Creative Nonfiction through Ashland's low-residency program. I ask lots of questions. I imagine myself coming back to Ashland for two weeks each year, working on my homeschooling memoir as my thesis project in between, and earning my MFA.
I wonder if the twenty years I've spent homeschooling my MFA have been enough.
We arrive to dinner a little late, a little tipsy, and laugh too loud about the brown stuff on our plates that might be sweet potatoes.
Then we hear Cheryl Strayed read. We're like a giant group of preschoolers, being read to by an adored teacher. She shares an essay-in-progress, about driving cross country and losing her last $2,000 in a McDonald's bathroom, and having Grace Paley walk into a coffee shop in the middle of nowhere, in the middle of her desperation, and buying her a piece of pie.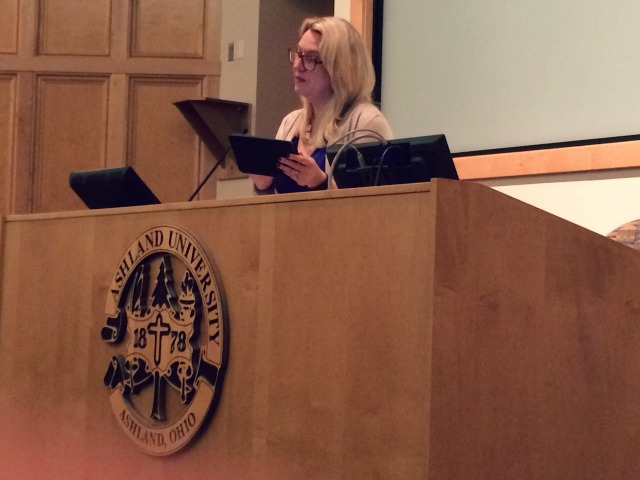 Then she reads her Dear Sugar column "Write Like a Motherfucker," and I feel like I've been given my marching orders.
We walk out from the reading on a high, my roommate and I, all worked up and with nowhere to go. A few other similarly blissed out women invite us to their dorm room to share a bottle of wine in paper cups and to rave about Cheryl Strayed. One of them turns out to be a homeschooler.
I lay in bed for hours that night, restless. Lightning flashes through the trees outside the dorm window. I keep thinking about that MFA program. Thinking of how to go deeper with my writing.
Over omelets at breakfast, a few of us marvel at how every wall of the dining hall is covered with photos and memorabilia. The photograph of a past university president and his disapproving expression gets us in giggling fits. We make up lines for him: I heard you were drinking wine in the dorms last night. What do you mean you didn't like the sweet potatoes?
More presentations. At Cheryl Strayed's Q & A, she says, "Part of what's sacred in life is that unknowing." Later, during Steven Church's presentation, I ask him about writing parenthood. Part of his response includes the phrase: "the state of not-knowing that defines so much of parenthood."
Unknowing. Not-knowing. Ongoing themes in my life as a homeschooling mother. Maybe a theme for a memoir.
At the end of the conference, my roommate and I run across the Ashland campus in heavy rain to the speakers' book signing. We get in line, soaked and dripping. I step out of line to take a photo of my roommate having her book signed by Cheryl Strayed; I know how much this benediction means to her. She already met Strayed earlier, told her about losing her mother at nineteen. Cheryl Strayed signs her book, "Do everything like a motherfucker."
When I hug my roommate goodbye, I find myself calling her sweetie.
I always find book signings a little embarrassing. I don't need an author's signature in a book; their words are what matter to me. Still, I buy a new copy of Wild in the bookstore, and get back in line. I watch Cheryl Strayed sign the book of the man in front of me, and try to read upside-down. It says something about keeping on the trail.
I don't want to gush at Cheryl Strayed; everyone must gush at Cheryl Strayed. When it's my turn, I simply tell her that I loaned my much-highlighted hardback edition to a friend and never got it back. I smile. She writes in my book, "Always trust your wild heart."
"Only your heart can tell you," he said.
As I'm walking away, she says, "I like your necklace." Because she is the sort of person who gives when she's sitting at the head of a receiving line. I'm wearing an old necklace, a simple silver circle suspended on a chain. I always spin the circle when I wear it. Now I will spin and think of Cheryl Strayed and my wild heart.
The evening is quiet and a little disappointing. Most conference attendees have left. My two friendly suitemates have left. The dinner venue is changed to an Irish bar, and by the time I walk over, I'm one seat too far from the conference presenters who I'd like to eavesdrop on and chat with. I've hardly had a word with Kate Hopper, the writer whose reading I went to in Berkeley, who I've gotten to know online, who inspired me to go to the conference in the first place. The waitress loses my order, and my plate is just arriving as Kate and the other presenters are leaving. I go ahead and gush at Jill Christman as she says her goodbyes, telling her I search out everything she writes. I finally get a few minutes to catch up with Kate.
The dorm room is quiet that night.
I take the shuttle back to Cleveland the next morning. I'm staying in Ohio an extra night, to have time to think about the conference, to write. I go back to my hipster coffee shop and write for hours. I go to the Rock and Roll Hall of Fame because this is what you do when you are in Cleveland. I take photos of guitars and text them to my guitar-loving husband and miss him.
The next morning I go back to my coffee shop. I buy a cappuccino. Then an oat bar. Then another cappuccino. I make my apologies to the young guys making the pour-overs and write for four-and-a-half hours straight. I write about that MFA program. I write about my memoir. I start a new essay. I spin the circle on my necklace and let my heart tell me what to do.