We spent nine days in New York City, visiting the two older kids. Up until now, we've always visited for long weekends, moving the kids into their dorms, checking in at spring break, attending H's graduation. But this was a treat, nine days of just hanging out, being part of their everyday lives.
We spent the first four in Brooklyn, in a rental not far from where H lives. He biked over every day, and he and his brother spent plenty of time catching Pokemon. Interestingly, the 24-year-old seemed more into it than the 14-year-old, but then again, he was the one who lived and breathed Pokemon back in 2000. Nostalgia hit in waves as intense as the 95-degree-plus-humidity heat, as I caught up with my old acquaintances, Bulbasaur and Poliwrath.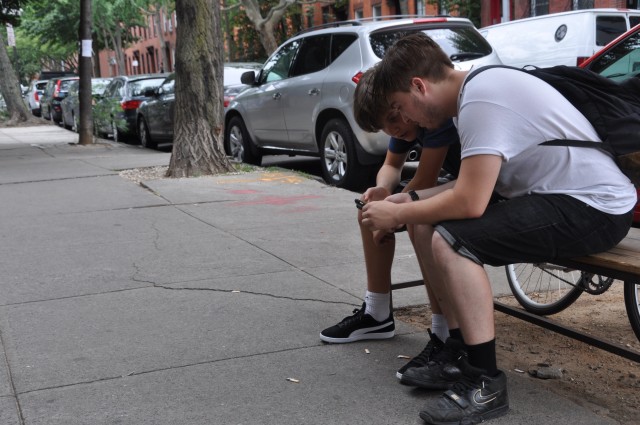 We did a lot of bike-riding. We rode to the New York Transit Museum. (Great spot! You can step inside historic subway cars from every decade!) On Saturday we dropped Mr. T at a gaming store for his own card love, a Magic pre-release, and rode with H towards Williamsburg. One of my favorite only-in-New-York experiences was riding through the Hasidic Jewish neighborhood that butts up against hipsterville Williamsburg, and seeing both beards-and-tats and beards-and-sidelocks in equal number, the latter out walking in the 95-degree Sabbath-day heat in their long overcoats and fur hats. (A fantastic old This American Life episode explores this culture clash, and what happened when a young Hasid became fascinated with Williamsburg punk.)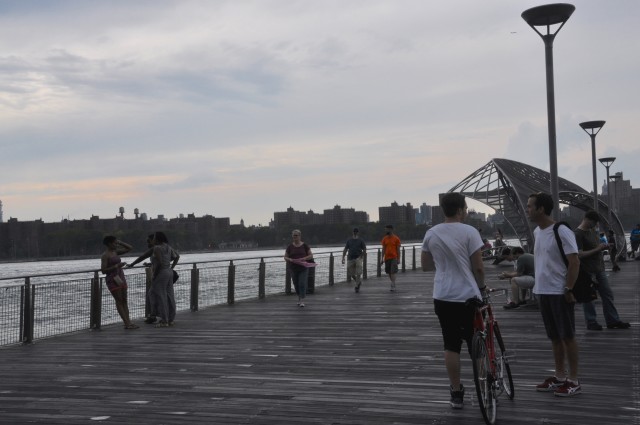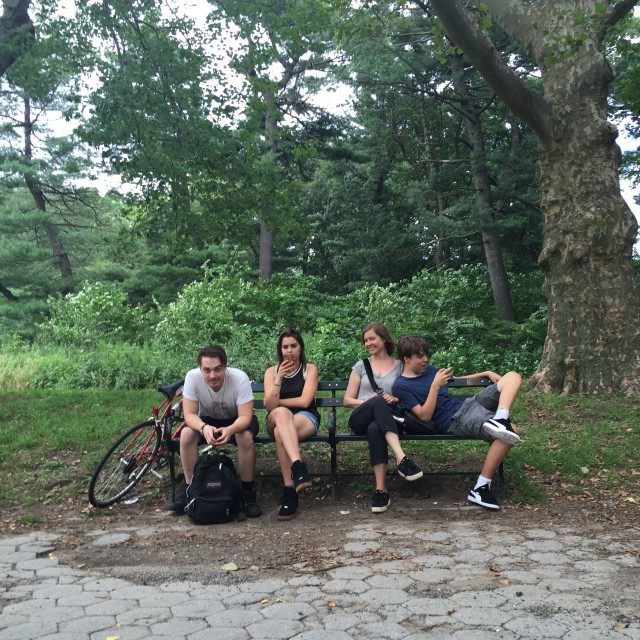 One night we cooked at H's apartment, and I can't tell you how delighted I was to open the fridge of three 24-year-old guys and see shelves crammed with veggies, yogurt, eggs, a little meat and a big bag of flax seed. Oh, and fresh basil properly stored in a jar of water. Raised those boys right!
I also had the fun of ubering with Lulu to Ikea, and buying a bookshelf and a bed frame for her new teensy-adorable apartment. Did we figure out how to get it all from Brooklyn to the east village via a not-too-expensive rented driver? Yes, we did. Did the driver help us carry it up to her fourth-floor walkup? No, he did not.
Did I mention the 95-degree-plus-humidity heat?
We deliver.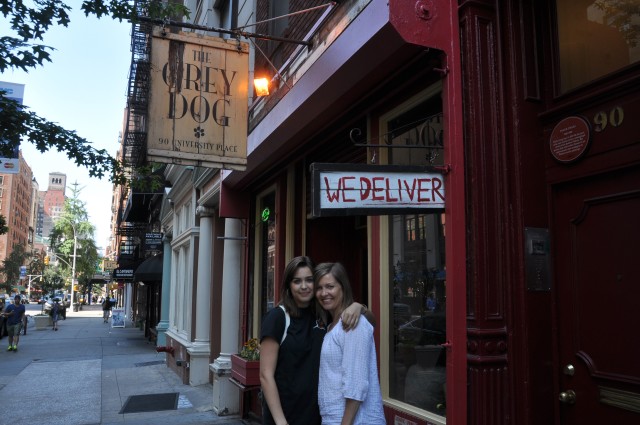 In Manhattan we walked and ate, ate and walked. According to my Fitbit, we walked 93 miles in nine days–and that doesn't count all the biking. It allowed for a few rounds of ice cream and avocado toast.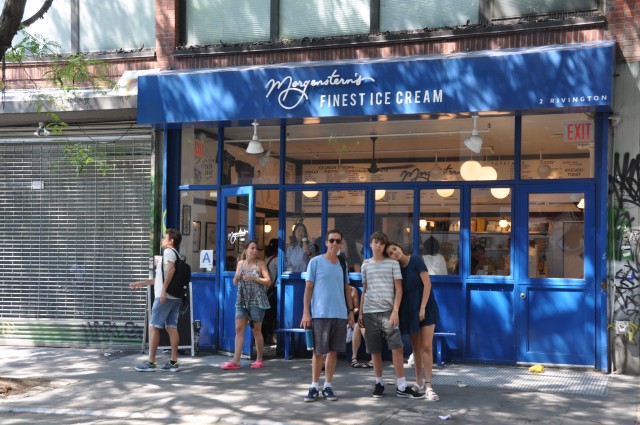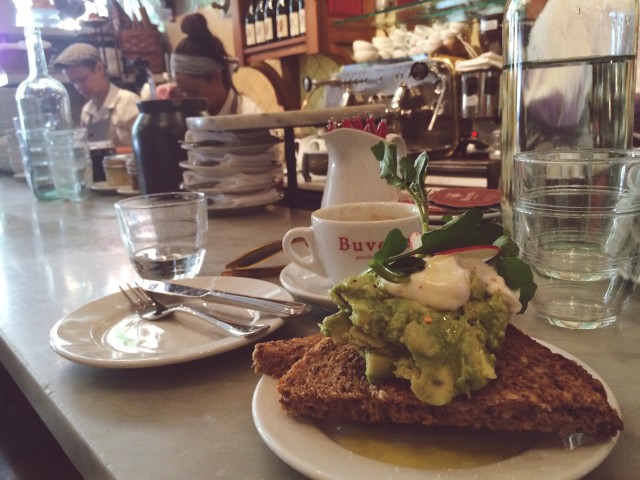 We did plenty of touristy things. Visited the Museum of Natural History. Ate lunch at the Chelsea Market. (Amazing Israeli food!)  Walked the High Line.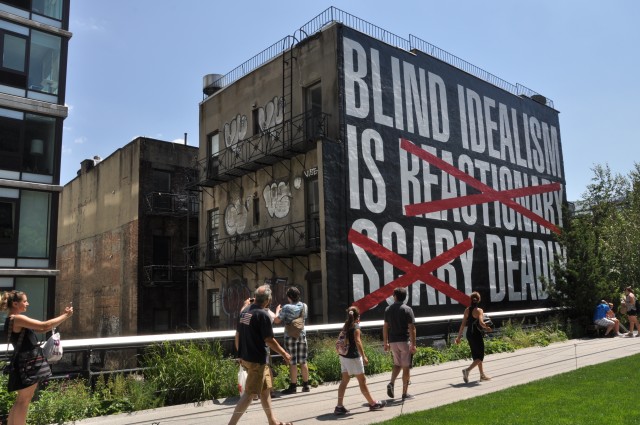 We went to The Meatball Shop, a favorite. Which inexplicably inspired some people to do yoga, or something like it.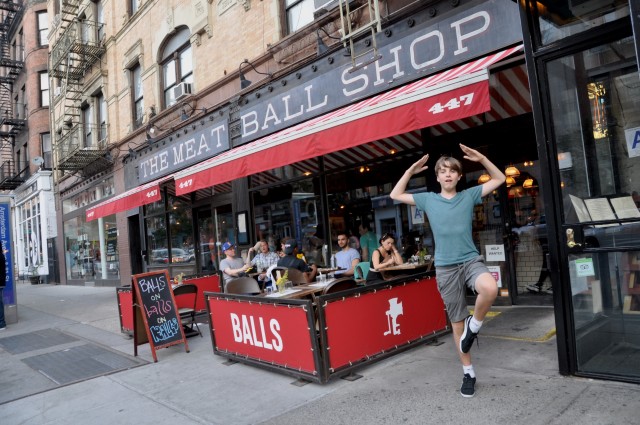 At H's suggestion, we took the Staten Island Ferry to the island, got off the ferry, re-boarded and came back. Because it's free and you can't beat the views.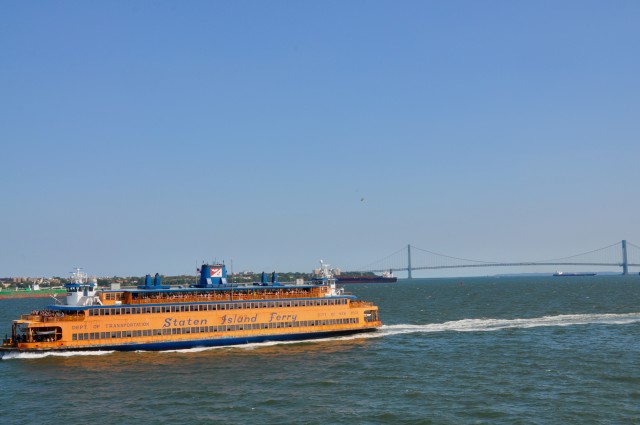 We rode Citi Bikes down to the ferry terminal. If riding bikes in Manhattan sounds as terrifying to you as it did to me, you must consider riding on the bike path that runs along the Hudson River. It's one of my favorite things we've ever done in NYC–you're away from cars, beside the river, and traveling fast and unfettered up and down Manhattan. Loved it!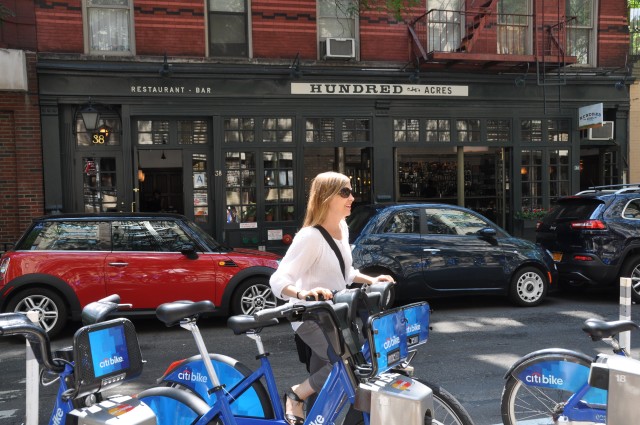 But mostly we just hung out with the kids, eating good meals, witnessing their lives. We got to see H taking late night calls about film locations, got to help Lulu assemble bookcases and hang curtains.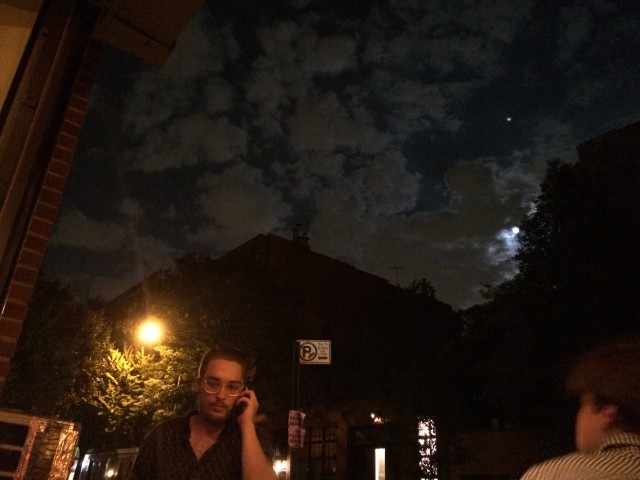 We got to laugh and be silly and just be the five of us again. (Here we have a bunch of Californians, posing as tough New Yorkers.)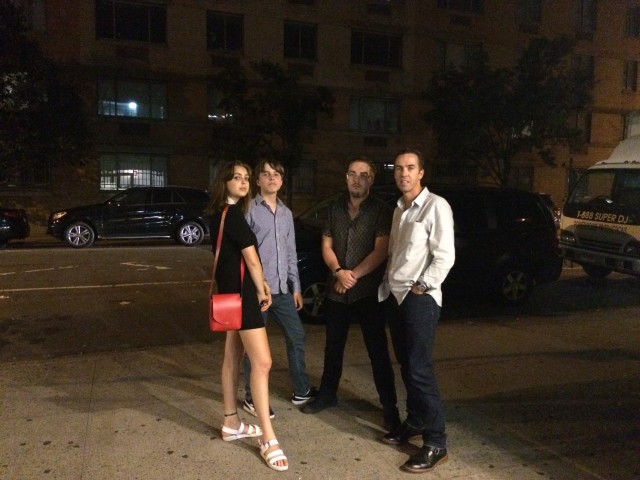 Earlier this summer I met a woman, and after sharing family stories, she expressed her admiration that my two older kids were both brave enough to move to New York City at eighteen years old. I suppose I hadn't thought of it that way. I'm proud of the two of them, and how they're making lives of meaning there. I miss them like crazy and hope, hope, hope they'll come back to California eventually. But in the meanwhile, I can't imagine a more fun place to visit kids. In the meanwhile, I feel very lucky indeed.