I tell the librarian I have a few Link+ books on hold. I give him my name.
"Oh, that's you," he says. "You order a lot of books. I like to have a face for the name."
Link+ is the system my library uses to get books not in its collection, from libraries and universities across the state. It's free. I take advantage.
I hand him my card and laugh. "Yep. That's me. I'm the one ordering all the cookbooks, memoirs and essay collections."
* * *
It should be easy enough to write a memoir. You start at the beginning and tell the story. Right?
* * *
In The Art of Memoir, Mary Karr writes about voice. "Whatever people like about you in the world will manifest itself on the page." Which makes sense.
But what if you don't know what people like about you?
* * *
In an interview, Cheryl Strayed says, "One thing I've learned about being a writer is that you really do have to speak in the voice that's yours…I love funny writing and I do hope that there's humor in some of my writing but I'm never going to be the writer who the first thing you say about her is 'she's really funny on the page.' The first thing you say about me is going to be about emotion and the heart."
* * *
I wish I could say I'm all heart. I wish I could call myself funny. What am I? I think about that and decide I'm all about figuring things out. About fixing things that aren't working. If you want to get Myers-Briggsy, I'm an INTJ. I like to find better ways of doing things. I like to reverse-engineer stuff, to understand what's going on under the hood.
* * *
A tweet of mine from a month ago: Trying to think of a writer who attempts to figure things out, in real time, on the page. Looked up on my shelves and there was Joan Didion.
* * *
Of course, most writers think on the page in some form. But it's the "in real time" thing I'm interested in. I'm looking for writers who try to figure things out as they go. Who make leaps and repetitions and omissions on the page. Who help us, as readers, feel we've climbed off the page and right into their brains.
* * *
How does Joan Didion do it? I listen (for the third time?) to the audio version of Blue Nights and make notes when I catch Didion thinking. I read The Year of Magical Thinking for a second time and add to my marginalia.
* * *
From my journal: Her use of repetition. The tattoo showing through the veil. The cake from Payard. How we understand what she can't move past.
Also, the leaps. 
* * *
I am trying to figure out how writers show they're figuring something out. I see the irony in this. The layers. I think about the film Inception.
* **
Apparently Christopher Nolan is also an INTJ.
* * *
Earlier this year I wrote a draft of the first two chapters of my memoir. Each chapter about a year of our homeschooling life, each evolving chronologically. This happened, then that happened. The chapters seem amateur to me, but given that I'm an amateur, I can't figure out why.
* * *
What we learn from all Didion "failed to recognize."
* * *
I find Lori Jakiela via her essay sort-of-about scorpions on Full Grown People. The essay is written in fragments and is smart and funny. I try to find Jakiela's adoption memoir, Belief Is its own Kind of Truth, Maybe and even Link+ lets me down. I order it online.
* * *
The memoir is also written in fragments. Also smart and funny. And a little tragic.
* * *
From my journal: Jakiela uses questions asked of her by actual people—the adoption counselor, say—as an excuse to think on the page. She responds on the page as she doesn't to the actual counselor, riffing on her mother, her mother's shoe collection, her mother's legs, Alex Trebek, the counselor's dog. We follow her thoughts.
* * *
It occurs to me that some memoirs are written in the style of novels—played-out scenes, lots of action. Connected dots. Others are written more like essays or short stories. More sections. More white space in between. More inference.
* * *
A week after tweeting about Joan Didion, I get an email update from Essay Daily about a post from Sarah Viren. Viren's title says her post is on hybridity, and her first paragraph says it's about being pregnant. But it is also about thinking on the page. Viren writes, "What I'm thinking, though, is about how to parse the difference between thinking and thinking on the page, between the static "I" and the "I" who thinks. "
I think, who is this Sarah Viren, and how did she get inside my mind?
And exactly what is she doing in this post that lets me inside hers?
* * *
I feel like a Luddite admitting it, but I don't read a lot of novels. Of course, I've been studying essays and memoir, so it makes sense that I'd focus on those formats. Still, I've always preferred short-form writing. Essays, short stories. I like the white space. I don't want everything explained to me.
Suddenly I understand why: The white space forces me to figure something out. Why this? Then after the white space, this?
* * *
Viren mentions several writers who think on the page, and explores how they do it. I pull up a new tab and make my Link+ requests. Jenny Offil's Dept. of Speculation. (Viren explains that the book "is called a novel, but much of that sparse book reads very much like an essay, in large part because of the insularity of its narrative voice and the prominence, and isolation, of the 'I.'") Lacy Johnson's The Other Side. Rivka Galchen's Little Labors. I request all.
* * *
During my manuscript consultation at the River Teeth Nonfiction Conference, Kate Hopper suggests, after reading my two draft chapters, that I might not want to write a chapter for each year of our homeschooling life. That I might want to write chapters centered not so much on chronology but theme. I think: rewrite. I think: linked essays.
* * *
While waiting for the print version of Dept. of Speculation, I check out the audio version, read by Offill, available from the library as an instant download. I download. I listen. I can't stop listening.
* * *
The book is written in fragments that seem random. Brief experiences of the narrator. Lines she's read. Fun facts about the human brain. Odd, but strangely compelling. And then, slowly, the fragments build a narrative.
* * *
I can't wait for the physical book to arrive at the library. I need to see the white space.
* * *
Maybe what I like best about white space in an essay, or a memoir, or, in this case, a novel written in the style of an essayistic memoir, is how the space in between the parts allows some space for me to think. Allows my own thoughts to interact with the narrative.
* * *
Notes on Offill: A random thought about unnecessary things in Rite Aid makes her flash back to being 16, giving a quick reflection on what she wore and believed. Try that.
"Why would you ruin my best thing?" A line repeated later, in a different context. Hits like a rock.
* * *
I think about the first chapter of my draft. The story of deciding to homeschool in 1996. I want to approach the chapter thematically, as Kate suggested. I want to ditch the chronology. I want to bring readers into my brain, help them see what I was thinking. I want to give the reader space to bring in her own thoughts.
The question: how?
* * *
Johnson's memoir tells how she was kidnapped and raped by a man she once loved. Not the sort of book I'm drawn to, but this one pulls me in after only two lines. "I crash through the screen door, arms flailing like two loose propellers, stumbling like a woman on fire: hair and clothes ablaze. Or I do not stumble."
* * *
From my journal: How Johnson keeps returning to that use of "or" to show how she's remembering. Or not remembering.
* * *
The Other Side is also written in fragments. Within chapters, the fragments are pretty much chronological, but the chapters themselves are not. The order of chapters maps Johnson's thinking. Fascinating. All the way up to the last chapter. Especially at the last chapter.
* * *
Chronology is a strong pull for me. When I arrange photo albums of trips, I'm a freak about making sure the photos are arranged in the order that they happened, day by day, hour by hour. Why? It's a test of my memory, maybe. I like to know I can remember things right, that I won't forget how events played out. But why not group all the gelato photos together? Why not a page of train stations? Or grumpy kid faces? That might tell a better story.
* * *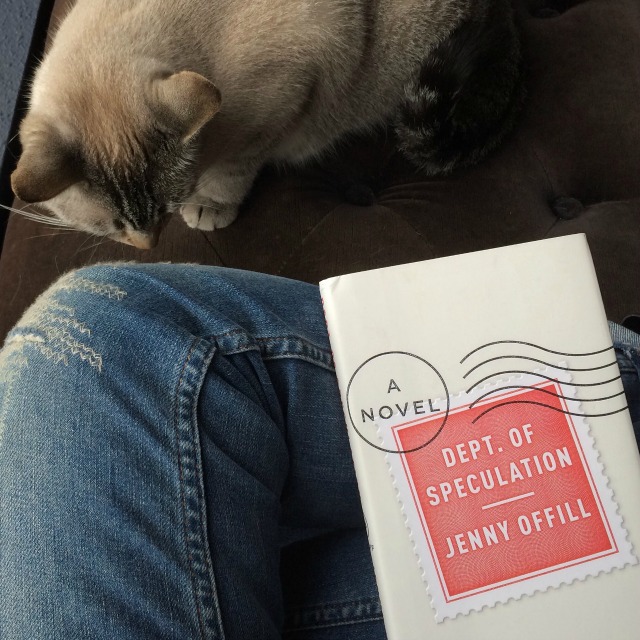 I post this photo on Instagram, with this caption: Window seat reading on a rainy day with my girl. I am on a quest to read memoirs written in fragments, and while this is not technically a memoir, it reads like one. It's a crazy thing that comes together as it goes and is even better on second read. I listened to the audiobook read by the author too. Twice. I'm a little obsessed with figuring out how it works.
* * *
I am not sure how to classify Rivka Galchen's Little Labors. Is it a memoir of the time when her daughter was a baby? Is it a collection of micro-essays? Not really. It seems to be a collection of notes about her baby daughter and a bunch of randomness: eleventh century Japanese essayist Sei Shonagon, Godzilla, Rumpelstiltskin, a rude neighbor, a Keanu Reaves movie. To name just a few examples.
* * *
Journal notes on Galchen: It's surprising how much random bits reveal about an author. How much they add up to something in the end. Also, remember how she writes about the baby. Especially her "mysteries of taste."
* * *
I get an email update from Brevity announcing their new podcast, which includes an interview with Dani Shapiro. I listen. I listen to the Shapiro interview a second time. And, if I must be honest, to parts of it a third time.
* * *
I request Shapiro's memoir Devotion from the library. I read it four years ago and enjoyed it, but this time around I'm surprised to note that the memoir is written in fragments. I'd forgotten. The fragments are longer and more novelistic than most of the others I've been reading, but once again the chronology is jumbled. Sections go back and forth in time, arranged, it seems, by association.
I go back and try to figure out why each section is rubbing up against the next. I am in Shapiro's mind. Despite the disordered chronology, I see that as the book progresses, we're getting somewhere.
* * *
I email my writing friend Carrie and tell her what I'm up to. She recommends some favorite fragmented memoirs. Abigail Thomas, whom I've read. Others, which I haven't. Alex Lemon's Happy. Vivian Gornick's Fierce Attachments. I only have to type "B" in my search engine and the Berkeley Public Library home page autofills.
* * *
How do you write a memoir? How do I write a memoir? Long sections? Short sections? Straight chronology? Scrambled?
* * *
I keep ordering memoirs. I keep searching out ones with white space. I don't have to tell the librarian my name. I just walk up to the desk and smile.
I reread the journal from the year we decided to homeschool. I write random bits. I try not to think chronologically. I try not to think about outcome. Just bits.
So many memoirs with answers in the white space. I write my bits and hope the space in between will answer my questions too.