I'm writing a chapter for my book about 2005. The year my boys were three and thirteen.
One was in a band, the other in training pants. It felt like my life was circling back on itself at the same time it was charging into uncharted territory.
On the Christmas video that year, the older says, "I got $40 on iTunes! That's crazy!" He'd fallen hard for music in the months before–Led Zeppelin, The Beatles, Oasis–and had just opened his dream gift, an MP3 player.
On the same video the younger says, "Why does Santa not say ha ha ha or hee hee hee?"
Almost a decade apart. Different worlds.
* * *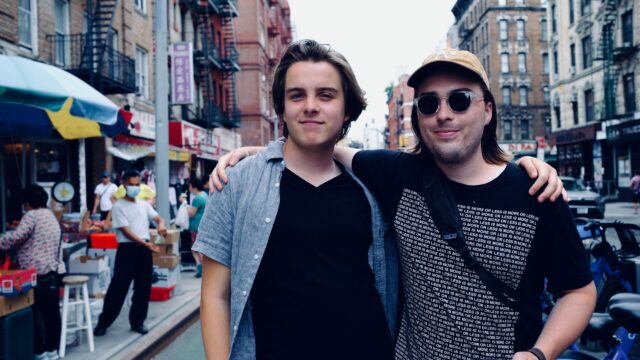 In June, Chris and I took the younger one to visit the older two in Brooklyn. Bittersweet trip–H would be moving back to California after eleven years in New York City. His sister has been there for seven, is starting her second year of grad school. It was the last time we'd visit both of them there.
Dropping H off at college in 2010 seems like a lifetime ago. Leaving him there in New York City, alone.
Back then, I wrote a post about it. Darned homeschooling. About having a kid decide to go to college clear across the country. That post got shared by a popular blogger and went kind of viral, back when blogs could make things go viral.
That seems like a lifetime ago, too.
In the weeks before he left, I'd find myself awake at night, worrying over what I'd forgotten to teach him, provide for him. One night two weeks before he went, it hit me: we needed a professional family photo! The desire felt so important. It was something I'd been meaning to do to for months. Now he wouldn't be home until November, or December, and the light would be terrible for photos then, right?
Such a strange thing to worry about, but I understand it now. I wanted evidence of the five of us, before one of us was gone. So important, that desire. I found a local photographer willing to squeeze us into her schedule.
* * *
I've been compiling fragments for my 2005 chapter. Writing them by hand on index cards. Little snippets.
The older catching the younger picking his nose. "You do that and you won't have any friends."
The younger thinking for a moment, saying, "I have cousins!"
* * *
He's nineteen now, that younger one. Finally getting to go off to college himself, after a freshman year of Zoom history classes, composition classes. Foundations of Television–on a screen. In his boyhood bedroom.
He's heading to Chicago. To study Comedy Filmmaking and history.
I'm being so lackadaisical about it. He goes in less than a month. I have the airbnb booked, got tickets for the architecture boat tour, but we haven't bought anything. No winter clothes, no comforter. We haven't done the Bed Bath & Beyond thing you do when your kid is heading to college in some far-flung place, scanning desired items at a local store to have them magically waiting at your destination.
I've done this twice; I know how. But still, I haven't taken him down to the store.
Well, it's not true about me not buying anything. I ordered a package of three face masks because he keeps losing them. Also, a year's worth of contact lenses.
Protection and vision–what more could a mother want for her child?
What more does he need?
* * *
One of my favorite shots by that photographer eleven years ago was the one by our back door, centered on T, the other four of us at his sides.
He was so small. Not quite nine years old, just halfway through his childhood and his brother was leaving, heading to New York City.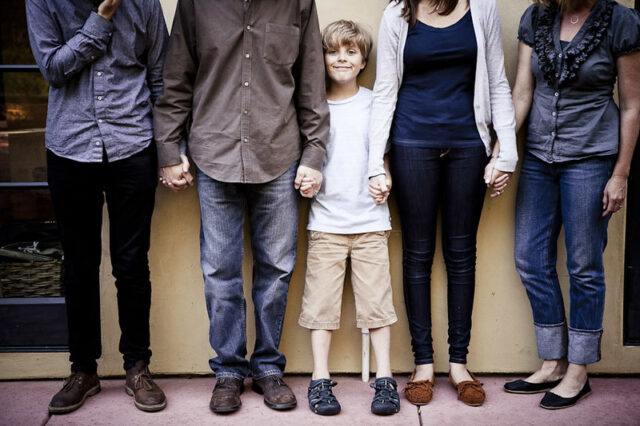 Almost ten years apart in 2005. Three and thirteen, they'd still play.
The older would chase the younger with a foam sword, shove it in his back, say, "I've impaled you. You're dead."
The younger would fall backward in slow motion, tongue lolling as he made death groans. He'd let his head flop back last, for effect.
At which point I'd tell the older that this might be slightly inappropriate play for a three-year-old. That I didn't want him impaling other kids at the park.
He always had the same response, "But he likes it!"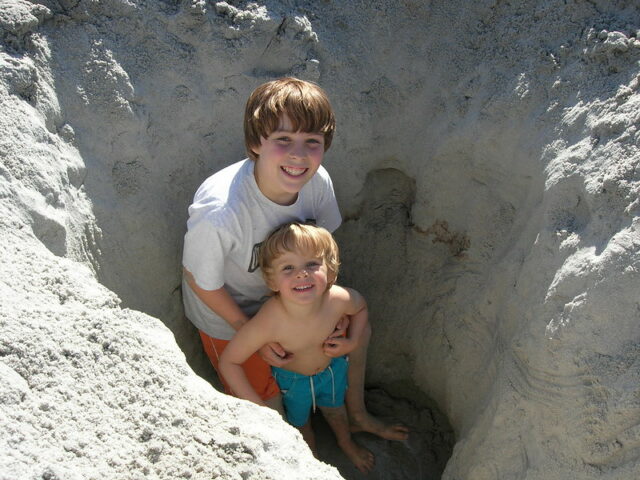 * * *
Seven years of dinners with just his dad and me, his siblings off in New York. When his sister left, he was almost thirteen. Thirteen, here we were again. Circles. Shared dinners have always been the heart of our family, and I felt bad that so many of his would be with just us two. "We're sorry you're stuck with us old farts," we'd say.
He'd make it fun. At first with Batman lore and explanations of quasars. These days it's maps showing the evolution of the English language. Also Limmy videos.
His brother is coming home to stay for a while while he plans what comes next. A full month here together, before the younger goes.
The night I picked him up late at the airport, his brother said, "This is probably our last dinner with just us three, after seven years."
I had to eat fast that night, planning to visit a friend who is having a hard time before heading to the airport. It was probably for the better. If I had to think of what that dinner meant, I might have fallen apart.
* * *
The night before, his brother had texted a photo. His last night in New York City; he and his girlfriend went to Manhattan for dinner. They stopped in front of his first dorm and took a shot for old time's sake.
We couldn't say our goodbyes there, eleven years ago. Too public. We'd walked a block away, searching for a private place to say our goodbyes in a city without private places. On a side street by a church, beneath an iron fence with speared posts, we hugged and cried. It felt impossible, leaving him alone in New York City.
* * *
There are four of us at the table, for a month at least.
At dinner we discuss how the younger will be back in the kitchen at midnight, making his second dinner. Potstickers. Chinese noodles.
The older says, "You do that and your roommates will hate you."
The younger says, "We'll see. They might be late-nighters too."
(What I hear him say: "I have cousins!")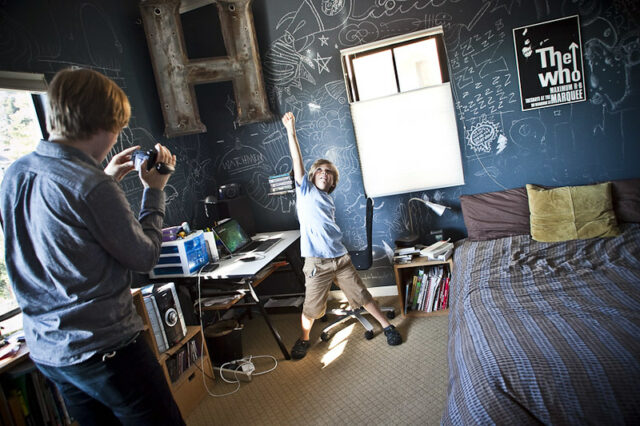 * * *
They've been going to the climbing gym. They took a class to learn how to belay each other. One climbs and the other holds the rope down below, just in case. Then they release the rope in bursts, in blips of time, let the other down.
"He always lets me down too fast," says the younger.
"He gets a little scared at the top," says the older. "But he does it."
Taking turns, switching roles. Vision and protection.
* * *
One of these days, I want to replicate that photo by our back door, centered on the youngest. He's taller than all of us now.
We're taking him to Chicago in three weeks, leaving him there.
This week I will take him to Bed Bath & Beyond. We will order a comforter and a bedside light. And a wok for his midnight snacks.
I wonder what will start keeping me awake at night in the next few weeks. What have I forgotten to teach him, provide for him? I'm being so lackadaisical about it; it hasn't hit me. My youngest, my sunshine, the one whose childhood passed so slowly because I wasn't always looking forward, worrying. I'd done it all before. With him it was easier to stay in the moment. Enjoy him.
Almost twenty years of him. Seven years of dinners, just him. He's leaving for Chicago.
It feels like my life is circling back on itself at the same time it's charging into uncharted territory.
Once they go, it's never the same. I know that now. They make lives of their own, elsewhere. They come back, but they're visitors. People with tales of far-off people and places who forget where we keep the salad spinner.
I will cry for the whole flight back from Chicago. I've done it twice, I know. I will walk by his empty bedroom and my chest will feel socked.
But at least it won't be just two of us at the table, not yet.
Life keeps circling. They come back.