This happens often. I'll be chatting with a new homeschooler, and this person will ask what we do each day. I'll explain that we aren't unschoolers, that we have a habit of doing something together most days, but that I try to follow my kids and their interests.
At this point the fellow chatter usually nods, but often I can see little question marks scroll over his or her eyes. You follow your kids? What does that mean, exactly?
This is the point in the conversation when I try to give examples. Just the other day, in fact, Mr. T had me chasing him down one of his never-ending trails. I thought I'd share it here, so the next time I talk to a new homeschooler and the question marks scroll, I'll know just the specific story to tell.
Anyway, T was doing a logic puzzle in National Geographic Kids. (My kids have all loved the magazine when they were young, although I hate the ads and the movie and video game tie-ins. If you must know.) He asked for my help. It was a full-page, detailed drawing of a couple dozen kids eating ice cream in a parlor. There were several clues for finding a specific kid, such as the person is not wearing plaid. By process of elimination, you find the sought-after kid and solve the puzzle. I told Mr. T that this sort of puzzle is called a logic puzzle.
"I love logic puzzles! What's someone who does logic for a job called?"
Here we go, folks. Did you catch that? He's waiting there at the metaphorical trailhead, excited. Luckily I was listening, and not distracted by the tink of a new email or some enticing just-arrived sale catalogue, as I'm sure I am plenty often when T is ready to take off. But if you want to follow your kids, you have to be there for the start of the hike.
"I think they're called logicians." I said, and then–this is key–I tried to say the next line as casually as possible, "You know, you can make up logic puzzles. We could make them for each other."
If I'd said that last line too enthusiastically, Mr. T might have shut down the whole trek right then and there. A bit of wisdom, learned from my kids: There's nothing more dampening to a new idea than to have your mother jump in and run off with it.
Now, as we had this conversation, I was putting dinner on the table, so we didn't have time to pursue the idea further right then. But since he'd seemed so interested, the next morning I brought it up again. I told him that I remembered some logic activities in a book–Family Math—in which kids write "bean recipes," using real beans to work out problems that are solvable.
"Beans! Why would I want to do logic problems with beans?"
I was about to tell him that we could just use the book for ideas, when he busted out with this: "We could use my guys!"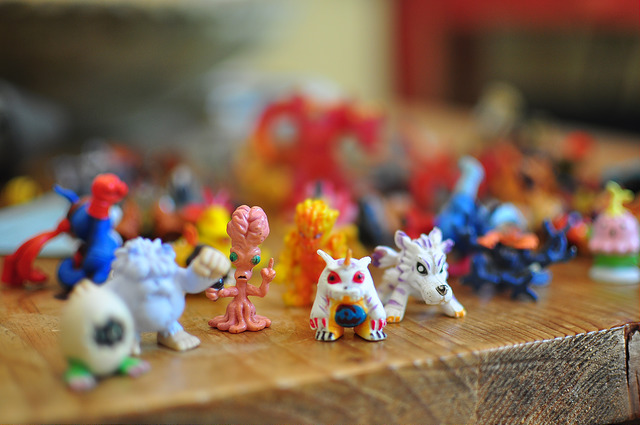 His guys. Some of you may remember Mr. T's guys from a post long back called When Your Kid Wants Almost Nothing For Christmas. His guys are a motley collection of small plastic creatures. Many are Digimon figures, although T knows little about Digimon. Some are Gormiti figures, which we discovered in Europe, and seem to be an Italian version of Pokemon. T doesn't care much for the backstory of these creatures; he invents his own names and his own stories. And he adores his guys: they're one of the few toys he plays with, almost every day.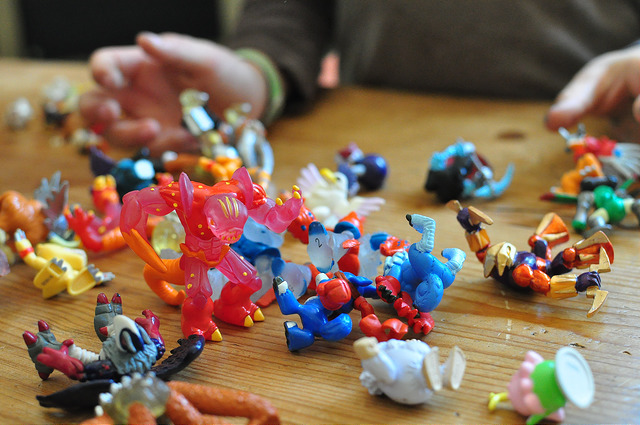 If a project revolves around his guys, I know Mr. T will be interested. So when he says something like, "We could use my guys!" I pay attention.
We decided to each take a bunch of guys, and to secretly select a target guy to write clues about. We would each read each other's clues, and try to find the secret creature.
Mr. T's first set of rules was a bit vague.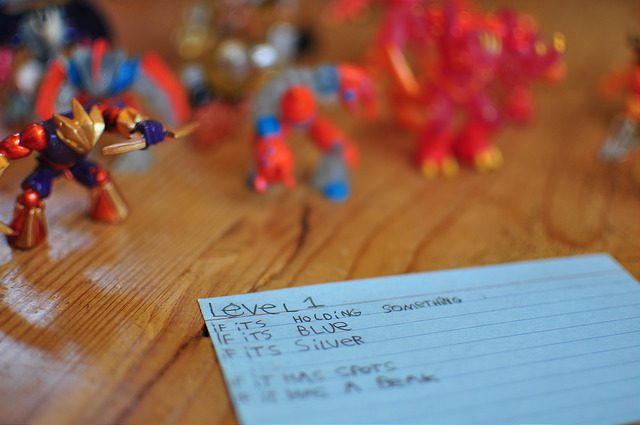 His first clue was If it's holding something. I asked whether a guy was holding something meant that it was the mystery creature, or wasn't. T had meant that if it were holding something, it could be the creature. I asked how he could write the clues so they'd be easier to understand. He remembered how they were written in National Geographic Kids. "I'll write them like that next time." (Who knew that these logic puzzles would be a little lesson in writing clearly? Most excellent.)
Then he tried out my clues.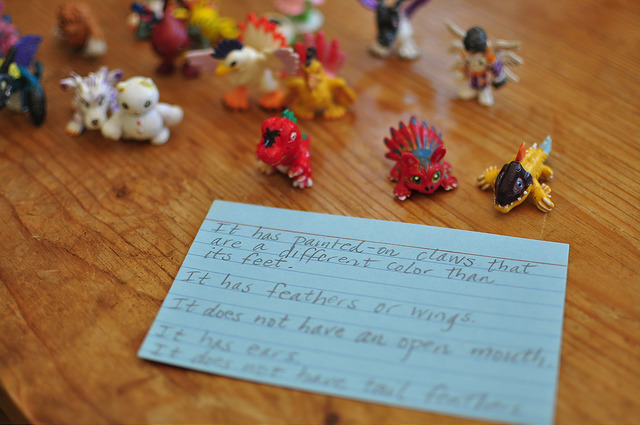 We had fun solving each other's puzzles, so we each wrote another set of clues. "Let's use more guys this time!" T enthused. Okay!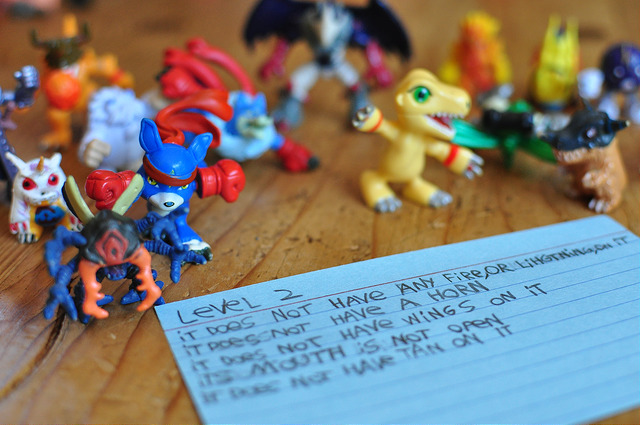 Note that his clues are more straightforward this time. He was especially excited about this clue: It does not have wings on it. He stumped me with that one. One of his guys–a wingless one–had a tiny bird emblem on his chest. With wings.
I was also charmed by this clue: It does not have any fire, or lightning, on it. Don't you love the commas? You could argue that they aren't necessary, but he's playing with comma usage, and that excites me–language geek that I am.
We had a fine time writing clues for each other, and solving them. Much more fun than if I'd been suckered into playing Monopoly, and a thousand times more fun than him doing a math workbook page. Mr. T got some logic practice, some writing practice, some playing-with-guys time, and some playing-with-Mama time. And he was entirely engaged. All because I followed his lead.
That's the kind of learning I love.
Have your kids led you down any trails lately?