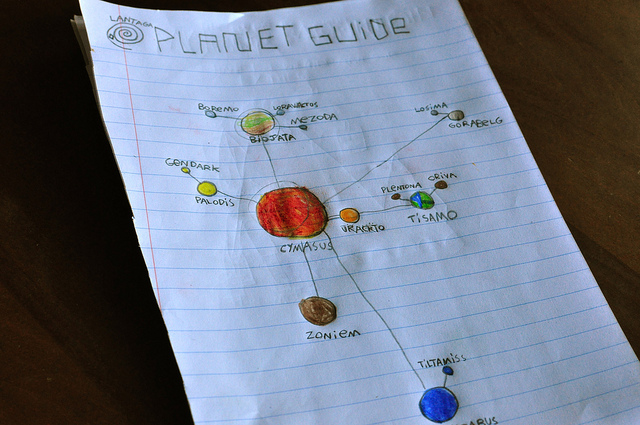 Okay gang, I'm hoping to drum up some audience participation with this post. I'm posing a simple question at the end of this, the latest entry in a series, and I hope you'll consider answering it with a comment.
The other day I was talking to a mom about taking dictation from her son. As she transcribed his story, she felt that she had to continually urge him along, suggesting options and possibilities.
"Is that okay?" she wondered. "For me to help him so much?"
I think what determines whether a writing technique is okay or not okay is how the child responds to it. "Did it bother him that you offered help?" I asked. "Or did it help him?"
She said that it helped him, but I still sensed that she was uneasy with how the dictating session went. I think she felt that it shouldn't have been so difficult to drag the story out of him.
She's probably right. I didn't think about it at the time because our conversation took a different turn, but if a child is struggling with a piece of writing, you might want to stop and try something else.
First of all, stories are not the ideal writing form for every kid. (Big aside: It's funny to me how schools and many parents tend to encourage fiction from young kids, and nonfiction—reports and essays—from older kids. Young kids should be encouraged to try nonfiction; many will be more comfortable working in this format. Likewise, older kids should be allowed to work with short stories, novels, poetry, scriptwriting and all other manner of fiction. I think adults worry that we need to let young kids play, and that we need to  prepare our older kids. We go overboard and try to teach our teens the sort of writing we imagine they'll need in their future lives. But what kids really need is an ability to express themselves clearly and with personality on paper. They'll gain that with regular experience writing about what they care about, in genres that work for them. Once they've developed confidence on a page, they'll be able to tackle any format someone throws at them, even academic writing, fairly quickly. They shouldn't have to spend four years learning how to write an essay.)
Back to the stories. It could be that fiction isn't an easy form for my friend's son, or it could be that this particular story just wasn't working for him.  A few posts back I wrote about starting with a child's unique interests when looking for dictation topics. If your child is struggling with a piece of dictation, or struggling to find a topic, ask yourself this:
What is the thing that gets this kid worked up? What is the topic that he or she yammers on and on about, day in and day out?
Every kid has something, if you listen. I'm convinced of this. And like I said in my other post, it may not be a topic that you enjoy:
Don't discount the things you might rather not talk about: Pokemon characters, American Girl doll outfits, the Super Mario brothers, Webkinz. Try to get over your disapproval and listen. The trick is to find what captivates your kid and start there.
Did you read the comment from Jill the other day? If you missed it, I dare you to read it without getting goosebumps:
"Hey – Just wanted to share a story. I'm student teaching in a 5th grade classroom. During Writer's Workshop yesterday, a lot of kids were able to dive in to their writing after listening to a story and being offered some good prompts. One boy was stuck. Stuck stuck stuck. I saw him talking with a classroom volunteer – they made a list of things he could write about. Five minutes later he had "Green Day" written as a title, but the rest of the page was blank and he was still stuck. I grabbed a pencil and said, "Tell me about Green Day." He started talking, I started writing. Within just a few minutes, he had a page full of wonderful writing with a little personal history and great connections to song lyrics. Better still, he had increased confidence that he was indeed a writer. Today, I took a little dictation from him during writing time, then he got a pencil and continued on his own. Yay!"
Yay indeed! Jill was smart to recognize that taking dictation might be a way of unstucking this kid; she was even smarter to start with the phrase "Tell me about Green Day." Clearly, this freed the boy up. He didn't have to write a story, or an essay, or a coherent piece of any sort. He only had to tell what he knew. And he knew a lot! After one dictation session "he had increased confidence that he was indeed a writer." And the next day only required a bit of dictation to get him going on his own.
This is what you want to do with your own kids. You are trying to encourage self-expression on the page, so get them started with what they naturally want to express! Get them talking about what thrills them, and get the words down. Don't worry about a product just yet. Your child doesn't have to dictate a story! You can always shape the work later, if the child wants to make it into a different type of writing.
Here's what Mr. T yammers on about: fictional worlds filled with fictional creatures. He talks endlessly about planets he's created, and the opposing forces that live there. Sure, this sort of passion lends itself to story writing, and T loves fiction. But he also enjoys conveying this information in a nonfiction style. Based on what he talks about, here are some nonfiction formats (based on a very fictional topic!) that would be natural for him to dictate:
a list of creatures from a particular planet
descriptions of some of those creatures
descriptions of the geography of a planet
the glossary of a language for a particular species
descriptions of the armor and weapons of different species (ignoring my waldorf guilt)
a tree showing how different species are sorted into different types (because this is the sort of thing he talks about; do you catch the Pokemon influence?)
And so on. Mr. T actually compiles this sort of writing, along with maps and drawings, into journals he calls information guides. He tends to do this sort of graphic-heavy writing on his own, simply because this is what he enjoys doing. But we could easily expand it into longer descriptions, through dictation, if that's what he chose to do.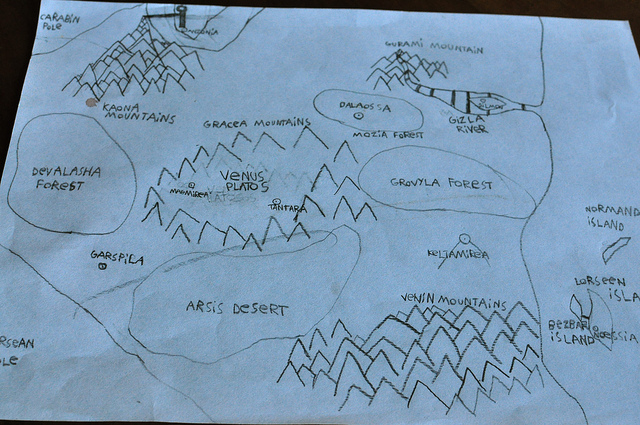 map of a land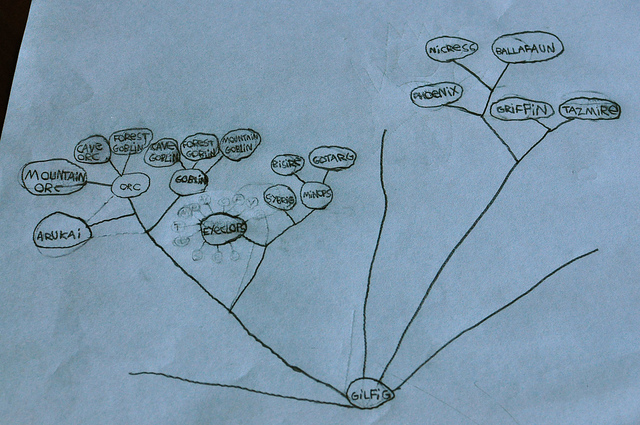 tree of creatures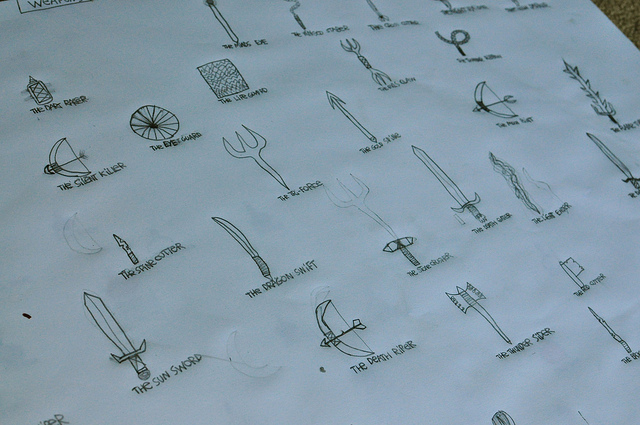 types of weapons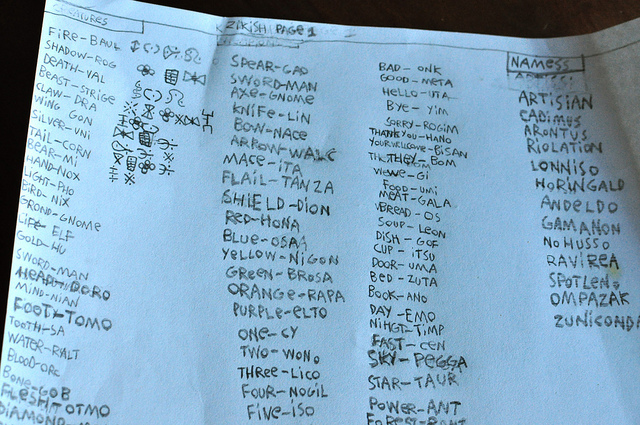 glossary of the "zikish" language
A kid who is passionate about the rain forest, say, or friendship bracelets, or skateboard tricks, or life on the prairie in the 1800s might dictate similar, nonfiction-style writing. Pay attention to the types of nonfiction books your kids like to read, or have read to them. This may also give you ideas about formats to try.
Just begin with what thrills your child and ask the question. "What can you tell me about __________."
See where it leads you. It may be much simpler for your child than dictating a story.
* * *
Here's the audience participation portion of the show: what is one thing that your child loves to talk about? Could you leave a comment and tell us? Wouldn't it be fun to see a long list of all wondrous, quirky things that thrill our kids?
Bonus points, only for the intrepid: considering this particular interest, and your particular child, is there a specific sort of writing that your child might like to try?