I've been rearranging the furniture here on the blog, so to speak. You may have noticed some new color in the sidebar in the form of photo buttons. I'm trying to organize some of my posts to make them more accessible. You can't imagine how long it took to link all those posts–and to thumbnail and link the photos–so please mosey on over there and click around!
There are also some new photos hanging on the walls. I've finally posted myself up in the sidebar, presiding over the proceedings. And after more than two years, there's an updated photo on the meet the family page. (I'll also have to update that page with two kiddies' birthdays later this week. Yep, two.)
Those photos are courtesy of a photo shoot we had here back in August. It all began at three o'clock one morning as I lay in bed, sleep eluding me, two-and-a-half weeks before H was due to head off to college. I found myself in a state of frenzy that only a mother sending a child off to college could understand. See, I'd been meaning to arrange for us to have a family portrait taken before H went off. We have never had a professional photo taken of all five of us and it felt important suddenly. I kept meaning to arrange it, but all sorts of other little things had distracted me, like buying a dorm mattress cover to protect from bedbugs, and getting the kid to the dentist before he left, and trying to convince him to be home for dinner with the family once in a blue moon. But I hadn't gotten to scheduling that photo session, and I lay there in bed realizing that if I didn't get it in now, we wouldn't be able to schedule one until H was home in January. January!
I stumbled to the computer at 6:00 a.m. and wrote a rather emotional email to Mary McHenry, a photographer whose work I'd seen hanging in a local kids' store.
Mary was kind enough to shoehorn in a photo session before H left. Not only that, but she made the session more fun than I ever thought taking photos could be. She was relaxed and calm, and she somehow got everyone to be themselves before the camera. She took shots of us eating a staged dinner together, and shots of the kids in their bedrooms. She even got photos of Chris and me, something we haven't had done since our pre-kid days.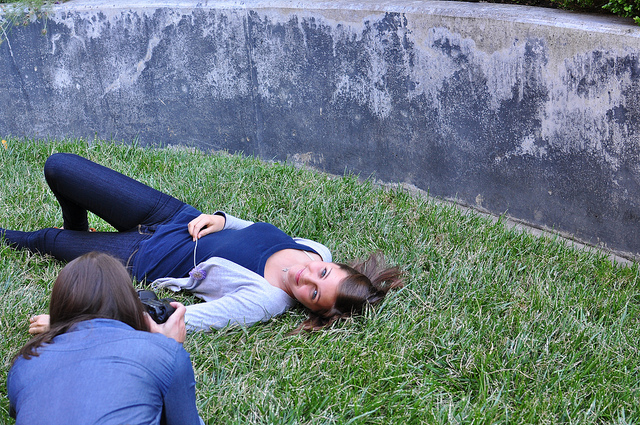 I snapped a photo of the photo-taking
It was an especially lovely few hours because it felt like a celebration of the five of us as a family, before H went on his way.
I thought I'd share Mary's work here, in case you're also in the San Francisco Bay Area, and looking for a photographer. Mary's photos are both artistic and natural–and she has a keen talent for bringing out the personalities of her subjects. You can see some other images from our session on Mary's blog, here and here. I hope you'll check out her wonderful work.
Anyway, that's enough of the blog-spiffing for the time being. Now I really ought to tackle Mr. T's closet…