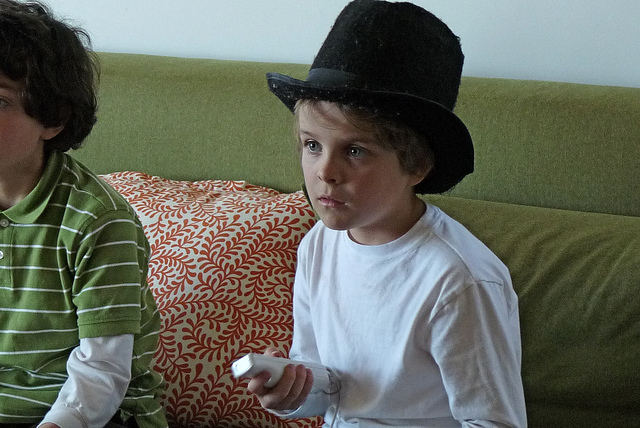 Recently Mr. T took a circuitry class for homeschoolers. Although the class sounded interesting, T didn't love it. For part of the class there were experiments that the teachers had set up, each with a diagram and a supply of parts. Kids were supposed to build the circuit on the card and to test it.
T didn't want to do that (although he did it anyway.) He really wished the teachers would just set out the supplies and let kids experiment freely.
T explained, "The teachers put out the stuff and tell us what we have to do and how to do it. I don't learn like that. I like to figure things out myself. I like to decide what I'm going to do."
And then he blew me away with this:
"I like learning the way I do when I play video games."
Any of you who have been following me here for a while know about my waldorf guilt (more here) and my mixed feelings about video games. It's been interesting having two boys who are absolutely drawn to video games. Especially one who's almost ten years older than the second. H refused to let me write off video games; he demanded that I allow them, that I approach them with an open mind. So it's been many years—first with H and then with T—of negotiating the play they've desired with limits I could live with.
It's been an education. My boys have taught me that time spent on games is not just mindless entertainment. It's changed the way they think; it's nurtured their creativity. And although I never expected it, gaming has provided my boys with a model for learning.
Just a few days after Mr. T made that video game comment, I happened upon this quote while re-reading a section of A Whole New Mind. (If you were at my house right now, I'd foist the book on you, yet again.) Daniel Pink quotes James Paul Gee, a professor who wrote the book What Video Games Have to Teach Us About Learning and Literacy:
"The fact is when children play video games they can experience a much more powerful form of learning than when they're in the classroom. Learning isn't about memorizing isolated facts. It's about connecting and manipulating them."
Interesting. But I guess I didn't need a book to tell me that. My nine-year-old already has it all figured out.