A local teenage friend from a neighboring homeschooling group had a wonderful story on NPR the other day, about his life as an unschooler.
Mr. T, Chris and I listened together. Before the story was even finished, T wondered aloud, "Am I an unschooler?"
"Well, not exactly," I told him, when the story ended. I explained that with unschooling, kids decide what they want to do, and how they spend their days. I pointed out how he and I work together for part of the day, most days, which is a little different than how it is for most unschoolers. "And I help you decide what you're going to learn about. So I'll remind you that once in a while we should probably do something with math, and I'll offer lots of ideas, but you decide what kind of math looks most interesting. Right?"
"Yeah," he said, thinking. "So what we do is kind of like unschooling with…structure."
How did he come up with that word? He pretty much echoed my own explanation of how we homeschool.
And then he moved on to talking about Magic cards. And let those unschooling thoughts simmer.
The next night as he jumped around on his bed, in jammie pants and shirtless, procrastinating tooth-brushing, he said, "I'm thinking about what I want to learn about."
The conversation was back on, apparently.
"I can decide that, right?"
Of course he can decide that. Maybe he'd forgotten how most mornings I ask what he wants to learn about, and what he wants to do.
"Because I'm thinking about what I want to learn about. And I'm thinking that I want to have days when I do projects. I don't like doing projects in little bits every day. It just gets boring. I want to have a whole day when I just do a project."
More bed jumping.
"And I want to have research days. When I plan the projects."
What kind of projects?
"Well, I've made too many books lately. I liked when I made that colonial house." He went to pull his cardboard house off the shelf. And the door fell off.
More three-dimesional stuff, maybe?
"Yeah. And maybe a project day every week. And I want to make a list of what I want to learn about."
Maybe a project journal? Where you plan what you want to do?
"That's a great idea! A homeschooling journal! I can write down what I'm doing and what I want to do." And with that, he ran downstairs.
Why do all the greatest insights happen at bedtime?
I caught up with him at the kitchen table where he'd already started this list.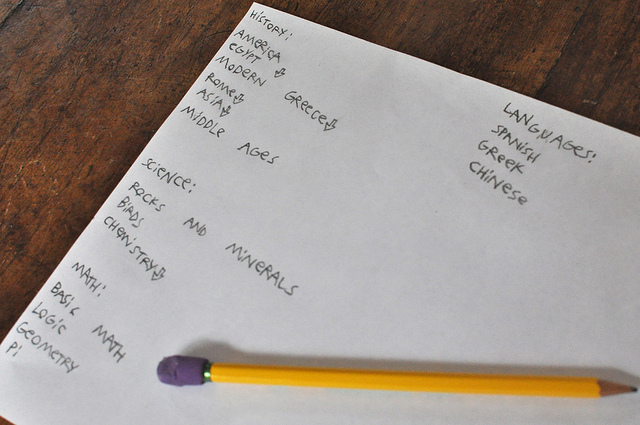 What he wants to learn about. The little arrow glyphs indicate topics he wants to learn about later. Maybe today I'll mention some of the other things he's interested in, like learning to design video games, that didn't make it on to his list.
"It's funny," he said. "The kids in my tennis class kept saying how they can't wait for summer. But I don't feel that way. Sometimes summer gets boring."
Truth is, our morning time of working together often falls by the wayside in the summer. We become more like, well, unschoolers.
"You want to make sure we keep working together over the summer?" I asked.
"Yes!"
No problem, buddy.
The entire conversation fascinated me. Here's a kid who's asked day in and out, what do you want to do? What do you want to learn about? But I think he's taken those questions for granted. The NPR story, I imagine, gave him a little perspective. He's beginning to realize that he has choices that most kids don't have–and he wants to grab those choices like candy from a busted piñata and run with them.
First plan for this morning: a trip to the library. To find books about some of those items on his list.
Something tells me this will be a fun summer. (Now how are we going to learn Greek?)