Ever wish you could hear me yammer on in person about the stuff I write about here? Uh, probably not. After all, in person it's not so easy to click me closed when I'm too longwinded. Nevertheless, if you'll happen to be in California, nearabouts Sacramento in early August, you'll have your chance. I'll be speaking at the annual HomeSchool Association of California conference, which runs from August 4-7.
I'll even try to make it worth your while, so you won't itch to click me quiet.
I'll be offering two workshops at the conference. The first is on the topic of dictation, which I've rambled about on this blog, plenty. Here's the description:
Dictation: The Writing Tool that has "Homeschooler" Written All Over It

Dictation simply means having one person write for another. It isn't a method widely used in schools, simply because the adult-to-child ratio doesn't allow it, but it's an ideal way to approach writing for homeschoolers. Many kids dislike writing because learning the mechanics—spelling, grammar, penmanship and keyboarding—is an incredibly difficult, complex task that can take years to master. Dictation allows kids to develop their unique, vivid voices as writers from a very early age, while acquiring those mechanical skills gradually and naturally over time. It helps them enjoy the satisfaction of written self-expression without getting bogged down!  It's also a helpful technique for older, reluctant writers, and for fluent writers who need help starting a challenging project.  In this workshop we'll explore the role of dictation in a fun, child-centered approach to writing. We'll discuss tips for how to take dictation successfully, and we'll examine the advanced writing skills that kids can pick up painlessly, simply by dictating what they have to say to a willing, writing adult. Techniques shared in this workshop should be helpful to all manner of homeschoolers, from the more formal to the most radically unschooled.
The second workshop is a little quirkier. It's based on the research that fascinated and sidetracked me for several months earlier this year:
Writing in the World, Writing in Schools—and The Implications for Homeschooled Writers

With our shifting technologies, writing is becoming more important than ever in our world. Literacy researcher Deborah Brandt writes, "For perhaps the first time in the history of mass literacy, writing seems to be eclipsing reading as the experience of consequence." Yet at the same time, largely due to the current climate of standards and testing, most schools are giving writing short shrift. Progressive writing educators are calling for a writing revolution, saying that students need to write more often, with more freedom, about what matters to them, and in the formats that they're using outside of school. Sounds a lot like what we homeschoolers do already, doesn't it? In this workshop, we'll begin by looking at the research to gain a better understanding of writing's status in the world and in schools. Then we'll explore how we homeschoolers are in an excellent position to encourage exciting, profound, child-centered writing experiences for our kids—all kids, from the youngest through the teens. Together, we'll brainstorm ways to turn your child's personal interests into meaningful, engaging writing. If you've ever worried that your child might learn to write better in a classroom setting, come to this workshop and prepare to be surprised.
I'm not sure this second description quite captures what I hope to do in this workshop. I'm afraid the talk of research and schools might scare off folks, and I sure hope more than three or four show up because, dang, I'm excited about this one! It's a topic that speeds up my heart and my speech. I wasn't really sure why I got so caught up with what's happening with writing in schools, when I'm trying to write a book on writing for homeschoolers, but ultimately it was the recommendations of progressive writing educators that brought it all home for me. They're begging teachers, administrators and policy makers to do what we homeschoolers do already. Let kids write about their passions! Find writing formats that kids are internally driven towards! So many homeschooling parents have fears about their kids and writing–I'm hoping to convince them that we have the freedom to give our kids the kind of writing education that won't make it into most classrooms for years. Kid-centered, interest-driven writing is what will make writers of our kids. And, according to Deborah Brandt, these days we all need to be writers.
So if you can, come see me yatter! I'll do my best to get your heart beating faster too. I'll be speaking on Saturday and Sunday mornings. Full conference schedule here. If you're local and you've never been to the conference, it's worth a try–even if you go for just one day.
Planning for these workshops is sort of heady stuff for summertime. Lest you think I'm not working at my summer list, I leave you with photos to prove otherwise.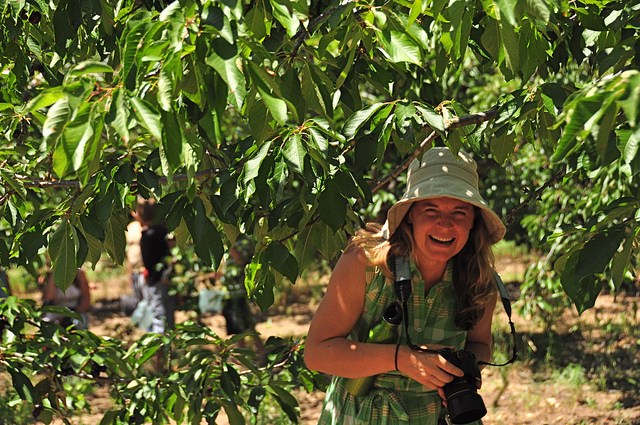 My foothill home companion, cherry-picking and photo-taking.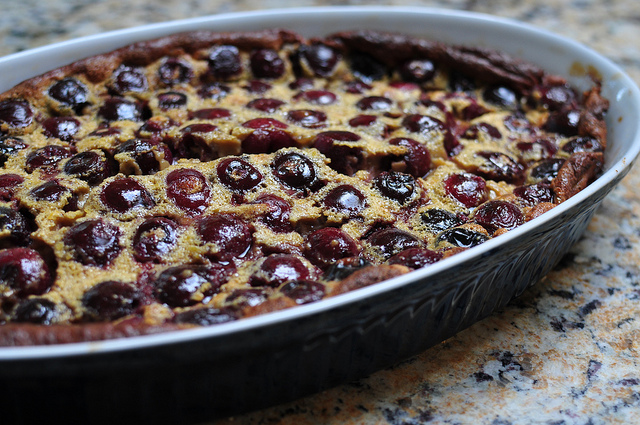 Cherry clafoutis.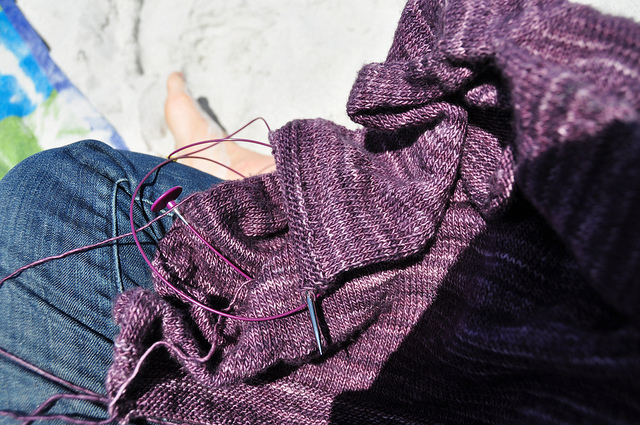 Knitting in sand.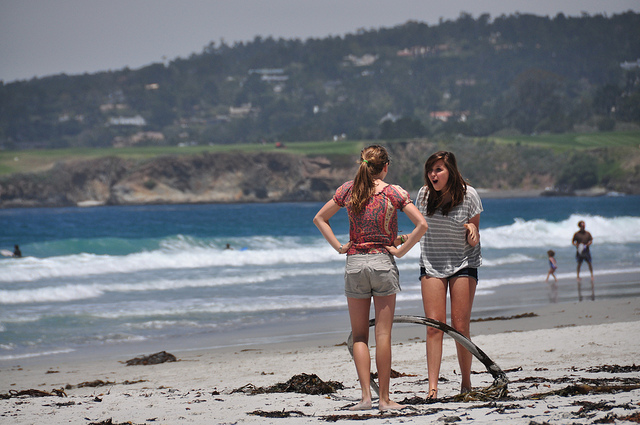 Girls on beaches.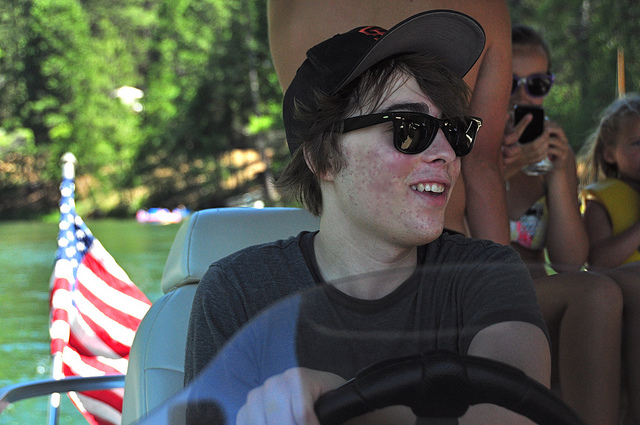 Boys on boats.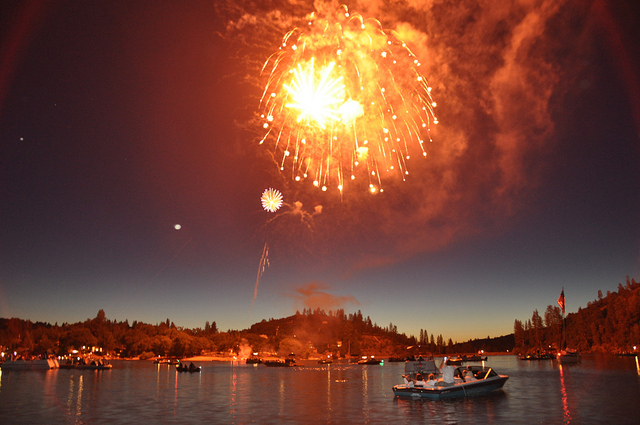 Fireworks over lakes.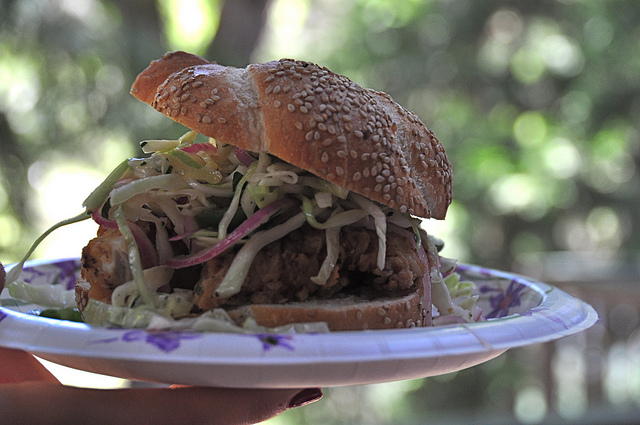 Homemade Bakesale Batty fried chicken sandwiches under pines. (Mine had fried zucchini.)
County fair. 99 cent day, 99 degrees.
What's keeping you busy so far this summer?