Earlier today I was despairing the fact that I probably wouldn't get a post up this week. Mr. T has been at day camp, playing orc in the redwoods, and meanwhile I've been working like a squirrel in September on my conference workshops. Didn't think I'd have time to write here.
Then I remembered that Annie of Alphabet Glue kindly offered to contribute a giveaway copy of her e-magazine to you, fine blog readers, and I decided that I could find enough time to share that fun with you.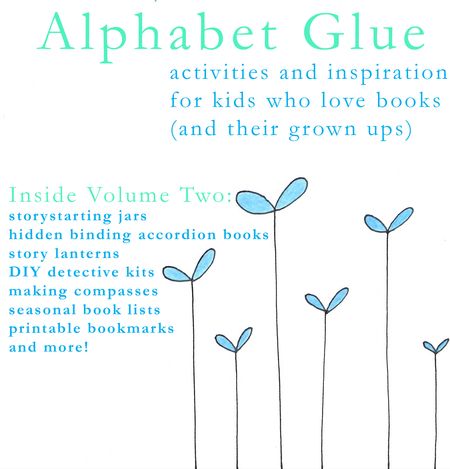 Alphabet Glue, Volume 2 has lots of good stuff for summer. As Annie so fetchingly writes in the Introduction: "There is a book list for beach or backyard, a jar full of ideas for summer storybuilding, and of course, some bookmarks to help you keep your place when the pool, berry picking or the sprinkler are calling your name more loudly than your latest read is."
Or you could let the Table of Contents entice you:
A reading list for summer

Review as You Read Bookmarks

Story Starting Jars

Hidden-Binding Accordion Books

Story Lanterns

Make a Compass

Kid Detective Reading List

Do-It-Yourself Detective Kit including:

Secret Code Cards

Writing in Invisible Ink

Anonymous Letters

Costume Magnifying Glasses

A Detective's Notebook
I'm sure that many kids will be captivated by the special section devoted to kid detective stories, and its accompanying Do-It-Yourself Detective Kit.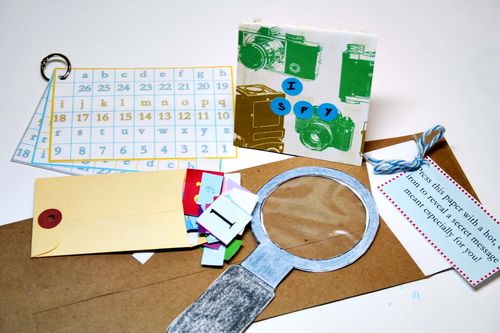 But for me, as a parent, I always love Annie's lists of recommended books. Just the sort of thing I like to have beside me, as I search my library's online catalog. On her Seasonal Shelf for summer, I spotted a book that brought back memories from a June, eleven years back: Children of Summer, Henri Fabre's Insects by Margaret Anderson. It's the fictionalized story of real-life, 20th century Provencal entomologist, Henri Fabre.
June 2000 was the summer that Chris and I took our first European trip with the kids. Or at least two of the kids–Mr. T hadn't been born yet. One morning at the library, preparing for the trip to Paris and Provence, I looked for books about France to bring along. And somehow, utterly serendipitously, my finger scanned a shelf and landed upon Children of Summer. Which is how a week or so later, I found myself on a little iron bed, in a little stone house, in a little town in Provence, reading a magical bedtime story to my children that took place just outside the ancient wooden shutters that we'd opened to the juin evening.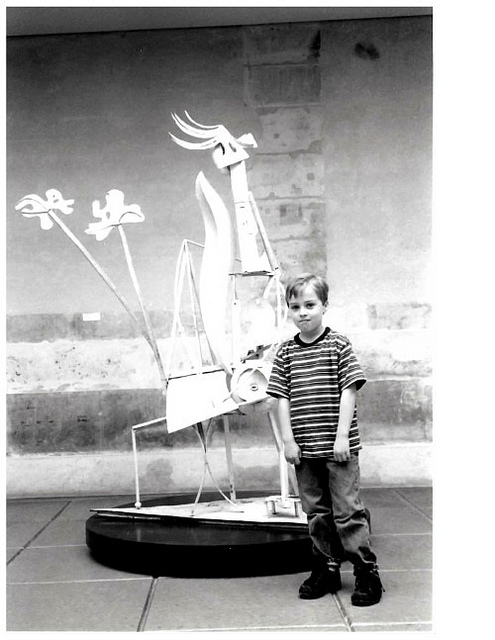 H. at the Musée Picasso, Paris. 8 years old.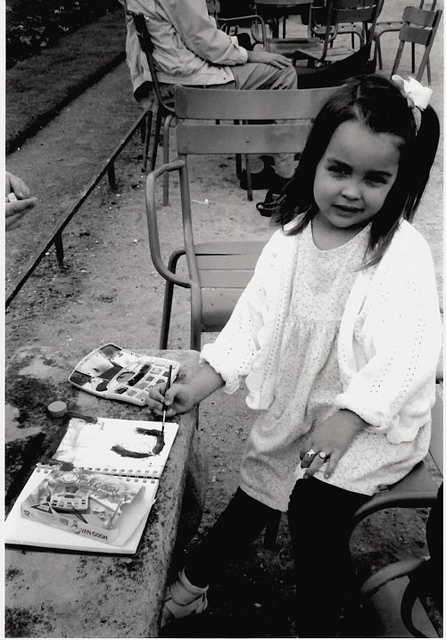 Lulu painting with watercolors in the Luxembourg Gardens, age 4.
Magical stuff. As literature combined with life can be.
Alphabet Glue is full of ideas for letting literature draw magic into your family's life this summer. Leave a comment between now and midnight PST on Sunday, July 17 midnight PST on Friday, July 22 for a chance to win your own copy. And if you'd like, tell us in your response what book you and your kids are loving this summer. (Update: I'm extending the giveaway signup until Friday, July 22, midnight PST. Don't know what I was thinking with such a short comment period! Thought I'd choose the winner before my birthday post, but since I typically post only once a week or so, it just wasn't fair to give my readers only three days to get in on the fun!)
If you don't want to count on luck, head over to the Alphabet Glue site and pick up a copy for a mere $4.
Wishing you some sweet summer nights reading with your kids.
Update: The random number generator says that April is the winner! Congratulations, April, I'll pass your information on to Annie.