What do you do when your kid saves his money to buy a month-long subscription to the Lego Universe online game, and wants to talk of nothing else?
You go with it.
You look through some almanacs together (another recent obsession) and talk about graphs and charts and brainstorm how Lego Universe might lend itself to an intriguing graph.
That's when he decides that a chart of the universe's Nexus Force would be a most excellent diversion.
So you set him up with a blank Creately project page and watch him go to town.
Mr. T and I discovered Creately a few weeks back, when he wanted to make a digital tree of the cat family. We searched for a drawing tool for making flowcharts and found some good links on two pages I linked to recently: the infographics post at Langwitches and Troy Hicks' informational writing wiki.
Mr. T and I sat together, setting up the chart and figuring out how Creately worked. Before long he was working on his own, toggling back and forth between his chart and the felidae family page on Wikipedia, copying, pasting, linking boxes and choosing colors.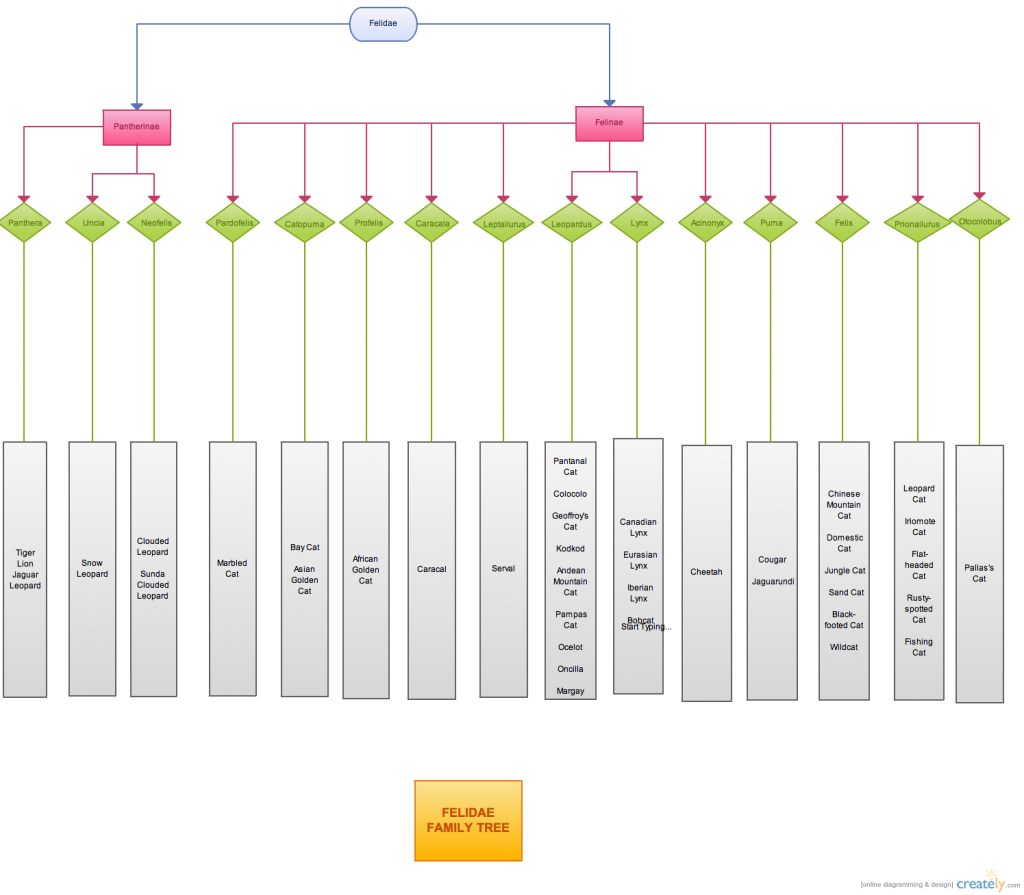 Click on the graph to see a larger image which you can zoom in on.
I never have been able to keep all of those leopards, cougars and mountain lions straight. I've never seen them all laid out in such a visual way. It's a useful document, this thing my kid made.
(I wish I'd started T on a tool other than Creately. I had no idea how much he would take to the platform. It's free for the first five graphs you make, but from then on you need to pay a monthly fee to use it, which doesn't seem practical, given that we'd likely use it only sporadically.)
Back to that Lego Universe chart. This time T wanted to incorporate images, so I showed him how to do a Google image search, and how to save his finds to our desktop, and then import them into his chart. Do kids pick up on this stuff quickly? Only as quickly as they pick up a bottle of maple syrup when faced with a plate of pancakes.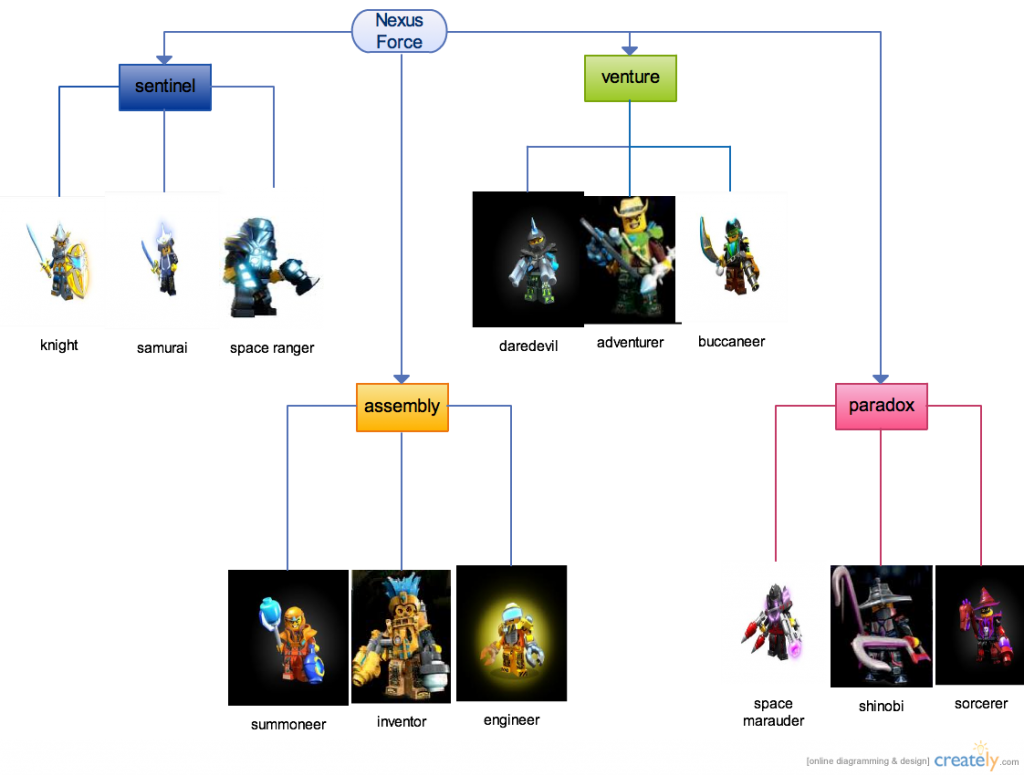 This chart is also clickable.
Mr. T made another graph recently, this time by hand. This one came about during yet another recent fascination: The Avengers animated series, which he's worked his way through on Netflix. One day, when he wouldn't stop talking about Hawkeye, I showed him this page on Figment.com, of wacky charts based on the Harry Potter series.
Go look. The charts and graphs made us giggle. I love the notion that kids can take information from something they're reading (or watching!) and analyze it with a sense of humor.
I asked T if he'd like to make a similar Avengers-themed chart, and he decided that it would be fun to note how much he liked the various characters throughout the episodes (inspired by Potter chart #3.)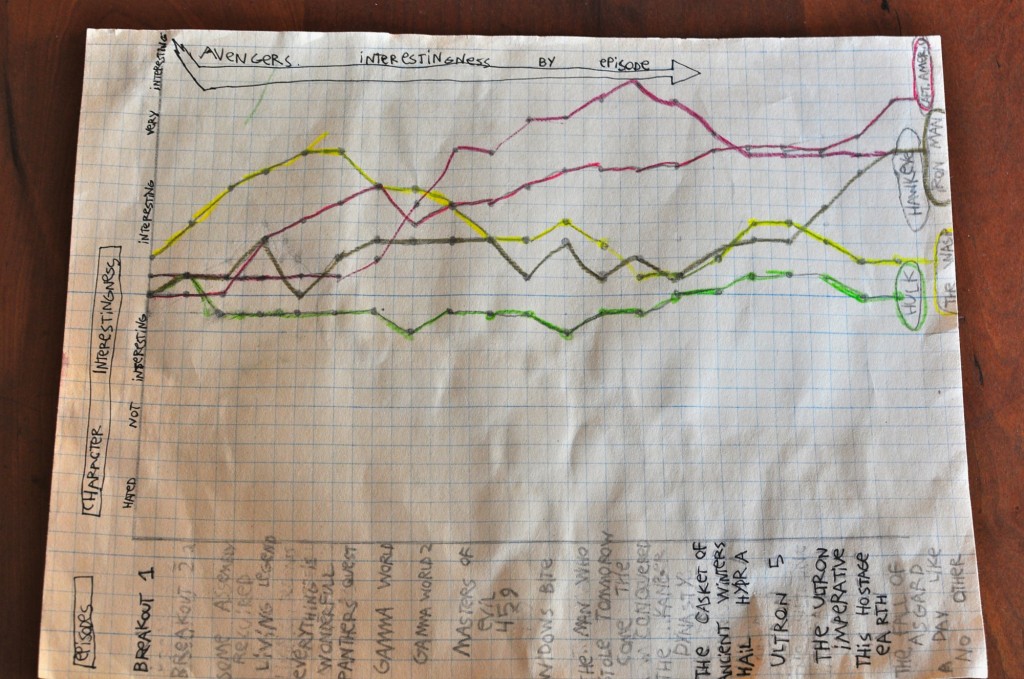 (Click it!)
Once again, I was amazed by his tenacity with this project. He researched the name of every episode and transcribed them on his graph. (His idea, not mine.) I appreciate the home-spun, hand-drawn feel of it. He's still planning to add more Avengers, and to go over all of the episode titles in pen. The graph has led to conversations about T's likes and dislikes with the series, and the notion of character development. (What's up with The Wasp anyway, and why does she get so boring as the season goes on?)
So, what has he learned from these projects?
How to choose a topic that lends itself to a chart or graph.
How to share information in a visual format, rather than with pure prose.
How to research information.
How to structure that information, in a visual that makes sense to the viewer.
How to work with new platforms, such as Creately.
How to import various media to his projects, and to toggle between web sources.
The role of good design in visual projects. (Check out my thoughts on Daniel Pink's A Whole New Mind to get a sense of why design is such an important skill for kids to acquire.)
All good stuff. In Mr. T's mind, though, he was just having fun, exploring some of his current interests in a new way.
Who says you can't learn from video games and cartoons? Instead of separating popular culture from what kids are learning, I'd argue that we ought to embrace it. I know I've said it before, but I'll keep saying it until I've typed off the letters from my keyboard: kids learn best when you start with their interests. Which doesn't mean that all of their learning has to be based on Thor or Lego space marauders.
But sometimes, it can.