And I'm so excited to finally be able to share it with you.
You can read all about it here. But come back! I have more to share with you. Including a giveaway.
Originally I'd planned to release the book as a simple PDF. But after thinking about it, I realized that since Workshops Work! is a guide, some folks might like to be able to hold it in their hands. Others might like to read it on a Kindle, Nook or iPad. It took longer than I thought it would, but I've made all of those options available to you.
Can you tell that I want to get the word out on writer's workshops? They're one of the best ways I know to inspire kids to write. They are also fairly simple to facilitate. I want more kids to experience writing with a workshop, and with this book I'm doing all I can to make that happen.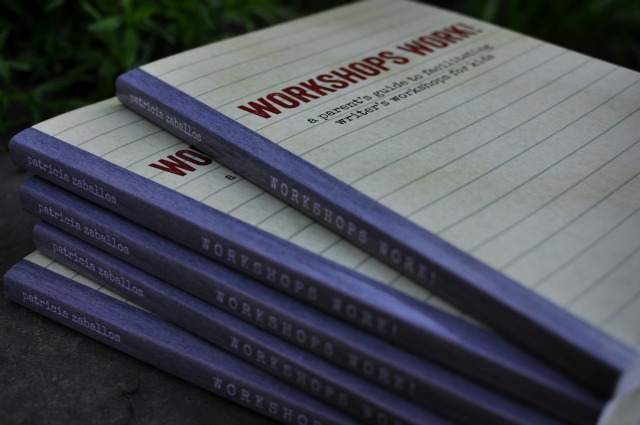 I'll be giving away a sample chapter to blog subscribers in the next day or so. I'm offering the chapter A Crash Course in What Makes Literature Work, which I wrote to help workshop facilitators understand the elements of effective writing. It's a good chapter to share with you subscribers, I think, because even if you don't facilitate a workshop of your own, you may be able to use the ideas when you chat about favorite books with your kids. Plus, the chapter is full of examples of fantastic kid writing culled from my workshops. I think you'll like it. (So consider subscribing to the blog if you haven't already. You can do that here, or from the button in the right sidebar.)
Also, I'm giving away five signed copies of the book. And yes, I will do my best to mail those paperbacks to any place in the world where you wonderful readers might live! (I know you're an international crew.) For your chance to win, leave a comment to this post before 10:00pm Pacific Time on Sunday, December 2. I'll randomly choose five winners and announce them here next Monday.
So if you please, go read about the book. Then come back and comment for a chance to win one. And then consider facilitating a writer's workshop for your kid and a few friends. Seriously, consider it. It might be one of the best things you can do for your kid's growth as a writer.