I know I said I'd write about reading in January, but once January arrived I could think of no better way to oust that Christmas tree from this page than with a photo of a journal. Everyone loves journals in January.
That one right there is where I'm working on my MFA.
I ordered this journal last June, sitting in that cafe in Cleveland after the River Teeth Nonfiction Conference, after my second almond milk cappuccino. You might remember the post I wrote back then, wondering if I ought to apply for an MFA program in Creative Nonfiction.
It was a fleeting fancy. For one, we have kids who are either: a) in college, b) barely finished with college, c) headed towards college in another five years. It does not seem like a good time to add my own tuition to the mix. But just as much, I thought about what an MFA program would mean: a lot of work, determined by other people. Assigned readings. Papers.
I'm not crazy about the notion of assignments right now. I'm busy working at my homeschooling memoir, and I'm choosing my reading based on that project. (Recent reads: The Art of Memoir, H is for Hawk, What Comes Next and How to Like It.) I like making my own assignments. I've been teaching myself to write for years, and it's been working, slow and steady. Hey, hey, I'm homeschooling my MFA!
Still, I thought about what I'd get from an MFA program, and what I lacked in my own writing life. Mentorship. Fellow writing students. Formal study. I wondered if I could make more of that for myself.
So I ordered this Passion Planner. It's designed to help you take big plans and break them into small steps. There are pages for monthly goals, and pages for specific weekly plans. And reflection pages for looking back on how you did the previous month, and changes you might want to make in the next. The planner talks to you, asking questions like, What were the three biggest lessons you learned this month? And, Are you happy with how you spent your time? If not, what steps can you take this next month to adjust them?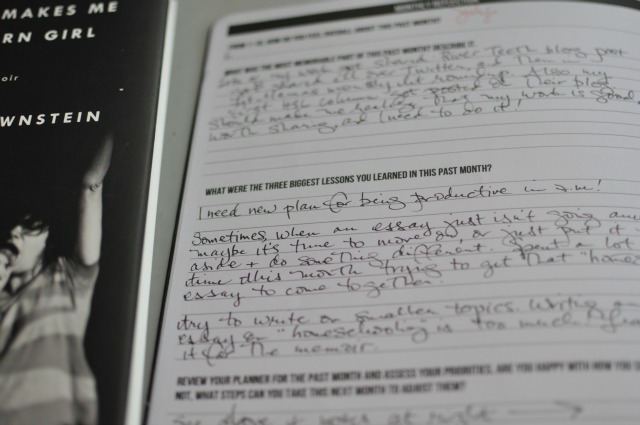 I decided to use my planner specifically for my homeschooled MFA–I do my other planning elsewhere, mostly on my phone and computer. I cross out the planner's "personal" and "work" categories, and change those sections to "writing" and "study," since those are the areas I'd work on in a formal MFA program.
Sometimes I use colored pens to delineate my writing and study goals because: colored pens! It's satisfying to write down what I've done each day and to make plans for the next. I like the weekly section for writing down Good Things That Happened. One week was the fact that my work got shared on Literary Mama's blog. Another week I scribbled in silly disbelief, "My word count goal is working! I'm writing more!"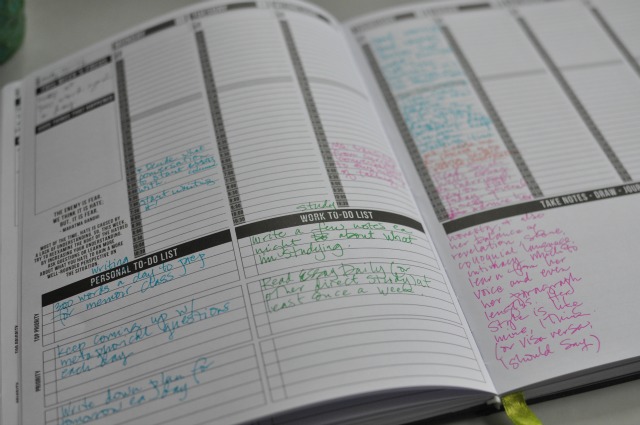 The biggest challenge for me, I'm finding, is incorporating enough study into my days. I'm writing a lot, and reading too. But a graduate program would have me analyzing literature and figuring out how it works, so I'm trying to do that more–and the planner is nudging me along. I read craft essays like the ones found here. I re-listen to the River Teeth presentations. I've taken essays I admire and color-coded their themes in an attempt to dissect the writer's magic. (Because this is what crazy people do at 10:30 on a Tuesday night.)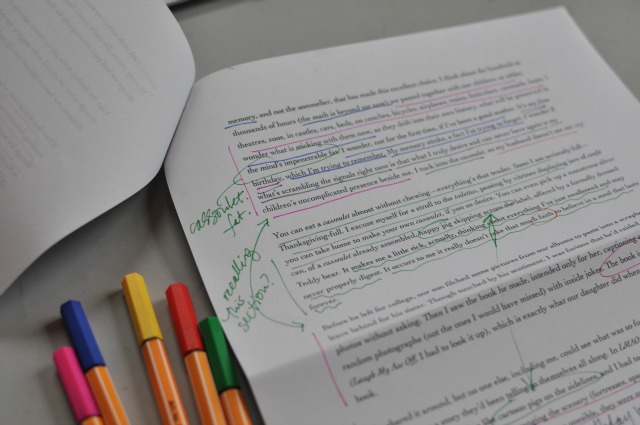 I highlight my own work–maybe in green for glimmers that are working well; in blue for the sections that sound amateur. There are whole seas of blue. Still, I've learned that I'm pretty good at writing scenes and detail, and I have a lot to learn about writing reflection. So my current goal is to read masterful writers and study how they write reflection. Which means more fun with colored pens.
What I've learned from this is that it's easy to feel as if you've made progress towards goals that are unstated and ephemeral. Writing them down, making them tangible and specific is entirely different. There's no room for slacking. You either meet the goal or you don't. But if you don't, you can always write it down again the next week. (In turquoise! Or fuchsia!)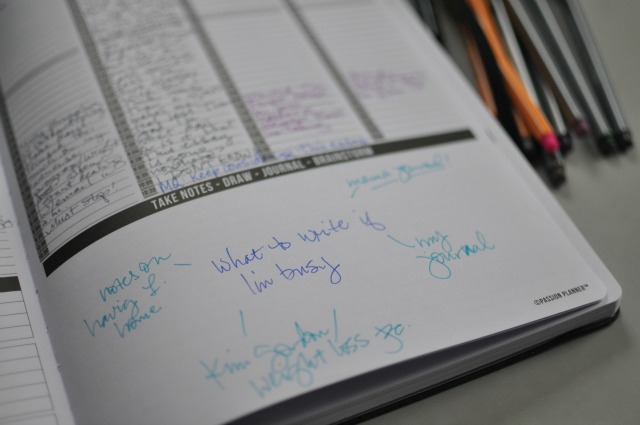 Do any of you keep a Passion Planner, or something like it? I'd love to hear what you do with yours. I gave one to Chris for Christmas as he's off on his own new career this January.
Beyond the planner, I've also sought out those mentors and fellow writers that were missing from my life. That Creative Nonfiction course was a boon in that regard. My writing has benefitted so much from the graces of my new mentors and writing friends.
I don't kid myself that my little planner is the equivalent of an actual MFA. But then again, I'm a dyed-in-the-wool homeschooler. I believe in the power of self-education. My own MFA may be more than twenty years in the making, but I'm getting somewhere. (Elizabeth Gilbert has some intriguing thoughts on why writers and other artists should think hard before applying for MFA programs in her book Big Magic. Does she have an MFA? Nope.)
I'll tell you one thing: my little journal cost a whole lot less than two years of grad school tuition. I can keep those almond milk cappuccinos coming.