I did not recognize them. Large, rounded plants with wands and wands of tiny lavender blossoms, hundreds of them. Absolutely alive with bees. I have never seen so many bees in one place, other than around a beehive, like the hive in my own yard. The bees were crazed for these plants.
What were they? I'm pretty good with garden plants. I know what grows here in Northern California. I recognize most plants by sight and the majority by name, including, often, the Latin. This one stumped me. It looked familiar, but unfamiliar. An older woman joined me in admiring them, in being mystified by them. We studied and guessed.
A type of salvia, maybe? No, that wasn't right.
*
A few years back I stopped caring about my garden.
I ignored the weeds growing in our rows of hillside lavender. I let my perennial garden get overtaken with ivy, wild blackberry and borage. I barely got a few tomato plants in by June last year. Two winters ago, my bees disappeared and I didn't replace them in the spring.
I let my garden go wild. I wasn't sure what had gotten into me.
*
I had gardened through the busiest years of motherhood. Chris and I installed three different gardens at three different homes, with babies, toddlers, young children underfoot. Three of those, too. I would set up the playpen in the backyard during the short time I could get away with it, and a few months later resign myself to digging and watering while also keeping an eighteen-month old from plucking all my tomatoes while saying ball, ball, ball. I spent years dragging children through nurseries, talking about Busytown or Swan Lake or Pokémon while loading up my wagon with plants. I managed to get my beans and zucchini planted in between baseball games and spring ballet recitals.
Who was that woman, and how did she do it?
*
A few months ago, I read an article in Lena Dunham's Lenny Letter that got under my skin. I love the Lenny Letter—its dedication to feminism, progressive politics, the arts. But this one rankled me.
It was an article by the actress Gillian Anderson and her friend Jennifer Nadel, in which they shared their thoughts on menopause. Apparently they've written a book called We: A Manifesto for Women Everywhere and are encouraging women to share their struggles, their stories.
Shared stories among women. A proposition I can get behind.
The article is titled, "The Truth is Out There (About Menopause)" so I read with the curiosity you might expect of a 52-year-old woman. But something felt off. Here's the line that did it: "Why didn't anyone tell us, why didn't we know, why didn't someone say, 'This is going to hit you like a freight train and affect every aspect of your life?'"
That is supposed to be some new truth, some finally-revealed story? That's the same story about menopause I've been hearing all my adult-woman life.
*
I think what I always loved most about my garden is how it surprised me. Different every day.
Sure, there's July, when the beans race up their trellis by the hour and the lavender astounds, a woman sashaying into a restaurant dressed head to toe in purple. But there's March, too, when the apple tree buds up, sassy in the face of rain, when the oregano and thyme send out their lime-green shoots of possibility. The passion flowers–Maypops–which surprise by popping up randomly, every month but May. The way the garden goes fragile in November, tomato plants wilted brown, weary with green globes that didn't get a chance. The clematis blossoms turned to bird cages.
Never what it was the day before.
*
Menopause surprised me by showing up early and without much incident. Missed period at forty-eight; the full year of misses by forty-nine. Not much else except for a frustrating accumulation of weight throughout my forties, although I ate pretty healthy and exercised. That derailed me a bit. Took a few years of tinkering with my diet—less pasta and bread, more protein—and learning to lift heavy weights.
And sometimes when I drink coffee in the morning, I find myself peeling off my sweatshirt.
Still, menopause did not hit me like a freight train. It did not affect every aspect of my life.
*
Some of you may have read the post I wrote here when I turned 50. The one that links to Sandra Tsing Loh's essay on menopause, "The Bitch is Back." You may remember me insisting that you read it if you are in your 40s or 50s. You may remember that I loved the essay because it is hilarious, but also because "Loh explores the fascinating idea (based on her reading of Christiane Northrup's The Wisdom of Menopause) that it isn't a huge hormonal 'change' that signifies menopause. Instead, it's the lifting of the atypical hormonal cloud of our fertile years—the cloud that makes us women so willing to nurture others for over three decades. And how menopause is really the return of our true, normal selves. (Remember the girl you were at eight? That self.) Wait until you get to the part in the essay where Aunt Carol flings the leg of lamb out the window. You will laugh out loud. You will totally get it."
The cloud that makes us so willing to nurture others.
While tending gardens. Keeping bees.
*
So that was why I'd stopped caring about my garden. I'd stopped wanting to take care of things.
It was interesting to understand that.
Still, I didn't care. I let the weeds do their thing.
*
The year I turned fifty was also our last year homeschooling—after twenty years.
I had loved homeschooling. And it wasn't just a nurturing thing—I'm not the sort of generous mother who could have put in all those years if it hadn't stimulated me intellectually as well.
But I was feeling a shift. My writing, which I'd been working at in fits and spurts since before motherhood, began banging against my ribs with a new urgency. I wanted more time for it. I wanted to lose that taint of amateurism. I wanted to write work that mattered.
It was a powerful feeling, both frustrating and exciting. But it did not feel like being hit by a freight train. It felt like the beginning of something.
Lime-green shoots of possibility.
*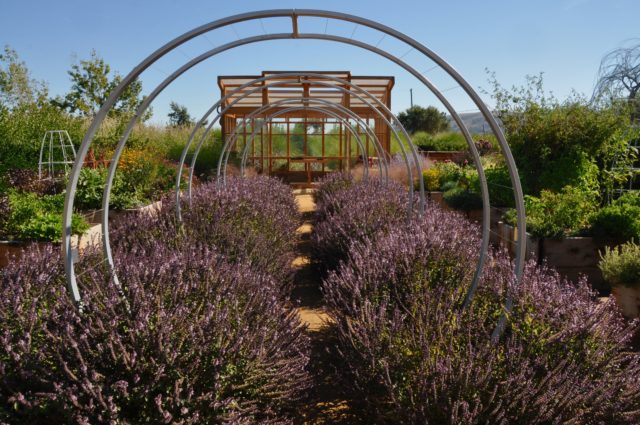 That afternoon last September, Cornerstone Gardens, Sonoma. Chris and I followed the bees through an arched allée of those mystery plants into a garden that mesmerized me.
Waves of coneflowers and herbs. Scabiosa and yarrow. Almost everything edible or medicinal, like I'd always dreamed of for my own garden. I took photos, noting how the designers repeated plants, combined them in surprising ways.
I looked up the designers at home. Homestead Design Collective. Two women from my own neck of the woods. I checked out their books—one available, one I had to wait for—scrolled through their Instagram feed, giddy over plants like I hadn't been in years. I made lists and plans, mad with excitement.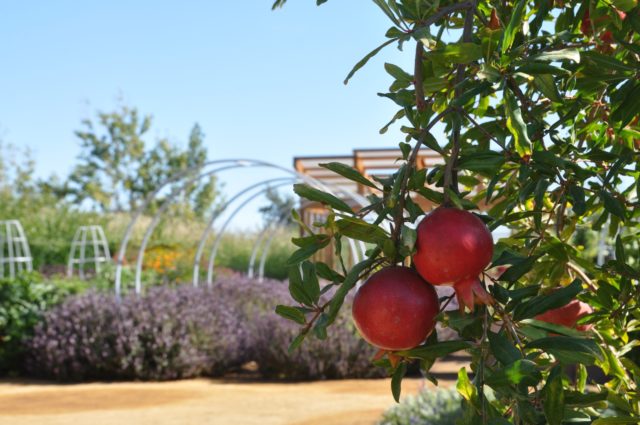 *
Why hadn't I heard that other version of menopause earlier? The Christiane Northrup version that calls it the time when a woman becomes "queen of herself"?
The one that does not tell that same old story about getting hit by a freight train and responding with hysteria? (həˈstirēə n. exaggerated or uncontrollable emotion or excitement, especially among a group of people. syn: frenzy, feverishness, hysterics, fit of madness, derangement, mania, delirium. From Gr. hystera, womb; ancients believed that hysteria was peculiar to women and caused by disturbances of the uterus.)
Earlier this year I came across a quote from Margaret Meade: "There is no greater power in the world than the zest of a post-menopausal woman."
Why hadn't I read that when I was in my forties? Why hadn't I heard that story?
*
A few weeks after our trip to Cornerstone, I began with the small garden near our front door. Dug in plants I'd never considered before. Pineapple guavas espaliered against the foundation, blueberries for winter structure when the perennials die back. Anise hyssop, feverfew. I've loved coneflowers since my gardening beginnings, but always dotted them in here and there.
Now I planted a small mass of them. Little mounds of green, a few with blossoms. I imagined them a meadow.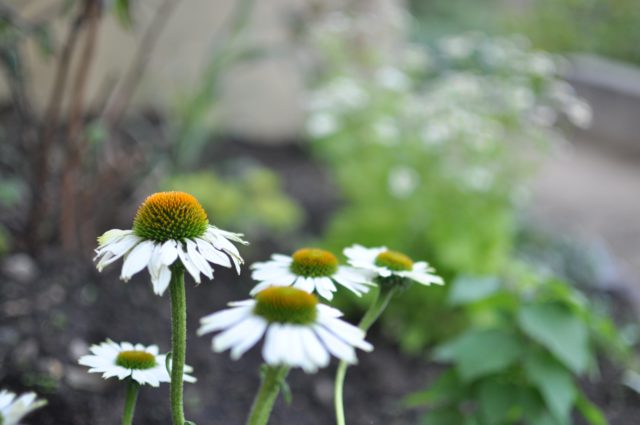 *
I understand that I'm lucky. I don't know why menopause did not hit me like a freight train, did not affect every aspect of my life. Healthy living? Avoidance of birth control pills? Good genes? Plain good fortune?
It isn't just me, though. I've talked to other women who have passed through menopause feeling change but not upheaval. When we share our stories, we always express surprise that it hadn't been harder.
And then our surprise that another woman felt a similar surprise.
You too? Who knew?
*
In May, Chris and I took on the backyard. Cleared weeds, pulled out plants that weren't working. Spent a weekend breaking up hillside clay with shovel and pickaxe. Dug in herbs and agastache, scabiosa and yarrow—and pot after pot of coneflowers. A row of small chinotto orange trees in terra cotta. We got our tomatoes in early, along with rows of padrón peppers, our favorites. Costata Romanesco zucchini and climbing haricot verts.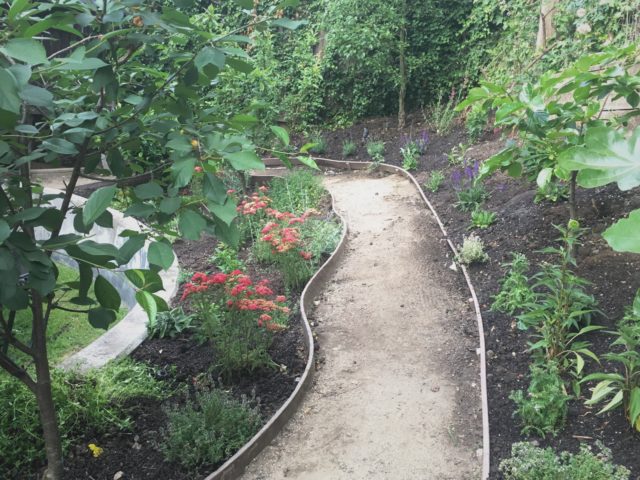 Oh, and an allée of the mystery plant, which I finally found named on a sign at the gardens: "Mountain Magic," a flowering form of basil. Basil! Of course! I hadn't recognized it, after a gardener's lifetime of pinching off basil blossoms so the plants wouldn't die.
I had to visit several nurseries to track down some plants of my own.
Before visiting that garden, I had never heard of flowering basil. It's an infertile form of basil, meaning that it doesn't make it own seeds. Which is what makes the plants so astoundingly abundant. Regular basil plants have a single cycle, a single goal: flower and die, which is why gardeners have to do all that blossom-pinching. Not so with flowering basil. It just grows and flowers, grows and flowers, attracting bees in clouds.
The plants are both infertile and beautiful.
*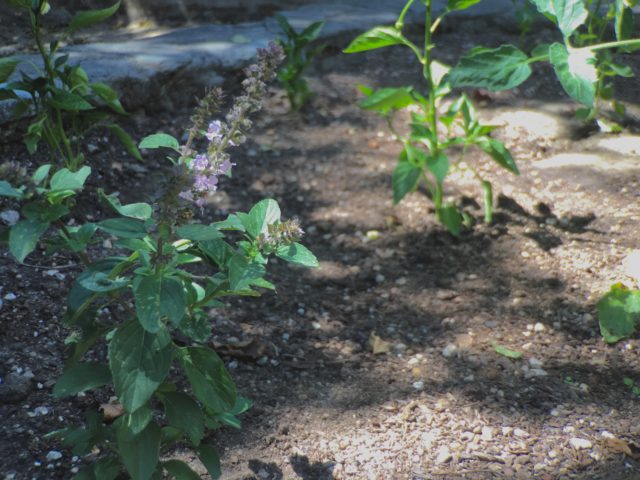 My flowering basil plants are still small, each bearing just a wand or two of blossoms. Still, the new bee colony I installed this spring is growing like crazy, and there's almost always a girl buzzing by, checking out my baby basil plants. I know because I'm out there a lot. Things have settled. I'm back in my garden.
I wondered: if the plants don't make seeds, how do they reproduce? How do you get more flowering basil? By propagation, my research tells me. By taking cuttings from a mother plant, and rooting them in water.
By sharing pieces of oneself, so they can root elsewhere.
I suppose that's what we do when we share our stories too.