My daughter sits beside me, writing madly in her journal, the red journal she bought yesterday at the New York Public Library on 5th Avenue. I made her go inside with me after breakfast, after I flew in from California on a red eye because it's inexcusable to live in Manhattan without having been in there.
I told her I'd pay extra for a pre-conference workshop if there was one that appealed to her. She chooses, "Worries of the Poet, Tools of the Essayist: Crafting the Lyric Essay." Just the workshop I've chosen. She is the poet. I am the essayist. She is twenty-one. I am fifty-two.
Randon Billings Noble, who leads the essay portion of the workshop, reads a quote from Tell It Slant, a creative nonfiction text that I own and have striped in highlights: "The lyric essay requires an allegiance to intuition."
I only told my daughter about this creative nonfiction conference, HippoCamp, because it takes place in Lancaster, Pennsylvania. I figured that if I traveled to the east coast, I'd tack on a couple of days in New York City to visit her and her older brother.
I did not expect her to say, "I want to go with you!" But she did.
Lyric essays are my favorites. Braided essays that weave separate stories and ideas into one. Collaged essays that bring disparate bits into a whole. Hermit crab essays that take on the form of something else. My first published piece was a hermit crab, an essay disguised as a how-to manual, though it was no such thing. I titled it "How to Homeschool" though the editor changed the title, entirely missing the point. Still, I fell in love with the lyric form's ability to convey that which can't be said plain. That requires an allegiance to intuition.
In the workshop I write about our kitchen table, my desk, the redwood grove ten minutes from home that people don't picture when you say you're from Oakland. I can't yet figure out how the three are connected, but I sense something there, in the circles and fairy rings. I don't know what's inside my daughter's mad scribbling. When she was little I told her that journals were sacred and I would never look inside hers. She must have believed me; she's written almost daily since she was twelve. She and I can talk for hours but still she has her secrets.
She has never formally studied lyric essays, but during the break she tells me that she understands them intuitively. I know; for Christmas she gave me a piece she wrote for a class. A braided essay, without her knowing it was a braided essay. It began with our kitchen table.
I've never formally studied poetry, but I've done my own intuitive picking up of bits. In the poetry portion of the workshop with Marshall Warfield, we learn that lines with more stressed syllables in the second half will pull the reader forward. I look at one of my lines and count off on my fingers. How can we fix on the same scenes when our hearts are lit by different desires? It works.
My daughter sits beside me, listening to keynote speaker Beverly Donofrio, who quotes Socrates—The only life worth living is the examined life—and talks about her three memoirs, including Looking for Mary, about being unexpectedly called to Jesus' mother. It's an irreverent memoir and a favorite of mine, mother and Mary-lover that I am. In the adorably kitschy airbnb where my daughter and I are staying up the street, there is art on every wall and quilts on all the furniture and a lamp made from fake (I hope) deer hooves and a coffee maker as red as my daughter's journal. And over the stove hangs a painting of Mary.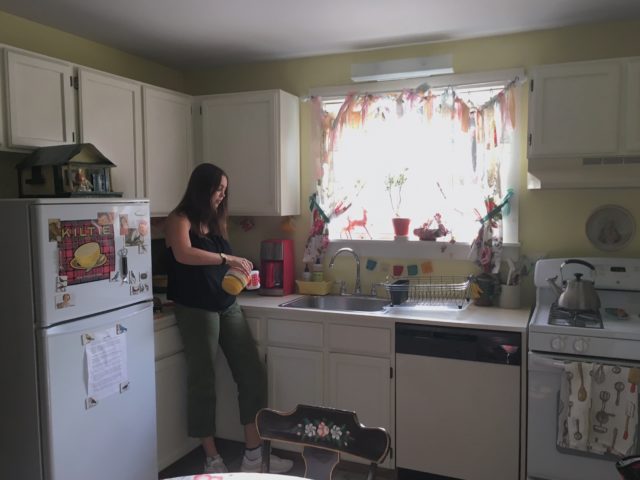 This conference is turning into a lyric essay.
On day two the breakfast tables have labels so attendees can connect with kindred spirits. If I were here without my daughter I'd find a spot at memoir writers or essayists, but my daughter is a few decades younger than most everyone here and wants me to herself, and who can complain about that? She places her coffee cup at the first empty table she finds, labeled teachers. We laugh about how wrong it seems—at school she's creating her own major, circling around the arts and social justice and the politics of the body—race, gender, ability—and hopes to raise up youth while teaching as little as possible. And it's been twenty-five years since I was a classroom teacher; as a homeschooling parent I learned to let my kids teach me. Learned that learning happened best when I didn't teach at all. Others join us at the table and we chat. They aren't teachers either; maybe my daughter and I have friendly faces. Or maybe the other tables are full.
I take workshops that get me even more buzzed up than the too-many cups of coffee I've been drinking: on speculation in nonfiction, on blending genres, on writing flash nonfiction, on writing better with social media. In that last one, when we're instructed to tweet, I send one out to Jill Christman, a writer whose work I fell hard for at the River Teeth Nonfiction Conference in Ohio a couple years back, telling her in less than 140 characters that essays by her and River Teeth editor Joe Mackall were praised and examined in the flash workshop. The world of creative nonfiction so small. So connected.
I worry that I won't connect with other writers, being here with my daughter and all, but kindred spirits can't help but find each other. Take the one I've already admired for her rose-colored glasses and clogs. She seeks me out because I mentioned in a workshop that I'd studied with Lidia Yuknavitch. She has too. Across the table at lunch I notice her studying my daughter and me and she asks, "Are you two related?" I think she's been looking for similar cheekbones or eye set, but no. She's noticed how I guided my daughter to fill her water bottle. "Something in the gesture," she says. Writers catch the details. I love that.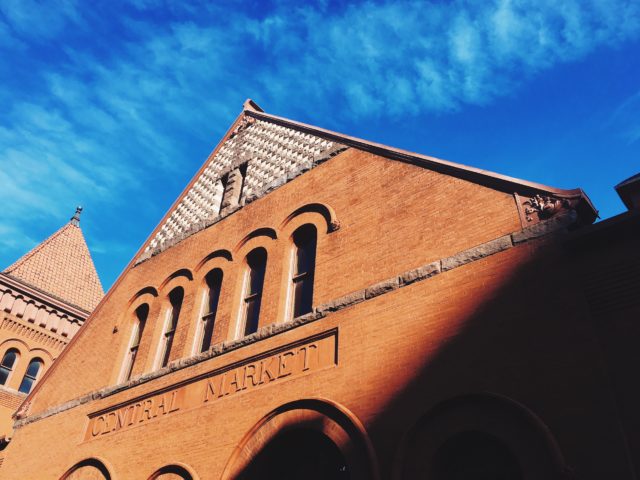 Things my daughter and I come to love about Lancaster: how one vendor at the Central Market sells nothing but celery. Celery! How the Amish girls selling pickles and jars of chow-chow wear Nikes beneath their long dresses. How there are painted pianos placed on random downtown corners, and how often they're being played as we pass. How we find an Italian restaurant serving amaro and shishito peppers that seems as sophisticated as any in New York City, and how after a negroni and a glass of frappato I say so to the bartender, and then apologize for sounding like a snob. How all the front doors on all the streets come right up to the sidewalk's edge, looking odd and friendly to our California eyes.
Together we take a workshop called "Many Roads Traveled: Writing, Editing, and Publishing Across Intersections." About diversity and differences and also the similarities we might not at first consider. Race, gender identity, education, family make-up, etc. It's the stuff of my daughter's studies, about which she teaches me. We fill bingo sheets, scribbling in squares with labels for ourselves. My daughter and I only glance at each other's, but we have some similar squares: woman, Californian, white. I write essayist; she writes poet.
I also write vegetarian in one square; my daughter writes vegan. At one restaurant we eat cauliflower in the style of buffalo wings, in another we eat seitan done the same way. Later we buy a tub of buffalo-style hummus. I wonder what it is about Lancaster and vinegar-laced sauce served with celery and also whether I am missing out on talking with other writers at this conference. But my girl is telling me her dreams, telling me what fills her journals. Like she's done all her life. The work she wants to do with kids. How hip-hop might play into it. How she wants to help draw forth what already lives inside them.
Back when we homeschooled I had day after day with her and her brothers, day after day of learning together. Days that went on and on for years and then suddenly they stopped. And now here we are at this conference, her beside me, learning together again.
Familiar feeling that I didn't know to long for.
We conference attendees start our conversations with hellos and what are you working on? When I say I'm working on a memoir of twenty years of homeschooling, others respond with what seems like honest interest. Their eyes don't glaze over the way some eyes do, when I answer the same question out in the world. I'm not sure why this is. Maybe writers are inherently curious? Less judgmental? Drawn to others' stories? Sometimes I don't know how to navigate this place where I find myself—here on this blog, here in my life. I'm writing a book about homeschooling but I'm no longer a homeschooling parent. I want to connect with fellow writers, but I don't want to leave homeschoolers out of the conversation—they're the readers I'll need once I finish my book. In lyric essays you seek connections and there is something in the way these two audiences overlap. In the curiosity, the willingness to wonder. In the eyes that don't glaze over.
I think about that class with Lidia Yuknavitch. The woman is a master teacher without teaching at all. I can imagine her belly-laughing along with my daughter and me at the notion of sitting at a table labeled teacher. Yet she comes up with prompts that help writers dig out the selves that live inside their bodies. She had only read a few of my short pieces on parenting when she wrote: ­­­­­­and that theme—letting them become—is very much related to your last post for me, and a few others too, had an undercurrent of this.
Digging out selves. Letting selves become. A theme for me. A theme for my daughter. And the reason, I realize, that I go to writing conferences. For years I helped my kids become. Now I have more time to do it for myself.
My daughter skips a workshop to do homework; later we skip one together to visit the vintage shops lining the block of our kitschy airbnb. We giggle over candy striper uniforms and she finds a pair of maroon pants from the 70s, with wide legs and a tie at the waist. They fit like they were made for her even though they were made twenty years before she was and I fork out the fourteen dollars because I love the girl and her style.
On Sunday there are panels on getting work in magazines, finding agents and publishers for books. Stuff to tuck in my back pocket, like the candies on the tables of visiting MFA programs out in the lobby. There's no sense in worrying about agents when I'm still at work on chapter three. Still, I write down some gems. How one writer says he doesn't give outright feedback on others' work—instead he asks questions so writers can find their own answers. (My homeschooling philosophy in a different form.) And an agent speaking on platform: It isn't just your number of followers but your authority. I want to see that you have a robust audience.
I think about my loyal little band of blog readers. How they keep showing up. Leaving comments. Talking to me. I stopped trying to pitch myself as a homeschooling authority years ago, preferring to wonder rather than to know. I'm not sure all the showing-up would count as robust to an agent—but it matters to me.
I wonder, too, about that lyric essay workshop. What connects our kitchen table, my desk, the redwoods? I keep seeing circles. The five of us around our kitchen table for dinner after dinner; the kids drawing there while I read aloud, once upon a time. The circle around the laptop and the journals on my desk, formed by me and the authors whose books I keep on my closest shelves. Fairy rings in the redwoods, where new shoots come up around an older tree, dying or dead. Eventually you find a circle of redwoods surrounding the old stump. The root crown.
By the end of the conference I've chatted with several other writers after all. I've told a few how much I like their podcasts. I've added others to my writers list on Twitter or followed them on Instagram, inspired to share more micro-essays there. My new friend with the rose-colored glasses rushes up before the closing session, tells me she's met another homeschooling mother and wants to introduce us. And she does.
Dinty W. Moore, founder of Brevity, is the final keynote speaker, and an antidote to those agents and editors who tempt me to put my cart before my horse. You don't have to write a book he tells us. Be proud of what you do, and make that your primary goal. He also shares a quote from Sylvia Plath, which will come in handy six days later, when another rejection shows up in my inbox: I love my rejection slips. They show me I try.
The conference ends with door prizes—I win one for the Instagram post of my daughter with her red journal in our kitschy apartment. Where I wrote about her writing beside me in that lyric essay workshop, and I pinned her there on my heart, surrounded with tiny colored stones like the ones on the paint-by-numbers Jesus that hangs in our rental's living room. I win a selfie stick for my efforts, which my daughter forbids me to use in public. I obey, though it might have been good to get just one shot of the two of us before we leave, to remember us there together. Out in the lobby, maybe, snacking on local specialties—whoopie pies and A-Treat Birch Beer—before our train ride back to New York City.
I would have connected with more writers if I'd gone to the conference alone. But no stack of business cards could fill this space: my girl and her red journal, learning by my side once more. Writing our lyric essays, making metaphors of our kitchen table. Coming up as shoots around the crown of our old life.
Her. Me.