From my journal, November 24, 2003: "Oh, and I'm reading Wintering, a novel of Sylvia Plath. Beautiful, poetic writing. I'm reading the book slowly, savoring the language and Plath's poetry at the same time. Want to take notes, want to write it all down, want to let it change me."
I always loved the cover of that hardback. An image of a tree dusted in snow, its branches still, somehow, laden with red apples.
Kate Moses was the author of Wintering. I knew of her from the anthology of essays she'd edited with Camille Peri, Mothers Who Think. These were essays collected from the Salon column of the same name, which Moses and Peri co-founded in the late 90s. When the collection was published in 1999, I bought the hardback and scarfed it down. I was trying to write mothering essays of my own and there were few forums for that sort of writing at the time. There was no Literary Mama. There was no Brain, Child. It was hard to find the models I was hungry for.
* * *
Crossing Lake Champlain two weeks ago, from Vermont to the New York side. Lake and sky vast and open.
The sign in the neighbor's window: We Love Art.
The domed wooden cake stand in Kate's kitchen. With cake inside.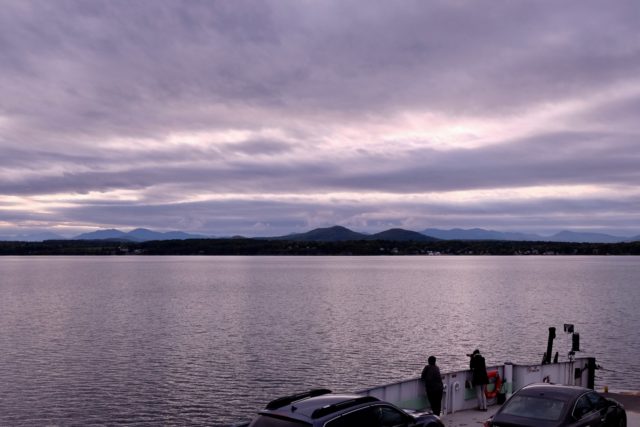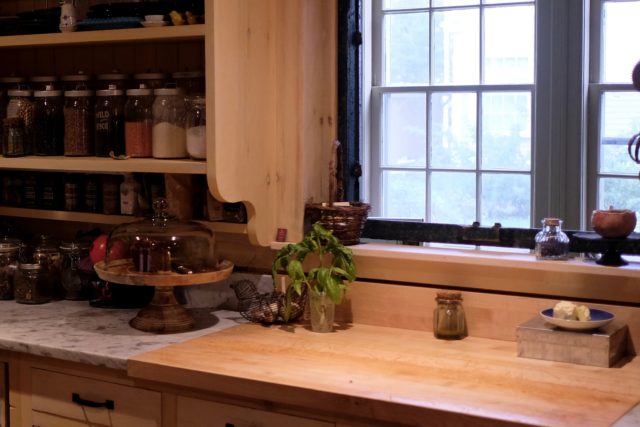 * * *
I've never had a mentor—for any length of time, at least. I never had that teacher who took a special interest in me, listened to what I liked to do, advised me on how I might proceed. I never had a counselor in high school who noticed any talent for writing I might have had, who told me that yes, I could major in English even if I hadn't written for the school newspaper. (Why did I believe that English majors needed to be previously published?) I envied my English major roommate in college, but figured it was too late for me. I never found a mentor in the psychology department where I majored, or later, when I studied for my teaching credential and was so very into it. I never found a teacher who offered more than grades and a little encouragement.
I was always a good student. Later, as an elementary teacher, I learned how easy it was to get consumed by the students who needed me most, and to overlook the "good" ones. My education made me feel anonymous. I wanted more for my own kids.
Homeschooling seemed like the opposite of anonymous.
* * *
A tall room at the front of the house, lined with books, floor to ceiling. Letters forming the words Birds & Muses—the name for Kate's literary services—lined up on the window, like sparrows.
* * *
Remember how I called 2017 my year of rejection? In January I set out to make the new year better. I applied for a fellowship for women past fifty that I thought I had a pretty good shot at, and a mentorship that I've applied for three times now. I am sorry to inform you… We are unable to offer you….It was okay—I'm good at plodding along on my own. At the time I was inhaling the moving memoir Sirens by Joshua Mohr, and it included a scene with his MFA mentor, Kate, at USF. It turns out that it was not the USF professor Kate who wrote Wintering, but I didn't know that yet. Curious about Mohr's mentor I found myself on Kate Moses' website. Reading about a program called Bookgardan: A Year's Sustenance for Writers. Bring your book project to full fruition in Bookgardan, a year-long program of sustained, one-on-one literary mentorship and monthly online craft seminars, bracketed by two fall residencies with an intimate community of fellow writers at Craigardan, a mountainside retreat for artists, makers & thinkers in the majestic Adirondacks of upstate New York.
My heart flipped. I applied. The first applicant, I learned later.
* * *
Outside my little guest bedroom–with the white ruffled comforter and the view of the garden–two full bookshelves of memoirs and essay collections.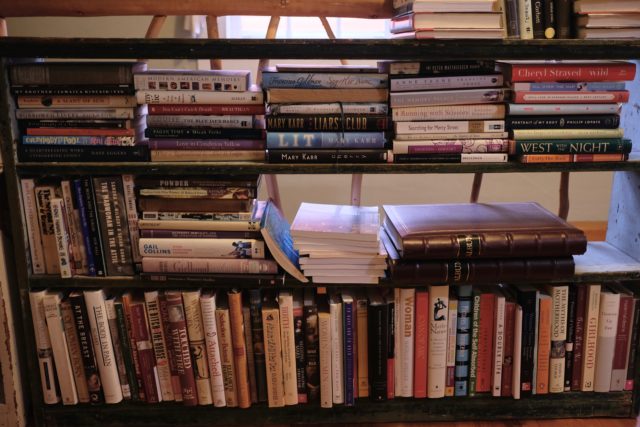 * * *
Two of the other five women from my cohort and I stayed at Kate's beautiful house the night before we drove to Craigardan, the farm where we'd spend our first one-week residency.
We stayed up late, getting riled up over Kavanaugh, eating polenta layered with Kate's home-canned tomato sauce and her chocolate chip cookies, warm from the oven, yielding in our hands.
* * *
A row of six empty Adirondack chairs, facing the actual Adirondacks. Those hills so red in the distance that they looked like the red rocks of Utah. But the red wasn't dirt—it was a vast network of trees, entering a new season.
The sheep that came to welcome us, risking the electric fence for a scratch on the head. 
The impressionistic green, yellow, orange painting of a window in my little room. The tapestry chair with just enough window light for reading. The desk.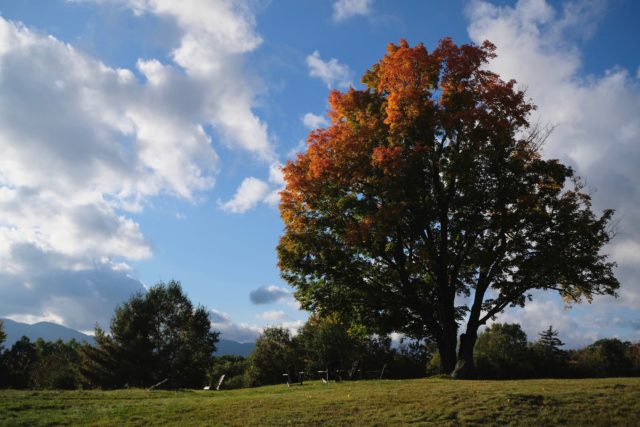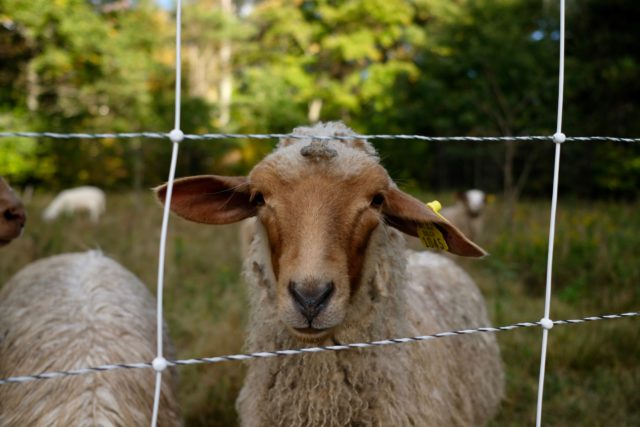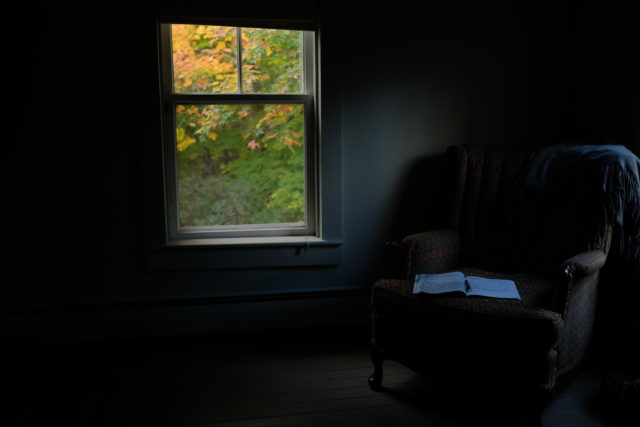 * * *
Our second morning seminar with Kate was all about images. How "images carry within them unconscious, subjective meanings that move readers forward through a story, scene or poem." How "images work on two levels at once—as real sensory things in the world, and as paths into a story's emotional core."
I thought about the draft I'd submitted to Kate, the first chapter in my memoir, about the year we decided to homeschool. Several times in that draft I'd inserted an image of H, four at the time, belly-down, looking at a book. And one of his sister at 11 months, lying beside him on her own belly, chin in hand, flipping pages. It had never occurred to me why that image kept coming back to me. And then it hit me.
That was the beginning of them learning to teach themselves. Not waiting for a teacher to tell them what to do.
Just what I desired for them.
* * *
Platters of simple, lovely food laid out every lunch, every dinner, by the young visiting chef from Australia. Frittatas, kale salads, pickled peppers, freshly baked bread gilded with nasturtium leaves. Many ingredients grown there on the farm.
A circle of women reading their work aloud, late into the night. The way they leaned toward each other. The way they lingered. 
How Judy's face lit up when we said she had a knack for dialogue.
* * *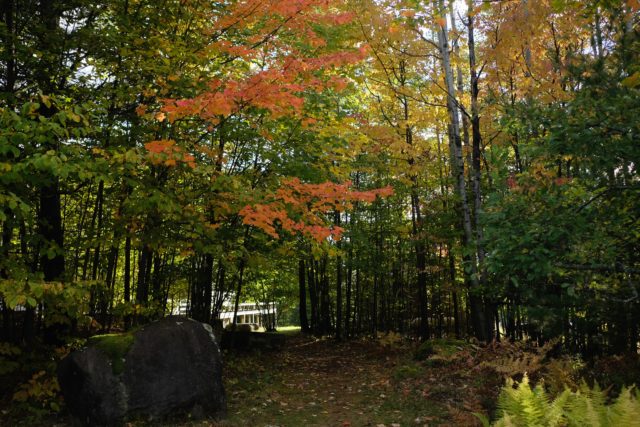 We'd wake early for yoga, bundle in jackets, head down the hill. Somehow, in the farmhouse where four of us stayed, I was the one marshaled for my sense of direction. I knew how to weave beside the sheep, to find the trail leading between the clay studio and the house where Mia laid out mats.
Gabrielle and I always stopped to chat with our wooly friends on the way back. 1030 was our favorite. (Or was it 1023?)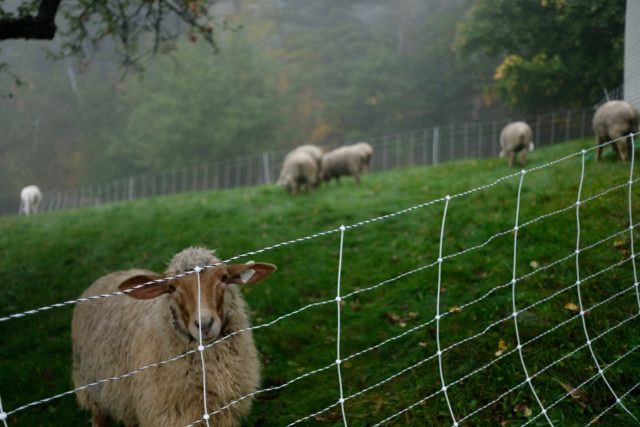 * * *
The mountain through the window, in the distance, showing us how to hold ourselves in Mountain Pose.
Mia at the front of the room, holding her hands open like a lotus blossom, Padma Mudra. Turning and offering each of us grace above muddy waters.
Suzanne working at Maureen's shoulders in the kitchen, kneading away a migraine.
Kate coming through the front door each morning, wrapped in scarves, shawls, smiles.
* * *
One night we watched the gorgeous Polish film Ida, about a young woman preparing to become a nun, who meets the aunt she never knew and the past the aunt carries. The black and white images lovely, slow, and resonant. We talked about those images the next morning, about how after the film, we saw our own hands placing dishes in a rack with wonder.
One night Kate invited several local women writers to dine with us. One of the visiting writers and one of our cohort writers both wore silver shoes. It seemed like a sign. We talked about our writing, the most flattering length for pants, the red tide in Florida. And shoes, silver and not silver.
Our last night we gathered in Craigardan's ceramic studio and received instruction from Michele, Craigardan's director, also a potter. We sat at a line of wheels and learned how to brace our arms against our legs, to hold steady against the spinning wads of clay.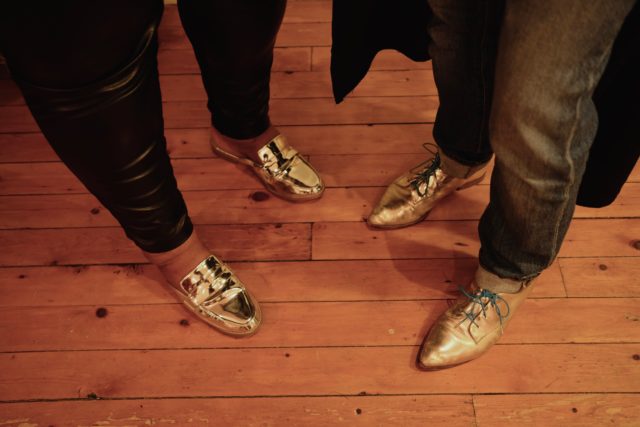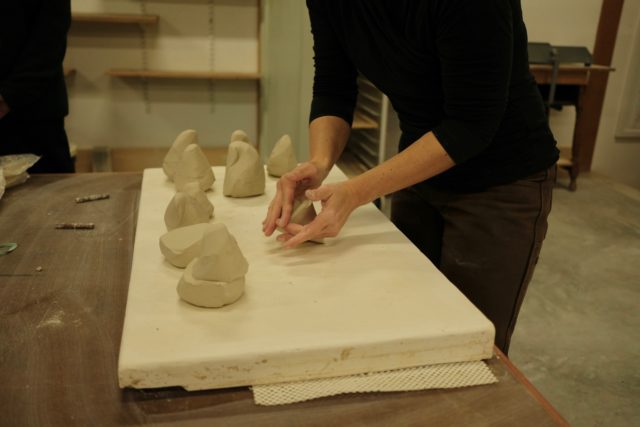 * * *
Greer, the young chef, peeking her head around the kitchen corner each day, in a headscarf or handknit cowl, to receive our chorus of gratitude with a smile.
Kathy across the table, telling me about her two grown children, the same ages as those two who were only yesterday sprawled on their bellies on the family room floor.
Kate, whisking up a batch of her New York Times-approved brownies in the kitchen, talking, laughing, while the rest of us lingered around the island drinking wine and tea, eating cheese, threatening to spoil the dinner that would be laid out and waiting in the apple barn.
Hands warming around mugs of tea and coffee at the kitchen island. After yoga in the morning, between writing sessions, late at night—even when there were showers to be taken, work to be gotten to, clocks ticking late. 
* * *
We each had an initial one-hour meeting with Kate and later in the week, another lasting two-and-a-half hours. Who schedules back-to-back two-and-a-half hour meetings and never appears weary? Someone who loves what she's doing.
Kate sat beside me at a desk, shared her printed copy of my essay drafts. She'd underlined the images in my work, made asterisks in places of tension that moved the story forward. I'd given her two different essays, written from different points in my mothering—one early on, and one as a mother of grown children. She noticed connections between the two that I hadn't seen myself.
She said, "I love your writing."
We talked about my motivations as a mother. I told her that, early on, I stopped thinking of myself as my children's teacher. That I tried to see them as individuals, tried to help them blossom on their own terms.
I explained this to Kate. I did not need to explain this to Kate.
* * *
The nests in her house. Holding babies. Displayed among books.
The metal tin of pralines she'd somehow made—late at night? early morning?—left open on the farmhouse island, resting in a folded sheet of waxed paper, waiting. Their caramel brown the precise color of the muzzle of the sheep, our sheep, newly relocated to a fenced field outside the farmhouse's door.
The apple tree outside the farmhouse, still laden.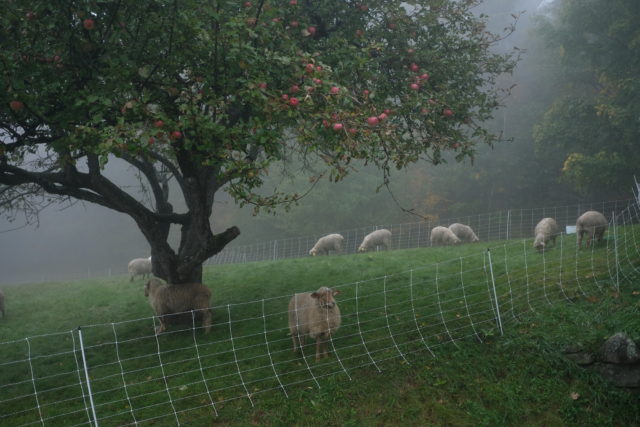 * * *
We marveled, my fellow writers and I, over tea and pralines.
At how we'd come to know each other in a week of readings and meals and meeting up in the kitchen to fill the tea kettle.
At how much Kate had seen in each of our drafts.
At the year ahead, working on our projects alone, together. At another week at Craigardan next October.
At how lucky we felt.
* * *
Maureen chopping ginger for tea on Saturday night, offering mugs, stirring in honey by ample spoonful.
The mist that settled on the farm in the final two days, sealing us in, blocking out the red hills, the outside world.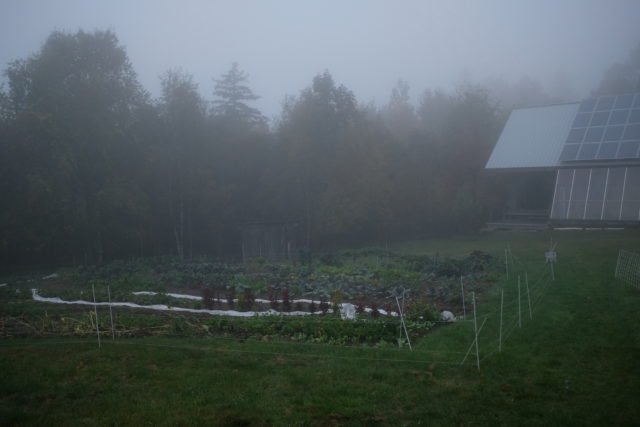 * * *
I won't share the photo Kate took of us on our last day. I didn't ask permission, so you'll have to build your own image. Make it look like this: A grand old tree—maple?—decked in yellows and greens, orange at the tips. Six of us, semi-circled beneath it, our smiles as wide as the branches behind.
"Keep going!" we said as we hugged and set off toward our separate cars, trains and planes.
"Keep going!" instead of goodbye.
* * *
That tree in the mist. The Adirondack chairs below. Empty. Waiting.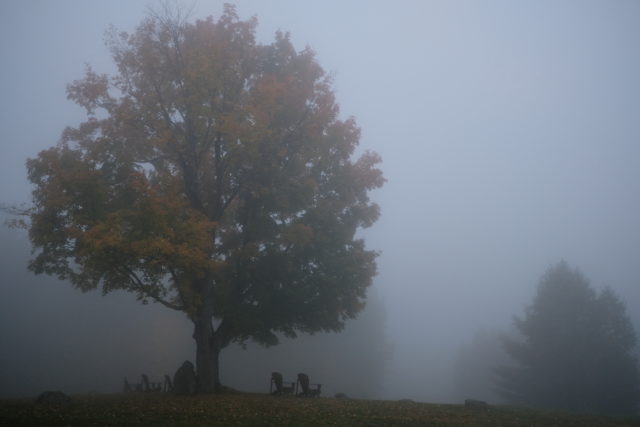 * * *
One Saturday in late February, close to midnight, I received an email in a dark house. I'd been sick, and was trying to sleep in a chair to restrain my coughing. By chance I checked my phone and saw an email from Kate, my acceptance into Bookgardan. She wrote, "I would love to work with you. I really want to see you get this book done, and fulfill your audacious and exciting vision for it."
We sent several emails back and forth, marveling at commonalities: grown children working in the arts in New York, life spent in the Bay Area, late December miscarriages once upon a time. I told her how grateful I was to be accepted into the program she'd created, how much I needed it. She shared something the writer Denis Johnson, a friend, once told her, "You know you're on the right track when the world starts handing you what you need."
"I do believe that," she wrote.
I believe it too.