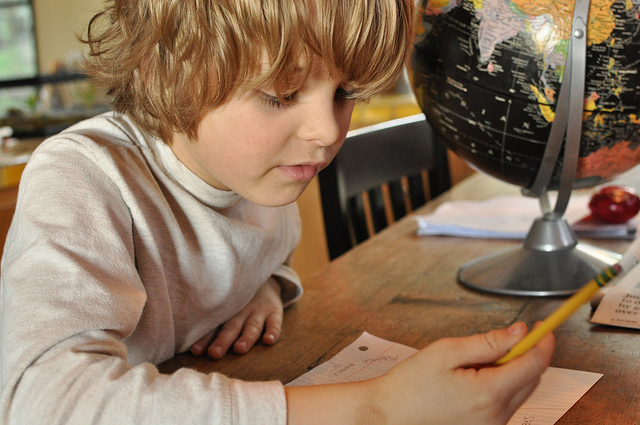 A couple of links have come my way this week that got that old question bubbling in my brain.
The first was a link to a trailer for the upcoming documentary Class Dismissed: Education and the Rise of Homeschooling in America. Watching it, I realized that much of it had been filmed at the summer homeschooling conference which I've attended for years.
Intriguing as the trailer is, I think it's sort of a shame that it begins as an indictment of schools and how they're failing, with images of schools that look like dilapidated prisons. Fifteen years ago, when Chris and I decided to homeschool, it wasn't to avoid schools, or because we thought schools were going downhill. (It had only been a couple of years since I'd been a classroom teacher myself.) No, it was the promise of what an education outside of school might look like. There seemed to be so much potential for developing curiosity and creativity when an education didn't have to cater to a class, and could center on an individual child.
One speaker in the trailer is Diane Flynn Keith. I've seen her speak many times, and she is a fireball of enthusiastic homeschooling energy. (Her clickschooling website is in my sidebar.) At one point in the trailer she says this:
"I think what we need to do is provide lots of learning opportunities for our kids, and to help them discover what they're really good at. That's what I really think is the promise of homeschooling."
Yes! I think my main goal in homeschooling has been to raise kids who know what their talents are, and where their passions lie. It still amazes me that I went through all those years of public schooling without really understanding what my personal strengths were. I won an essay contest as a fourth grader and always got good grades on papers, but I don't remember a single teacher encouraging me to write. I would have loved to major in English in college but I didn't because, somehow, I didn't think I was qualified. Isn't that ridiculous? I didn't think I could major in English because I hadn't written for the school paper in high school, and I didn't think I could write for the school paper in high school because I hadn't written for the junior high school paper.
In school I just did what I was supposed to do. It wasn't until college that I figured out that my interests could guide my life.
With homeschooling, my kids have been making decisions about how to learn from the beginning. They have a deep sense of how they like to learn, and they know their strengths.
I thought more about why we homeschool after reading the article "I Was Homeschooled: What It Taught Me That a Classroom Never Could" by Kate Fridkis. She writes,
"When I asked my mom why she decided to homeschool my brothers and I, she said, "I liked being around you." People expect a massive critique of society, which she can also do, when she feels like it. But underneath that is something much more straightforward."
I've read that I liked being around you line three times; three times it's made me cry. I'm not sure why. Something in that simple thought touches a deep seed of belief in me. I suppose it's the unparalleled wonder of being there to watch a person–your child–unfold: quirky and unique and difficult and so full of potential. Being there to witness that and support it–three times–has been the most fulfilling act of my life.
Oh dear, I do believe I'm sounding like a Hallmark card. But deep seeds of belief can do that to you.
Mr. T has been obsessed with the Greeks these days, and I've been reading a kid's version of The Illiad to him. The other day he burst out with this:
"I have a great idea for a new project!"
And he proceeded to tell me how he wants to invent a country, and he's calling it Pentasia. His country will be near Greece, in the time of the Ancient Greeks. Sometimes Pentasia will be at war with Greece; sometimes they'll be allies. T. plans to invent a mythology for them, as well as historical heroes. He'll tell about their natural resources and their laws.
"I'm going to invent their language too!"
Then he took out our globe and copied a map that included Syria at the top, and Macedonia at the bottom. But in the place where those two borders meet he inserted a space not on the globe. He simply expanded the map, drew in his own country and labelled its capital Keltamira.
Why not?
I could never have dreamed up such a project for him. But watching him sketching his map, and drawing his new mythological creatures, I was struck with what a rich project it is. Sure it's a fantastical imagining for T, but he's also basing his creations on his historical knowledge of the Greeks and their times. He's researching and applying. He's drawing on what he knows and making it into something new. (Bricolage, again!)
At the end of her essay, Fridkis writes:
"And sometimes, when I'm being very mature and serious, or moping, or feeling insecure, or feeling like a total realist, I think that it's not clear to me exactly what parts of myself I gained from school (college, grad school) and what I gained from unschooling. It's all mixed together now.

I do know though, with completely certainty, that I liked myself a lot more as an unschooler. I thought I had more potential. I thought I could do anything, and I was excited about it."
I have a photograph of that excited, full-of-potential feeling, taken just after a kid has invented his own country, and inserted it into the world: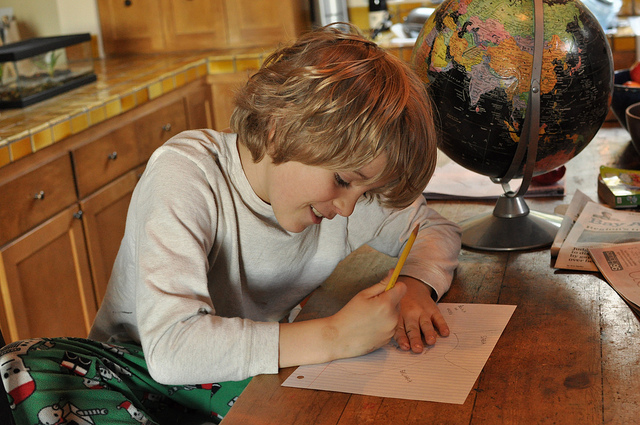 That's why we homeschool.