At least I'm calling it a party.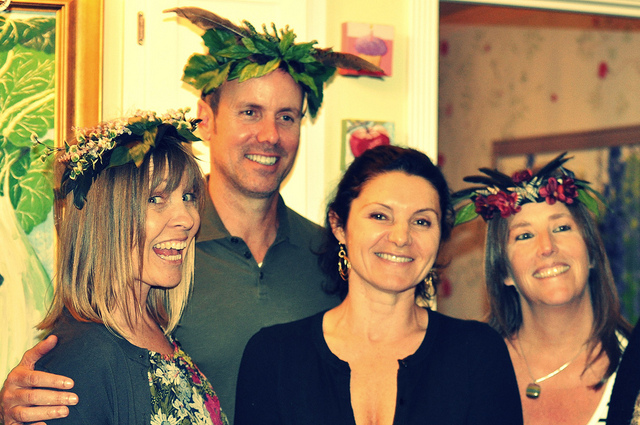 (Totally unrelated party photo from a friend's fabulous recent gathering.)
Today is my blog's third birthday.
Funny to think back to June 18, 2008. It was the summer that H was sixteen, a month before he went to high school as a junior–so we still had a house of three homeschooled kids. Lulu wasn't even a teenager yet. And Mr. T was, sniff, a sweet six.
My first post was an explanation of my blog's name, which became the What's A Wonder Farm? page over on that there sidebar. It had a little photo of six-year-old Mr. T, drawing and coloring the letters that still sit up there in my header. I cut out his letters and glued them over a page in my journal, took a photo and slapped it on the top of my new blog. After three years, I've never considered replacing that header. What could be better than my kid's writing superimposed over my own? It's a metaphor, I suppose, for our life as homeschoolers.
I took that photo of T with a cruddy little point-and-shoot camera. Mr. T isn't even in focus–the background is. Funny how blogging makes you care about photography. I'm still a complete amateur, but I've learned. As my camera got fancier, my focus got sharper. Or maybe visa versa.
It was sort of a scary thing to hit that publish button on that June afternoon three years ago. At the time, I worried that blogging would keep me from getting my "real" writing done. Those days, I was writing personal essays about parenting, and barely finding time for that.
And honestly, the blog has taken time from my other writing. Even just a single post a week, which is all I usually manage, takes up a good chunk of my weekly writing time. (Shorter posts might help, but I'm as good at writing short posts as I am at washing dishes while I cook.)
So I just keep chugging out these weekly posts, and occasionally even churn out a second. In three years I've only missed maybe one or two weeks. Chug, chug, chug…I'm the Little Engine That Could of Blogland.
Why?
Sometimes I wonder. But the answer, I suppose, comes at the end of each post. My first comment came from my dear college friend, Emily, which is darned appropriate. She's my techiest of friends. The same friend who nagged me to get on e-mail back in 1995, because she was tired of always sending hand-written notes when we briefly lived in Oregon. (Yes, she kept writing them anyway, with her signature floral flourishes. She's that kind of friend.)
And then I got a few comments from people I didn't even know. And that was when the cocktail party really got interesting. Imagine it: words I'd written and photos I'd taken connected themselves with like-minded people whose hands I'd never shaken. I met visitors from states I'd never visited. Eventually commenters dropped by from Canada, New Zealand, Portugal and India. Sort of like grown-up pen pals.
And then something else happened along the way. I found myself with what you might call a calling.
See, somehow in all the give-and-take with commenters, I began to recognize that I had a unique perspective when it came to kids and writing. And that some people might actually be interested in this perspective. Which started me on a path I'd never anticipated: writing a book for parents. I have no idea how long it will take me. Or whether it can captivate a publisher. Or anyone else. Still. This book project has given me a purpose in my days that wasn't there before. And this blog and you readers gave that to me.
Thank you.
You readers are why I do this. I know some bloggers will say that they don't blog for audience, that they do it for themselves, for the satisfaction they get from simply recording their lives. Not me. I'm here for the connection. My heart still speeds up a little when I get an e-mail that someone has left a comment here. It makes me feel a little pathetic, relying so much on others for that thrill, but the buzz of connection is the point to me.
I admit: sometimes I wish there were more of you readers. I wish those e-mailed comment alerts showed up more often. I wish that when I offered a giveaway here, the line of responders would trail on down the street, but that's not how it is. Sometimes the voices in my head get a tad whiney about that, but the truth is, I'll never be a Blogging Superstar. I don't post enough, my posts are too long, my topics too esoteric. I don't find time to comment on all the blogs I'd like to, I'm still not on Facebook and I've never posted a recipe or a tutorial.
Huh. Why the heck do you people keep showing up here anyway?
No matter. You do show up. My dad is a computer geek, and I'm guessing he's one of the first to read anything I post. My mom shows up too, and my brother even comes for advice, as "little" brothers are wont to do. My hubby reads all my posts and only skims the rant-y writing ones. My uncle leaves comments on occasion, and my husband's aunt even told me that she comes by. Who knew?
I've met fellow homeschoolers at the park who have surprised me by telling me they read my blog. I met one reader while buying sausages for my family at Whole Foods. An old boyfriend sometimes stops by. As does one of my daughter's friends, and the wife of a business acquaintance of my husband. Funny.
Many of my closest friends never read this blog. Some have even told me flat out how they don't like blogs. I get that. It's not for everyone to spend their online time perusing other people's spewings. But I can't help but think that those friends don't quite know me like the rest of you do–even those of you who live in India, or whom I've met once when buying groceries. Because after three years, this blog has become something. I'm not sure what. Sometimes it seems like an actual place–one of those places that you go where everybody knows your name, a place that I miss if I'm away too long. Sometimes this blog simply feels like a part of me, like if you drew a diagram of my brain, Wonder Farm would earn itself some good acreage up in the right corner.
So thank you, all you kind people who have shown up here over the past three years. Thank you to those of you who have left comments, and shared your stories and encouraged me.
Do me a favor, would you? Would you leave me a comment, and wish my blog a happy birthday? Even if you never leave comments, even if you've never commented before, might you try? Because it's my blog's birthday, and I'm having a party. And it isn't a party if you don't have guests, and flies on the wall don't count.
I'd give you cake and a party hat if I could.
(Edited to add: But I do have a party favor! I extended the deadline for the Alphabet Glue giveaway until this Friday at midnight. Three days just wasn't enough when I typically post weekly. So swing by my last post and leave a comment to win, if you haven't already!)