Hello, Patricia! I really enjoy your blog. I have printed out various posts to keep in my homeschool library. My two kids are 12 and 9. When I suggested a writing group, they said they were not interested. When I suggested they try NaNoWriMo last November, they were not interested. I regularly ask my 12-year-old to write a journal entry that I do not read. She did say she would like to write a letter to the President about something important to her. She started a blog but stopped after one entry. Do I assign a project for her? Do I just let her be? My 9-year-old very willingly keeps a plant journal about the plants he has just planted outside. I did get him to tell me about a book I was reading to him for read aloud time. I typed it up. I do ask both kids to write thank you notes occasionally but they are usually very basic. When we did copy work/dictation/assigned writing projects in the past, there was usually a lot of complaining and emotional outburst and plain unhappiness. I guess I am not sure which direction to go now. I appreciate any advice.

–S.
Dear S.,
I'm honored that you've printed out some of my posts for your homeschool library. (I've always wanted to have my work in a library!)
Boy, there are a lot of good insights and questions here. Let's take them one by one.
 "When I suggested a writing group, they said they were not interested. When I suggested they try NaNoWriMo last November, they were not interested."
You know, NaNoWriMo and a writing group are both pretty intense writing activities. I'm a huge fan of both—and have seen dozens of kids over the years become inspired to write by participating in a writer's workshop, in particular. Still, if your kids are hesitant about writing and don't want to try out either of these formats, it might be better to start with much smaller writing opportunities. Dinky, unthreatening writing opportunities. More on that below.
 "I regularly ask my 12-year-old to write a journal entry that I do not read. She did say she would like to write a letter to the President about something important to her. She started a blog but stopped after one entry… My 9-year-old very willingly keeps a plant journal about the plants he has just planted outside. I did get him to tell me about a book I was reading to him for read aloud time."
So it sounds like both of your kids are trying out a few different writing formats, and have some ideas. That's a good start! Your daughter doesn't seem motivated to continue the blog right now. That's okay; even professional writers try out new projects and decide to shift gears. The trick, of course is finding projects with longer-term appeal. Let's see what we can come up with below.
 "Do I assign a project for him? Do I just let him be?"
These are big questions and have everything to do with your family's style of homeschooling.
on letting them be:
Some families—families who take an unschooling-style approach to homeschooling—prefer not to assign work to their kids. Although my family has much in common with unschoolers, I don't necessarily consider us unschoolers. Still, I've known many, many unschoolers over the years who have developed into effective, enthusiastic writers.
This approach takes patience.
These kids may write much later and much less than kids in school do, at least initially. In the meanwhile, if they are growing up in a literature-rich home, they are intuiting the skills of writers. If they are engaged in interesting conversations with their family, they are developing the skills of writers. It may take time, however, for them to find the authentic reasons to write that will motivate them to try it with any regularity.
Reader Carrie, who is a writer herself, didn't want to push her son to write. She's written to me many times over the course of several years, sometimes worrying that her son, now ten, wasn't choosing to write. Recently she left the following in a comment:
"In answer to your question 'Can kids learn to write by following their own agendas, without being taught?', I'm feeling more and more confident that they can as I watch my son learn to write because of his desire to be able to chat with other friends on Minecraft and write fan fiction about–what else?–Minecraft.

Lately I've made another discovery–that there's no way at all I could coax my kid to do a report just to do a report, but he will write report-ish things if he has a specific motive for doing so. Today my son and I collaborated on a short bio of Charlie Chaplin to put on a display we're making for a silent movie matinee that we're sponsoring at our local library this month. He had info he wanted to share with others for a specific reason, so he wrote a report. Ta-da!"
You can read the rest of her comment here, including the part where she notes that she has learned patience with her second child: "But mostly, I wait," she writes.
Unschooling families may also be interested in this story from an unschooling mom and friend, which was part of my article, "How Do Kids REALLY Learn to Write?" My friend's son wanted to learn to write at fifteen because he needed to in order to work at a youth radio project he wanted to participate in:
"My 17-year-old wrote hardly at all but grew up in a household full of discussion, debate, literature and content. When, at about 15, he wanted to write, lo and behold, he really knew how to put words together. He knew how to think and speak clearly from years of doing just that. It translated perfectly well to paper. The mechanics of writing (especially the ridiculousness of English spelling) were something of a stumbling block but those are getting rapidly better with time and experience and they seem to be coming together in far less time than if he'd been studying them or practicing them for years."
So, S., if your inclination is to avoid assigning writing projects to your kids, I do think they can develop as writers. It may not happen as fast as you'd like it to, and you would probably be wise to pay attention to their interests and see how they might naturally lead to writing. More on that below.
on assigning writing projects to kids:
All homeschooling families are not unschoolers, however. There is a whole range of other homeschooling styles, some which take a traditional school approach, complete with assignments and grades; some which fall somewhere between unschooling and school-at-home, with parents and kids working together to develop projects.
When it comes to writing, I'm not a fan of specific assignments for kids. As you noticed yourself, S., "When we did copywork/dictation/assigned writing projects in the past, there was usually a lot of complaining and emotional outburst and plain unhappiness." Sure, some kids will put up with writing assignments, and some assignments may actually engage them and motivate them to write. But mostly I find that the more freedom kids have with writing, the more likely they are to enjoy writing.
Still, freedom does not necessarily have to mean "letting them be" if that isn't your family's homeschooling style.
Instead, you might say something like this to your kids: "I think it's important that you have some experience with writing. (Insert your own earnest reasons for that importance here.) I'd like you to find some type of writing to do, and I'll try to help you find some types that interest you."
And then you must follow up those lines with much supportive brainstorming and whatever help it takes to make the writing happen.
By help I mean:
A willingness to take dictation from your kids, if they would prefer that, whatever their age
A willingness to write along with your kids, if that would help. You might let your child choose what you'll write about together from a book like the very fun Rip the Page.
A willingness to allow the writing chosen by your child be a very small attempt, dinky and unthreatening. It might simply be a list (more on lists below) or private journal-writing like your 12-year-old already does. It might be captions for comics or descriptions to accompany drawings. "Writing", for a while, might simply consist of brainstorming writing possibilities together.

A willingness to search out real reasons and audiences for your child's writing, as connection with others is often what makes a person want to write. It's those "specific motives" that Carrie wrote about in her comment above that we're talking about here. More below.
By brainstorming I mean:
Talking with your kids about their interests, and considering what writing opportunities might be connected to those interests.

Making a list of possible writing ideas with your child. You could even write possibilities on slips of paper to be placed in a jar, for later consideration. Don't rush this. It might take some time–days, weeks!–to reconsider what writing might look like, and to compile a list of possibilities. Make this a project and have fun with it.
Breaking down larger ideas into smaller, more manageable chunks. If write a story seems overwhelming to your child, start with a drawing and description of a character, or a bit of dialogue for a specific scene. If write a review of a favorite video game seems like too much, try making a list of highlights and downsides of the game.
Exploring all sorts of writing possibilities–not just stories; not just formal essays. Not just the sort of writing that kids do in school. Expand your notion of what writing might look like. More details below.
Of course, the earlier you start kids out with the expectation that you'd like them to write (or dictate) something on a somewhat regular basis, the more easily it becomes a habit. But it's never too late to start, S., if this sounds appealing.
an example of small, non-threatening writing possibilities: list-making
Five Reasons I Love Lists:
They're simple, even for kids who don't like to write.
They can be adapted to any topic or interest.
They can be used to write about feelings without having to go too deep.
They can be expanded into something bigger. Essays, even.
They're fun!
When trying out lists for the first time, help kids choose topics that they're opinionated about. 5 Most Despicable Characters in the Percy Jackson Books, say, or 10 Reasons I Wish I Could Live in the Time of Laura Ingalls Wilder. Pay attention to what your kids like to talk about to make suggestions for lists.
Lists can be silly and funny. A kid in my writer's workshop recently wrote a list titled 12 Ways to Cook a Hot Dog, which started with standard methods, such as Put it on a grill, and got increasingly outlandish and funny: Tie it to the exhaust port of a jet engine.  Mr. T delights in creating ridiculous lists. Some recent ones:  Top Ten Reasons Why I Hate Goblins. Top Ten Ways to Take Over the World.
A list's order can be played with to make a point, or to mine humor. Items might get repeated for comic effect, or they can build as they did in the hot dog list.
A list can be an excellent form for a kid who wants to convince someone of something. Mr. T once wrote Ten Reasons You Should Let Your Kids Play Video Games–not so much for me, but for the parents of his video-game-deprived friends.
Kids can write about feelings: Things I Love. Things I Hate. Things that Drive Me Nuts. Things I Wish My Mother Would Not Do.
What's that? Your kid still hasn't whipped up anything for Father's Day? Our family has a long-running tradition of writing love lists for special occasions–70 Great Things about Gramps for a 70th Birthday, for example. On my recent birthday, Mr. T gave me Ten Ways You Have Taught Me Like Nobody Else. (Number one: "MY WRITING SKILLS! DUH! You have made me love writing and thinking of brilliant stories and worlds." Aw. Sniff.) The love lists I've been given are some of my all-time favorite gifts.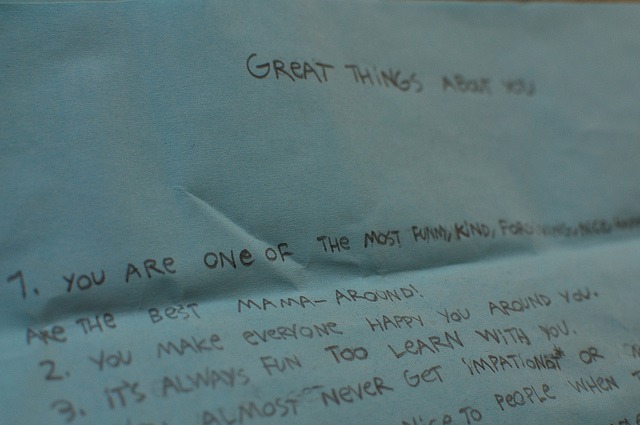 If a kid has made a list that interests him, he might go back and add details to each item on the list–which is essentially an exercise in writing paragraphs, although you might refrain from pointing this out. For example, my Magic, The Gathering-loving kid recently made the list, Top Twenty Worst Mythic Rares in Magic the Gathering. At first he started with a simple list of cards, but then he went back and wrote a short paragraph explaining why each card had made the list.
Such an expanded list can serve as a quirky sort of essay in its own right. Lulu once wrote an essay in the form of a list, titled Top Ten Ways to Adapt Romeo and Juliet to the Modern Day. In fact the list essay is a bona fide literary thing; if you're curious to see what your kids might eventually aspire to, check out this article with a few linked examples.
There is even a series of books on list-making, including one especially for kids, which might inspire. (And you can share lists on that Listography website.) But honestly, once you get going with lists, you find topics everywhere.
I'll bet you and your kids can come up with some ideas for lists, S. The kids might be more likely to try if you write right along with them. Start with a list: Lists That Might Be Fun To Write…

examples of how to find meaningful writing formats and audiences for kids:
S., I'm sure you know that I believe that kids are more likely to write if they have meaningful, authentic reasons for doing so because I've written it so many times that I can't believe my computer doesn't autofill the line for me. I can tell from your message to me that you have tried to find writing topics that will interest your kids. You are on the right track!
Here's something else from my article "How Do Kids REALLY Learn to Write?":
Writing because Mom or Dad thinks it's a good idea is not a meaningful, authentic reason! Generally, we write to communicate with others. We write to connect. (Unless, of course, we find fulfillment in personal writing such as journaling. If you have a journal-loving kid, value that!…) We write, very often, because we're seeking a response. Find real writing opportunities that engage your child and invite response: letters and e-mails; family newsletters; blogs on personal interests; signs and props for make-believe play; displays of favorite collections to share with friends and family; rules for self-designed games. Make opportunities for your kids: host a writer's workshop; organize a science or history fair; form clubs based on their interests: oceanography, insects, rock and roll music; help them gather a group to write a baseball newsletter; form a team and create a homeschooling yearbook. (All examples of actual activities organized by my local homeschool support group!) If you don't have enough local possibilities, use the Internet: find websites of interest to your child with writing opportunities; set up group-written blogs or wikis; let your kids explore online forums if you think they're ready for it; look for fan sites based on their passions; allow them to post reviews on music, books, films, video games; explore the online writing community for young people at figment.
Sometimes it takes time to discover such writing opportunities, S.  Sometimes you simply have to wait for them to happen, as Carrie did above. Sometimes you need to make an effort to make them happen, as in the examples above that follow the phrase make opportunities for your kids.
If your kids don't want to try a writer's workshop, perhaps you can start up some other club based on their interests. Of course, even if writing might be involved in such a club, you don't need to sell it that way. That rock and roll music club mentioned above was started up by a mom in our homeschooling group whose son loved music (and is now a professional musician!) but didn't necessarily love to write. Each month the kids explored a different decade of rock and roll by bringing projects they'd created at home: posters, Power Point projects, album covers, songs, reports, reviews–it was up to them. And what were they doing while they thought they were sharing a cool common interest? (Writing!)
* * *
Remember, S., that even when your kids aren't writing, they can be developing writing skills. As I pointed out in that article I keep mentioning, kids develop as writers by growing up in literature-rich homes. They develop as writers by talking about what interests them.
Well, S., you said you'd appreciate "any" advice I might have; I fear I've offered too much and can only hope that some is useful. In case my advice is lacking, perhaps other readers can help.
Let's make a list!
Let's end this post with a list of writing that your kids have enjoyed. This might be writing they've done because you've asked for it; it might be writing they've done in the context of whatever they like to do. (Those can be the harder examples to recall. Think. Think!) What sort of writing (or dictation) has your child done willingly, enthusiastically?
Let's create a grand list of Kid-Loved Writing to inspire parents and kids alike.
(You can read all posts in this series here. I plan to write a few more posts in the series, but I'll wait until September to do so. I'm hoping to have my own quirky writing fun in this space in the meanwhile.)