It's very satisfying to write a post that brings so many of you out for a tea party in the comments! If you haven't been back to the discussion for the How Do Kids REALLY Learn to Write? post, hop on over. You'll find fantastic insights and experiences shared there.
One of my most essential suggestions in that post was the final one: Help your kids find meaningful, authentic reasons to write. And what was my first example of how you can help make meaningful, authentic writing opportunities for kids? Start a writer's workshop. If you've been reading along here for any length of time, you could have predicted that one. You know that I mention writer's workshops often, you know that I'm a great fan–yet suddenly I realize that I've only written about them at length here once.
So, let's talk about writer's workshops.
I'm so convinced of the effectiveness of writer's workshops and writing clubs that I'm writing an e-book on the topic. (Still cranking away on that! It should be finished in the next few months.) From the introduction of my project:
One of the easiest ways I know to conjure an audience for a child's writing is to start a writer's workshop.

Conjure is an apt word here because, in my experience, writer's workshops can be almost magical in their ability to motivate kids' writing. I've facilitated a variety of groups over a dozen years, working with kids as young as four and as old as seventeen.  Twelve years in, I'm still surprised at how a workshop can inspire a child's desire to write. I see it in the kids from my current group, overheard at the park, asking each other, "What are you reading at the workshop tomorrow?" I see it in the ten-year-old who emails, begging me to hold our bi-monthly workshops every week, "Please!!!!!!!!!" I saw it last year in the teenage boy who dutifully cranked out regular installments of a Twilight series spoof, because the other workshop kids cheered and whined for them. In the kids who arrive at my house on workshop day, and scurry off to a corner to scratch out the unfinished ending to a story—because they don't want to miss the party. In my own son, who hollered about how much he hated writing at seven, but months later, after we'd started our first workshop, could be found at the kitchen table, scribbling away at his own Captain Underpants comics before he'd even finished his morning glass of orange juice.

A writer's workshop may not have such an effect on every child, but I'll make the audacious claim that it will have such an effect on most kids. It's a powerful motivator, and it's hard not to use magic as its metaphor. I'm not the only one to think so; I've heard facilitators of other workshops and writing clubs for kids make similar claims.

Yet, for all it offers, a workshop is a fairly simple gathering to facilitate. We're talking big payoff with minimal effort. Really, all you need to provide is a place for kids to share their writing. And a little help in cultivating a nurturing atmosphere.
There are many ways to format a workshop. In classrooms, teachers typically present a short lesson on craft, often using professional writings as inspiration, and then there's a longer session of writing time, with sharing at the end. Many home-based workshops follow a similar pattern: the facilitator offers a fun prompt, and kids write, and share what they've written.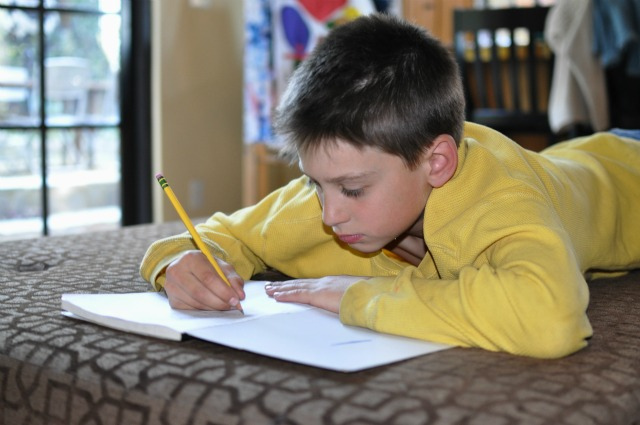 We do things a bit differently in my workshops. Kids write whatever they want: on any topic, in any genre. They do the actual writing at home. Then they read their work aloud at the workshop, and the group offers feedback. We generally do a quick, fun writing exercise together midway, but bulk of our time together goes to offering feedback on those written-at-home projects. I like this format because it allows kids to take time on their writing, and it offers more freedom in how kids write. Many still dictate their work to parents, which they can easily do at home; some like to write at computers; some enjoy writing bit by bit over the two weeks between our meetings; some prefer dashing off something by hand on their way to our gathering. Many choose to write longer pieces, and offer their latest installment at each meeting.
When kids write at home, it leaves more workshop time for feedback. And that, I think, is where the magic lies. As I mentioned in that last post, people (generally) write for connection and response. A writer's workshop fulfills that in bucket loads: A child sits at the front of the group and reads his or her writing. And the other kids listen! And offer positive feedback!
That, my friends, is gold to a writer. I know I never tire of getting feedback on my own writing.
You'll notice that I specify positive feedback. I'm a big believer in positive feedback. I think that hearing what we do well is more instructive than some folks realize. Getting feedback on our strengths teaches us what our strengths are–and many of us don't recognize our strengths. Positive feedback teaches us what we do well, and encourages us to keep doing it.
A big chunk of my e-book focuses on offering feedback, because it's such an essential part of a workshop–and it's also the place where a workshop can go wrong, and turn unproductive. We do, eventually, begin offering constructive, building feedback in our workshop, but we delve into it slowly and with care. But truthfully, you could host a workshop that allows only positive feedback, and the kids would develop as writers.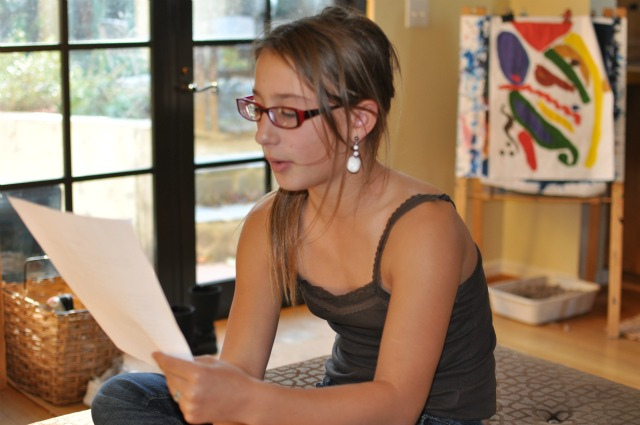 What never fails to amaze me is the insight that kids can offer about writing. They really begin thinking like writers. At our last workshop, one ten-year-old said, "I like how you took the comedy of somebody messing up a newscast and made it real." Another said, "I found it interesting that the snatchers couldn't get the kids, which made me want to hear more of the story." They comment on everything from specific words to character motivation to plotting. Once, a teen responded to a girl's Christmas memoir by saying that all the details made him feel like he was looking into a snow globe. (I practically welled up at that one.)
You can get a glimpse into how a feedback session can blossom into a full-blown writerly discussion in my post Still Talking Literature.
A Few Benefits of a Writer's Workshop:
Workshoppers experience one of writing's essential purposes—the opportunity to convey ideas in words to an audience.
Having an audience to write for can be highly motivating.
A workshop audience provides feedback on one's writing. Feedback isn't always easy to come by.
The workshop setting encourages kids to write with an audience in mind. Writing for a particular audience can help writers develop clarity in their work.
The workshop exposes kids to a variety of writing genres and styles. Very often the kids influence one another's writing.
The workshop provides authentic deadlines for writing, which can be helpful for writers of all ages.
A positive workshop environment can help kids recognize their personal strengths as writers.
A workshop setting values creativity over formula, content over correctness, practice over theory—all qualities essential to developing writers.
The workshop helps kids understand that writing is a process, that the work is malleable. Writing can always be changed and improved, if the writer chooses to.
Discussion about one another's writing helps kids learn how literature works, in an authentic, meaningful, interesting way.
For homeschooled kids, the workshop provides the audience often missing in a homeschool setting. For schooled kids, the workshop allows for opportunities that may not happen in a classroom: more freedom to write creatively, and in-depth dialogue about kid-generated writing.
And a benefit not to be underestimated: the workshop shows kids that writing can be fun.
I'd love to keep the tea party going. A few questions to get the chitchat started: Have your kids ever participated in a writer's workshop or other sort of writing club–or have you hosted one yourself? Was the experience useful? Have you participated in a workshop yourself? Or, have you ever considered hosting a writer's workshop? What's kept you from doing so?
Edited to add: If you've arrived here more recently, allow me to share a few updates on this topic. I wrote a guide on how to facilitate workshops, available here. And I have two posts on facilitating workshops virtually, here and here.