I had a beloved coffee cup. Tall and handle-free, white with tiny red flowers and a silicone sleeve. A small chip at the lip. If you know me in real life, you have surely seen it in my grip at one point or another, as I used it constantly and not just for coffee. If you've read along here or followed me on Instagram for any length of time, you've seen it too. I liked to share photos of that cup; it said something about me, though I'm not sure what. I had it for seven years.
Last week I lost it.
*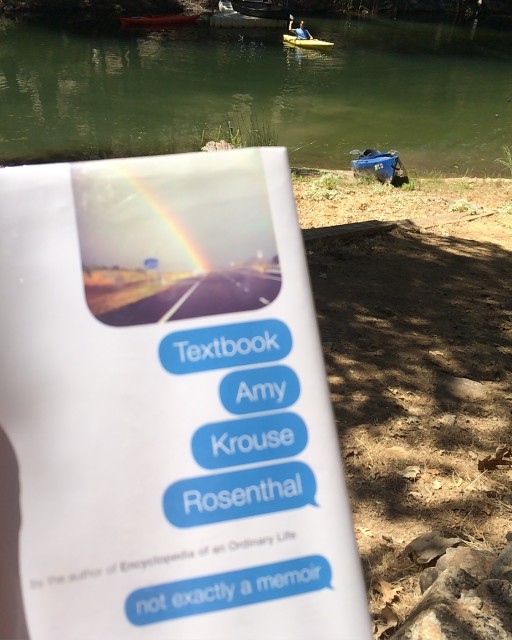 The death of Amy Krouse Rosenthal has hit me hard. I only discovered her last summer, happening upon her Textbook Amy Krouse Rosenthal. I gulped that book down like Vitamin D, sunshine in a capsule, on a trip to a lake. Below an Instagram photo of the book I wrote, "I love this book! I'm a sucker for a story told in a quirky format and this one, taking on the structure of textbooks and school subjects, is irresistible. Plus, the book is generous, fun and life-affirming. I am up to the final section and I'm keeping it in my beach bag because I don't want it to end."
Like most of her readers, I did not know then that Amy had terminal cancer.
*
Last week, on the page of a Facebook homeschooling group, a mother sought writing advice for her eight-year-old daughter, who has not liked the writing curriculum the mother has presented so far. I belong to this group, but I admit that I read posts there only occasionally. This day, however, another writer/homeschooling mother tagged me as she recommended my post "How Do Kids REALLY Learn to Write?" to the woman, along with much encouragement about how a love of writing is not likely to come from curriculum, but through shared books and wordplay and story and authentic writing opportunities, based on the child's interests.
This is not the advice the posting mother sought, it seemed. She wanted specific books and curriculum. She received lots of advice in that regard.
*
I lost my cup at BinderConLA, a writing conference for women that evolved from the secret #binders groups on Facebook. I had filled it with iced tea and I think I left it under my chair after a workshop called "Start a New Writing Career After 40." One of the speakers brought a visual aid, the stack of books she's published, beginning after she turned 50.
I only realized my cup was missing when I went to fill it with coffee the next morning.
*
I've spent the past year and a half starting and restarting my homeschooling memoir, searching for how best to tell it. I can't tell you how many memoirs and collections of essays I've read, searching for a model that will show me how to do it. But of course you already know that. Because I keep writing about it here, getting closer and closer but not quite there.
I'm dogged that way.
*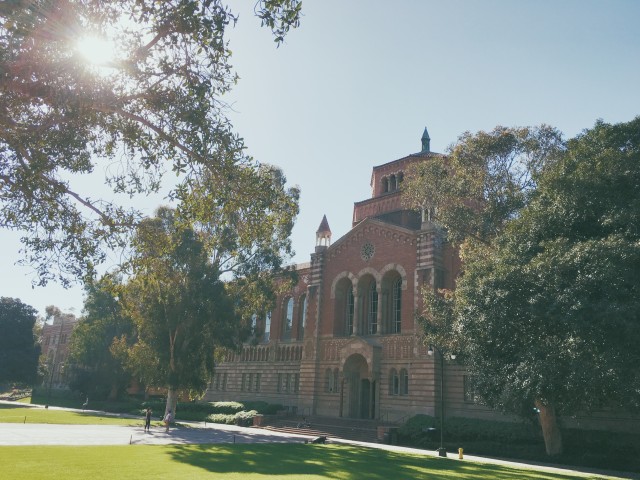 The conference was at UCLA, my alma mater. I've been back a couple of times with my family since graduating, but never alone. I spent a lot of time alone as an undergrad there, having transferred in as a junior, not knowing anyone. It was a lonely time, but I made my own little routines to help me through that. I hung out in Kerckhoff Coffee House because it reminded me of Northern California and home, at a time before coffee houses had become a Starbuckian thing. I studied in Powell Library because it was old and beautiful and I liked to wander in the stacks. Sometimes I'd stand at the top of Janss Steps with an iced coffee from Kerckhoff, chewing the sugar that hadn't dissolved at the bottom of the cup, trying to let the moment fill me because I didn't have a person beside me to do that.
Last weekend, wandering back to those places, I suddenly realized that this year marks my 30th anniversary of graduating from college. I had to do the math a couple of times because I didn't quite believe it.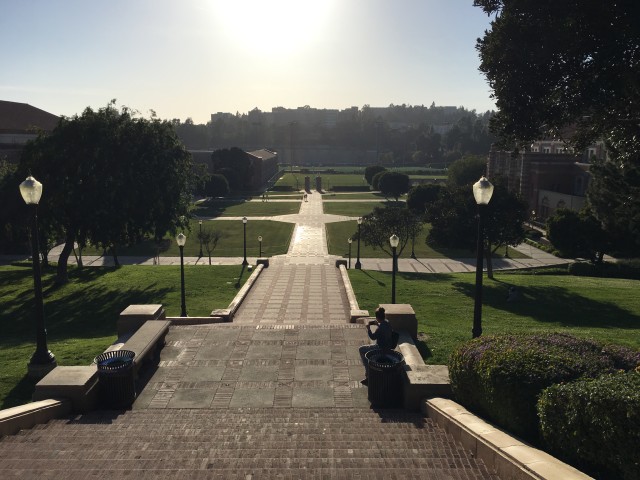 *
Amy Krouse Rosenthal was 51 years old when she died. She was 20 days older than I am.
*
Saturday afternoon I made my way to the Sculpture Garden in a far corner of campus. Once a boy brought me there at night and we ran around like the kids we were. He put foam headphones around my ears and had me listen to Elton John's "Funeral for a Friend." And then he kissed me.
Going back, I could not find a sculpture on a pedestal that my mind tells me we had climbed upon, where he had me listen to the song. I could not remember where he kissed me.
It was a very long time ago.
*
Did you read Amy Krouse Rosenthal's Modern Love essay, published ten days before she died? My chest compresses at the thought of it. It's a personal ad written for her husband, titled, "You May Want to Marry My Husband."
If you haven't read it, or read Amy at all, this essay will show you how much life force she had, even as it was draining from her.
I've written before about how much I love white space in writing. The white space at the end of this essay will break your heart.
*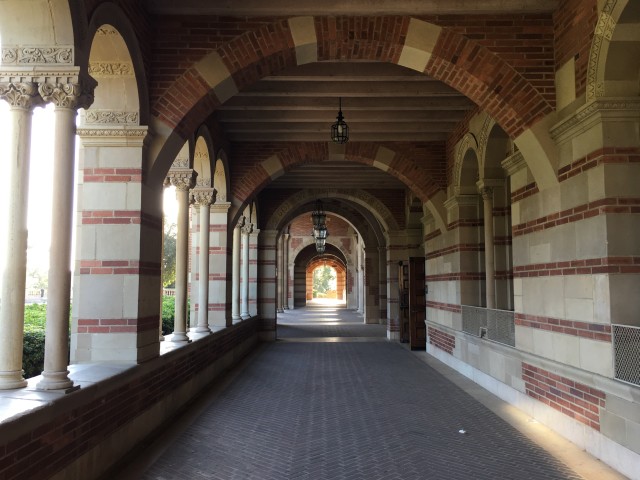 The stacks at Powell Library seemed endless and wandering there, back in the day, felt like wandering back in time. I'd drag my fingers along shelves of books, convinced no one had opened them in years. One day my fingers hit F. Scott Fitzgerald's notebooks, compiled into a single volume.
I checked the book out. I bought my own notebook. I started my life as a writer.
That was thirty years ago. Or so my math tells me.
*
I feel for that homeschooling mother who posted on Facebook. I remember searching for structures and answers in our homeschooling life, early on. I sifted through books and curricula and a variety of homeschooling philosophies, desperate for a single, existing approach that would answer my questions. That would calm my doubts and assure me we were on the right path.
Back then, I spent a year and a half trying to write an essay on our homeschooling philosophy, but as soon as the essay started to come together, it would suddenly crumble in my hands. I thought it was because my writing skills weren't good enough yet.
It took a while for me to understand that the problem was that I didn't have a homeschooling philosophy. Or at least I couldn't align myself with any existing philosophy. We had to find our own way. Let our philosophy be the absence of a philosophy.
Or rather, a philosophy of always being open to new possibilities, depending on the kid, the year, the day, a mood.
*
Amy Krouse Rosenthal dreamed up books and social experiments fueled by serendipity and the beauty in small moments. Her work is such good inspiration for veering from the predictable, for inviting in possibility, for wandering off the path.
How can I not feel a sense of urgency with my own work? How can I look at how much Amy Krouse Rosenthal accomplished in her 51 years, when I feel I'm just getting started?
*
"I'm a sucker for a story told in a quirky format," I wrote about Amy's book last summer.
I was searching for the structure for my memoir at that point. And I wasn't listening to myself.
*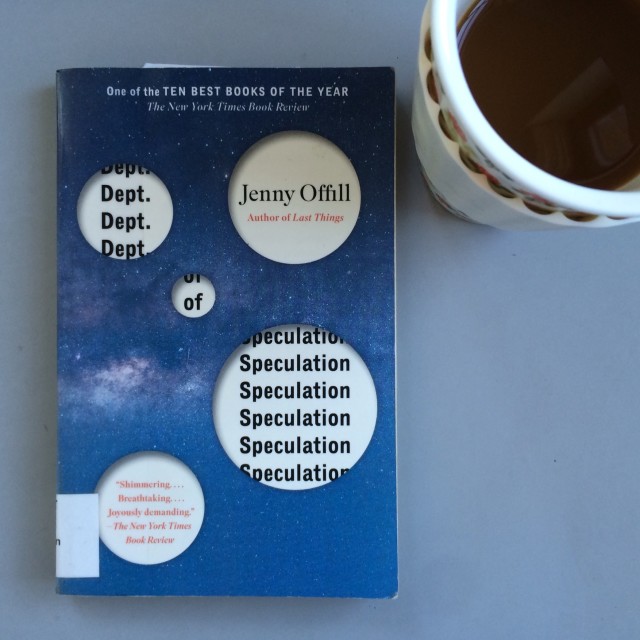 Did you notice the year-and-a-half thing? That's how long it took me to give up on that homeschooling essay and my search for a homeschooling philosophy. How long I've been trying to find a format for my memoir.
Seems I have a tendency to search for answers in structures outside of myself.
Seems like it takes me precisely a year and a half to figure out that I've had the answers inside myself all along.
That realization came to me last week. Same week I realized that I graduated from college almost thirty years ago.
Tick, tick, tick.
*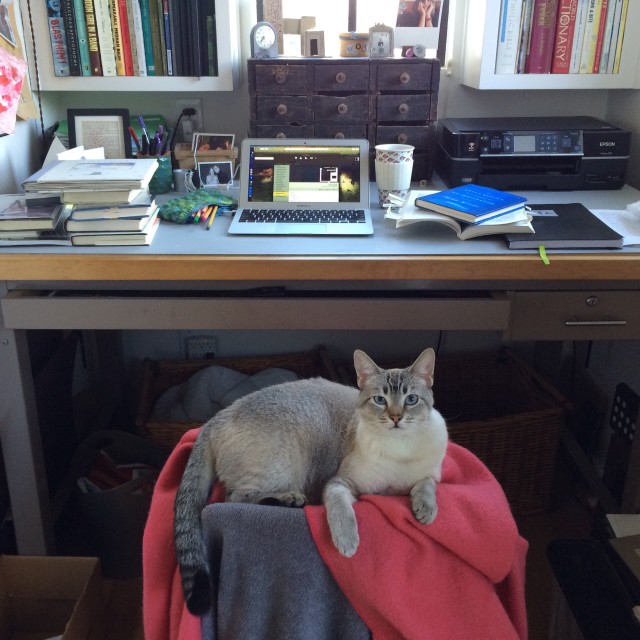 When I got back from the conference, I searched desperately online for a replacement for my cup. I wanted the same cup. The same cup. I'm dogged that way.
I am a very good researcher. I know how to search out philosophies of homeschooling and structures for memoirs and cups on the internet. I know how to pry deep into the pages of Google searches, like I'm wandering way back into the stacks of an old library.
I searched for hours. I could not find a replacement for the cup. Not even close.
*
I wrote six essays in my class with Lidia Yuknavitch earlier this year. Drafty essays, but essays very different from what I've been working on, which was exciting.
Lidia encouraged us to break free of traditional forms. And her memoir is a study of mixed-form memoir writing.
I am so slow. It took me such a long time to see the answers in front of me. Inside me.
This morning I opened the first chapter of my memoir draft for the first time in months. I'm using the tools Lidia gave us to break that chapter apart. To write it in a form unlike any form out there. I have to find my own form. To let my form be an absence of form.
Or rather, a form that is open to new possibilities, depending on the kid I'm writing about. Or the year, the day, the mood for that chapter.
*
After I submitted my last piece for Lidia's class, a classmate wrote in the same encouraging way she'd been doing for six weeks, "Love, love, LOVED this piece like a heartbeat…I just finished reading the NY Times' Modern Love column and read this next." And then she proceeded to tell me she wanted to read my piece in Modern Love.
I would never have considered sending my work to The New York Times. The likelihood of getting published in the Modern Love column is something like less than 1%.
Amy's Modern Love column came out almost two weeks after my classmate wrote to me, but I didn't hear about it until my friend Molly texted with the heartbreaking news of Amy's death, ten days later.
Amy was twenty days older than I am. And that's about how many days it took me to find Amy's column and to realize that you never know how much time you get and sometimes you need to quit the damn research and get your work out in the world.
Amy was all about serendipity and the hidden messages in numbers and letters. I think she would have appreciated the twenty-days thing.
I want to keep her in my beach bag. I don't want her to end.
I reworked my piece and submitted it to Modern Love's editor. The chances of it getting published there are tiny as the red flowers on my lost coffee cup but that's not the point.
*
The other day I bought a new coffee cup. It looks nothing like the old coffee cup. I decided that maybe there was a reason I lost that thing at a conference for women writers. At my old college, which I graduated from almost thirty years ago. I decided that what mattered wasn't so much the look of the thing, but that the new cup holds a full 16 ounces like my old one did. Most of the new double-walled ceramic travel mugs don't hold as much.
I like my full 16 ounces.
Turns out I'm sort of giddy about the shiny pearlescent look of this new cup. It's different. Hand-painted and modern-looking. A little odd. And it's tall and full-sized, ready to hold as much as I want to pour inside.