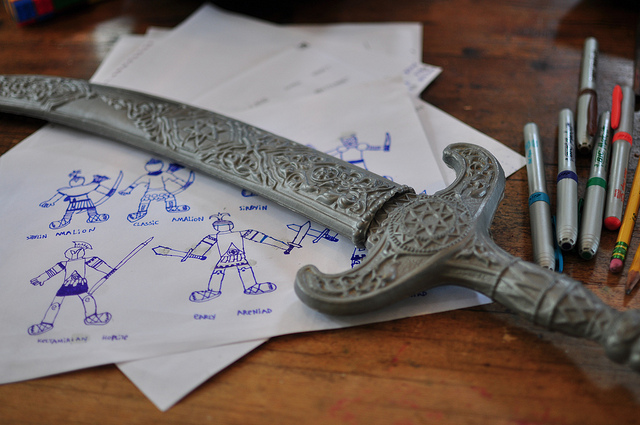 Back in those video games posts (part 1 and part 2), I wrote about how games, and popular culture in general, can engage kids with literacy. Boys, especially, who often don't find writing compelling. In classrooms, boys are often discouraged from writing about popular culture, especially if their work contains violence. (If you want to read more on this, check out the links in that second post.)
I thought I'd share parts of a story that Mr. T dictated, based on the computer game Age of Mythology, in case you fear that writing about gaming leads to inane regurgitation. (Although I'd argue that even inane regurgitation is better than no writing at all.)
My usual disclaimer: I worry a bit about sharing my kid's writing, simply because looking at the work of another child can tempt you to make comparisons with your own child. Don't do it! Every child is different; every situation is different. I will point out that this story was dictated, as much of Mr. T's writing is. T is nine, and many folks would find the fact that he still dictates disturbing. Not me! T does a good deal of shorter writing on his own these days, but he still likes the freedom of dictating when it comes to longer works. As a result, the kid has always taken pure delight in "writing." He's a natural storyteller, and he loves it when I transcribe his words. We've been doing it for years now, and I think it's helped him develop a quirky, vibrant voice as a writer. (If you want to explore dictation further, please visit my dictation project.)
Chapter One:  Sucked In

After a "healthy" lunch of quesadillas, I ran into the office to start playing my favorite video game, Age of Mythology.

"Only play for thirty minutes!" my mom yelled from across the house.

"Okay!" I yelled back. Looking back, I can see that I definitely didn't play for just thirty minutes.

I clicked the Zeus icon on my computer and Age of Mythology popped up. I clicked like a billion times before the videos at the beginning of the game stopped. It loaded and I clicked on single player and random map. Instead of the normal screen popping up that lets you choose what god you want, the screen filled with colors that started swirling to the center, then the computer hummed and beeped. This was not normal.

I turned around. The world started spinning. "A-a-a-h!" I yelled. And everything went black.
There were several things we talked about as T dictated this introduction. It was his idea to add quotes around healthy–he was trying to convey the sarcasm in his voice. (A barb at his mama, who prefers "healthy" lunches. Another barb comes in quick succession with the Only play for thirty minutes! line. This kid has my number.)
We talked about how the I can see that I definitely didn't play for just thirty minutes line is a form of foreshadowing. He knows what that term means from discussions we've had about audiobooks we've listened to together. I told T that I thought his line was a subtle, effective way to intrigue his readers.
When I came to, I was lying in a field of grass. I looked around. There were some trees—oak, I thought—and some deer stood around grazing.  I got up and turned around and saw a mound of shining rock. Wait, not rock—gold!

I ran to the gold and picked up handfuls of it. For the first time, questions started popping into my head. Where was I? How did I get here? And where the heck was my computer?!?

Suddenly I started hearing voices. People!  I ran to where the voices were coming from.  I tripped on a twig, and toppled down a steep hill. I hit my head at the bottom. "Ow!" I put my hand up and rubbed the sore spot.  I was in another valley and this time there were two armed ranks of soldiers charging at me!

Wait, not me—at each other!
As we transcribed these lines, I showed T how I'd used a dash in a few places, to translate his spoken lines properly. I wanted to make sure he was okay with the dashes, and I wanted him to understand why I'd used them. By the Wait, not me—at each other! line, T was suggesting I use a dash. Pretty good for a nine-year-old! He also encouraged me to italicize my computer for emphasis. Kids really can pick up a lot of grammar painlessly through dictation. They see punctuation as a useful tool–not as some pointless skill to memorize.
I scrambled up the hill and looked down on them.  These guys weren't like normal soldiers. They didn't wear camo and have guns. They had weapons like you see in medieval museums: spears, swords, hammers, axes, shields etc.  But they were different from each other. One side looked more heavily-armed, with gleaming armor. They also had swords, spears and shields. Weirdest of all, on their heads were Greek helmets, with the horsehair crest and all.

On the other side were guys that looked more like barbarians. They had clubs, axes and hammers. Hardly any of them had swords. Their armor was animal skins and some of them were even bare-backed. They looked like cavemen.

Each side also had its own horsemen and the guys that looked like Greeks even had archers.

They clashed together! I focused on two guys. The Greek guy had a spear and a shield, and the caveman dude had a giant hammer. The spearman stabbed the guy with the hammer, but instead of dropping down dead, the hammer-man just accepted the blow! He pounded the other guy in the head, but the spearman didn't seem to notice. Either these guys were all medieval supermen, or this was one of those renaissance fairs, and these were all rubber weapons.
And here we have the inevitable video game violence. Although the violence was rather humorous in its ineffectiveness–and that humor was intentional on T's part. I have to wonder, if he were in a classroom, would he be allowed to write this? If not, I think that would be a real shame; the violence isn't the focus of this piece, and there's all sorts of other good, literate stuff going on here. I admit that if T wanted to dictate graphically violent material, I'd tell him that I'd prefer not to write it. That's any transcriber's right, I think. There have been times when I've asked him to tone down the violence in a piece he planned to read at our writer's workshop. So he did. It wasn't an issue for him.
After a short battle, the hammer-man hit the spearman, and the spearman dropped to the ground. The hammer-man roared and charged forward. Another Greek guy came out to meet him. He had a short shield and sword and he seemed to glow. He stabbed the hammer-man and the hammer-man toppled down.

I looked at the battle unfolding.

"Retreat!" yelled another guy with a hammer, and the cavemen ran over a hill. The Greeks chased them. They came back shortly after, and it looked like they'd lost half their number.

The guy with the sword saw me, and he beckoned me down. I warily crept down the hill, holding a stick that I found, even though I figured it wouldn't do much against those spears. The guy with the sword spoke something to me in a strange language.

"Hello?" I said.

"You are English speaker," he said, in a heavily accented voice. "What is your name?"

"T—," I said. "Who are you?"

"Theseus is my name."

"You look familiar," I said.

"I do not believe we have met," he replied.

Suddenly a horn blast split through the afternoon light.

"Come," said Theseus. "Our enemies await."
T read this to the kids in our writer's workshop, and it was fun to get feedback both from kids who play Age of Mythology and kids who don't. As he'd dictated it, I'd reminded him that he might want to keep both types of reader in mind as he narrated. Even the kids who don't play the game understood that T's character (himself, naturally!) had been sucked into a video game. They understood that characters didn't immediately die after being struck with swords because they were video game characters. They didn't know that the glowing character was a hero, as the game-playing kids did, but they knew he was important. I thought T did a nice job of balancing the story for both audiences. And the kids gave him lots of enthusiastic feedback, and encouraged him to keep writing it.
Which brings us back to one of my essential beliefs about writing with kids: Let them write about their passions. Don't worry so much that they're writing about topics that you approve of; don't worry that they're working in a variety of genres. Writing textbooks want to convince you that kids need to write in a bunch of prescribed formats–persuasive, informational, fictional narrative, personal narrative… Persuasive, schmersuasive! Help your kids find formats that they enjoy, and they'll learn to think like writers. That's what matters. If they can do that, they'll be able to tackle any of those other formats when a real reason comes along for them to do so.
"All writing, no matter what genre, is a story. If you don't want to know what happens next, it's not worth reading."

–Barry Lane, But How Do You Teach Writing?
Help your kids find the stories that they want to tell. Even if they aren't stories, per se. Even if their inspiration comes from a video game.