Mr. T finished his Periodic Tale of Marvel Characters. I think it's rather glorious.
You can view the project close-up in this scrollable view on my Flickr page. It was a challenge to get all of those characters into one shot.
You may remember me writing about the project back in November, after T first started it, when I offered a few rules for homeschooling and life, the Marvel edition. There are more details on the origin of the project in that post. In a nutshell, T decided to see if he could find a Marvel comic character to go with each element abbreviation as it appears on the Periodic Table of Elements.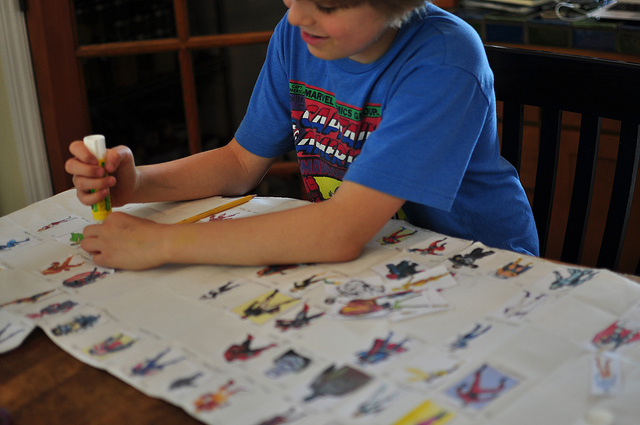 I wasn't sure he would be able to find 115 characters that fit all the abbreviations, but it turns out that there are more than 9,000 Marvel characters, which makes for a big ol' (dead) pool of superheroes and villains to choose from. An extensive index is on marvel.com  and another version is on this Wikipedia page. Not only did T find enough for his table, but he managed to find characters that fit the abbreviations without stretching the requirements. A few of my favorites: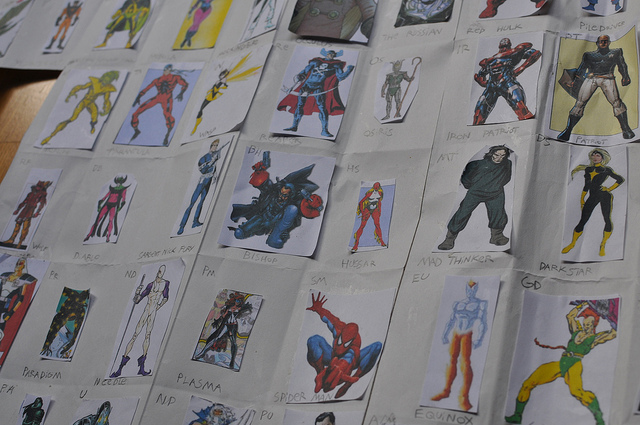 C (carbon) = Chemistro (of course!)
Th (thorium) = Thor!
Co (cobalt) = Cobalt Man!
Ra (radium) = Radioactive Man!
He (Helium) = Hawkeye (T's favorite character; cool that he made it to the top of the table)
Fe (iron)  = Iron Man (a witty one for a witty character)
Pb (lead)= The Leader (not really how you pronounce it, but brilliant and sneaky nonetheless)
Yb (ytterbium) = Byrrah (a pretty ingenious call for a nearly impossible abbreviation)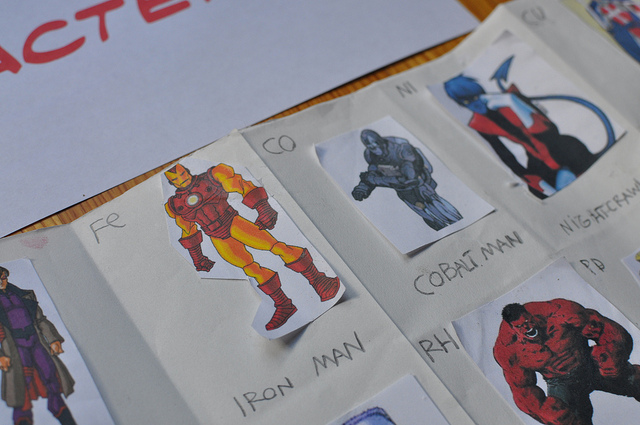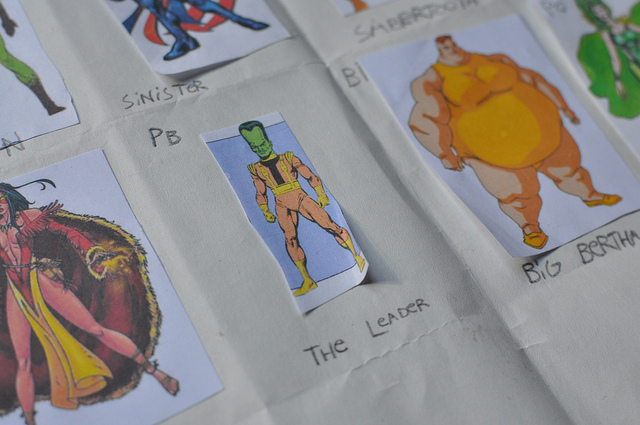 thoughts on a long-term project:
Don't rush it. Mr. T worked on this for months, off and on. He'd set it aside for weeks at a time. It seemed important that I let him work on it when he was interested, rather than pushing too much and making the project mine. (Not that it was easy. Read on.)
Setting short-term goals can help. Sometimes when it seemed that T was drowning in his research, and he'd never finish the project, we'd come up with a challenge for him: try to find five characters in fifteen minutes, say. I had to be careful, though, about intervening too much.
Having an audience for the finished project helps. T planned to share this at our annual homeschool history fair, which I've written about here and here. Knowing that he would be able to share it with others gave him the steam he needed to power through, particularly in the days before the fair. (This was only a portion of his display–another part focused on Marvel's history through trivia questions–but the Periodic Table got the most attention. It's so grand in scope, so visually compelling! People couldn't help but linger over it.)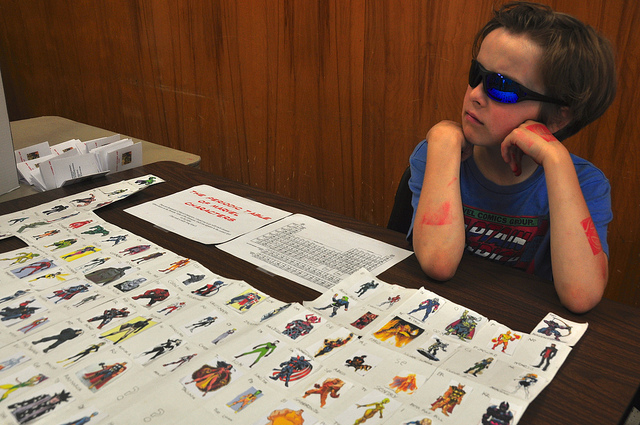 Wearing his Hawkeye glasses at the fair.
The physical product may not be the ultimate goal of the project.  Mr. T got seriously sucked into his research on this project. He insisted on reading entire biographies of the characters he chose. Then, sometimes, after reading a biography he'd decide it wasn't quite the character he was looking for, and he'd start all over. Half an hour might pass, and he'd only have one new character for his list. Buddy! I'd say, exasperated, stop reading and get a few more characters on your list! Then I would remember that this was his project. And while the Periodic Table was part of it, I'd say that the real project for Mr. T was the opportunity to cannonball into the great pool of Marvel characters and to swim around. Which leads to my next point.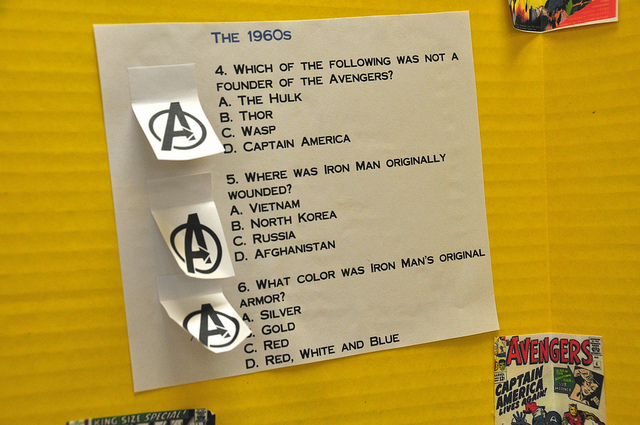 Kids may learn more than you'd imagine on first glance. As I mentioned in the original post about this project, I initially thought that T's project might be a bit shallow. After all, he was just searching for comic characters based on the letters in their names, and gluing their images to a chart. There wasn't much analysis. Wouldn't you know, it was all that "unproductive" research that made the project a real learning experience. I already wrote about how much T learned about actual history as he explored these characters. That was just the beginning. He began to notice how certain characters were related to world mythologies. He recognized things shifting over time: how the roles of women have changed, how tastes in comics have changed, how comic characters have become more flawed and human. The whole project was a crash course in how to build interesting characters, comic or otherwise. T learned what makes a villain compelling, and what makes a hero boring. He learned a lot about art and design, studying how the look of the characters and the art changed over time.
He pretty much became a Marvel expert–quiz the kid!–and becoming an expert in one area teaches you how to become an expert in others. That may have been the most vital takeaway from the project. And to think that it came from digging into comics.
What are your kids' wacky areas of expertise?
(My Become a Writer Mentor to your Child series will continue. Promise.)