So, what do you do when you homeschool and you have a kid who doesn't take to projects? Who loves to read and research and talk, but has utterly no interest in taking those ideas and making a model, or painting a picture, or crafting a handmade book?
When you have a kid whose interests run from video games to role-playing games to comics and back to video games (with maps, WWII and string theory thrown in for good measure)?
A kid who could spend all afternoon researching Top Ten lists on the Internet—Top Ten Video Game Clichés, Top Ten Influential Communist Leaders, Top Ten Simpsons Episodes, Top Ten Ways the World Might End in the Next 100 Years—and then wants to regale you with all of those nuggets, naturally, until your find yourself pondering the top ten ways your brain might explode?
I have one word for you, my friends, just one word: infographics.
I'd never heard much about infographics until a few years ago. Those of you who've been hanging around these parts for a while will remember how Mr. T made a few graphs about characters from Marvel and The Iliad, and we made an online connection with a visual designer, which led to an exciting interaction with the former Data Artist from the New York Times. Suddenly I realized that infographics and data artists are the hip, newfangled thing. (National Geographic agrees. T was cutting up magazines, making a collage for me for Christmas, when he found that his new data artist friend, Jer Thorp, had won an Emerging Explorers award. What Jer does is terabytes more complex than making simple infographics; his work is awe-inspiring. Check it out. See? Hip and newfangled.)
An infographic (for those of you still oldfangled) is simply a visual representation of data or information. Infographics convey complex ideas in an easily understandable way. The best make information compelling using the tools of a storyteller, and they do so with beautiful design. Basically, infographics attempt to take a bit of information from the Internet Overwhelm, and present it in a compelling way that the viewer can't ignore. Do a Google image search for infographics for a sampling.
Anyway, Mr. T was searching for a topic to explore for our homeschool group's Science and Math Fair (an event modeled on our long-running history fair.) He toyed with the idea of researching the possibility of alien life, but the research turned out far less thrilling than his own fevered ideas about alien life.
Meanwhile, he'd been playing an online game called League of Legends, and he kept telling me how much he liked it, and how popular it is. It didn't really sink in until he showed me this infographic.  (Click to enlarge the image if you're into this sort of thing.) Turns out that twelve million people play the game each day. They play for over a BILLION hours each month.
I guess he was right about this game being slightly popular.
We talked about how fun it might be to put those numbers into perspective. And with that T decided to make his own infographics for the fair, to convince people that this game he loves is worth their attention.
He took data from the published infographic and tried to relate it to other data that might be more understandable to people who aren't video game zealots like he is. This involved imagination and research. A few samples of what he came up with: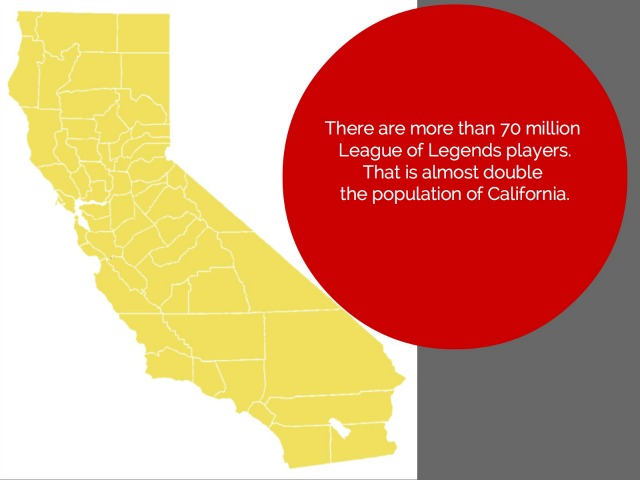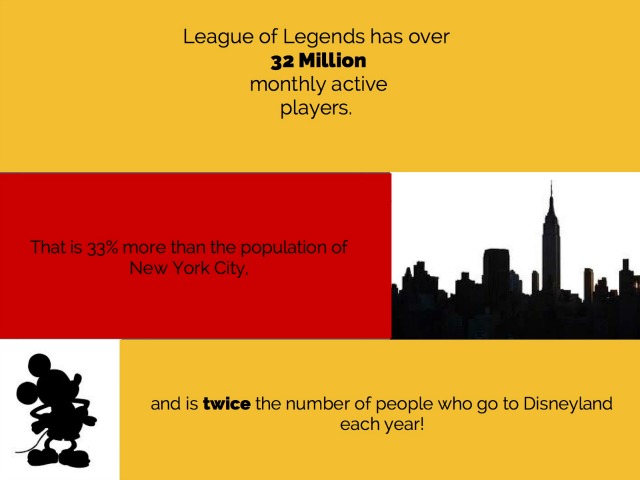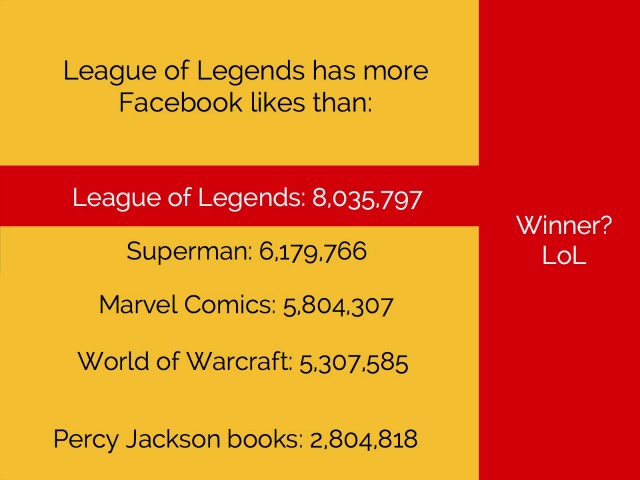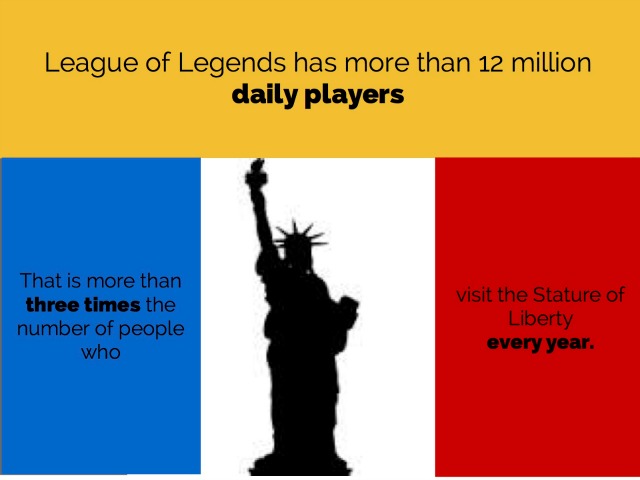 This is my favorite. Just read it, pause and consider.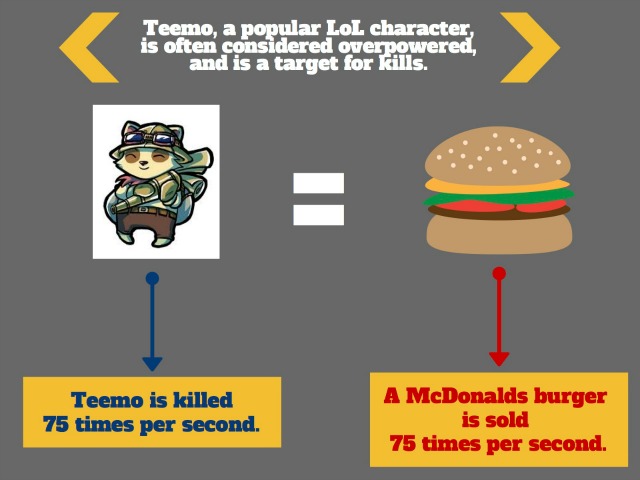 Did you get that? This single character (there are over 100 in the game) is killed as often as a burger is sold by McDonald's worldwide. I didn't think anything could happen as often as a McDonald's burger is sold, except maybe breathing. The fun part about this graphic is that T made the connection on his own. He read that Teemo is killed 75 times a second, and then remembered having read elsewhere that 75 McDonald's burgers are sold per second. (The boy is a fact-fiend.) Hard not to read that without muttering wow.
And that was the fun part of T's display at the fair. It made lots of people mutter wow. Particularly the adults–those kind homeschooling parents who look at all of the displays with interest and delight. They began politely reading T's display, and then you'd see their eyes widen. Really? they'd say. Wow.
And that is precisely what an infographic is designed to do. Did T get a kick out of wowing people? Check out his expression in the photo at the top of this post.
If you're curious, T used Canva to make these infographics. Canva is a newish, free, online design platform for people who don't have access to expensive programs like Photoshop. It was a little unwieldy for a kid to use, but T managed with lots of help from me. It's a pretty neat platform for this sort of thing, with lots of fun fonts and graphics to choose from, and that free thing going for it.
It's funny. If it had been up to me, T might have had a snazzy model or experiment for the fair, on some predictable math-y or science-y topic. But that's not his thing so we had to dig into his world to find something for him to present. And where did that lead us? To the sort of work that is hip and newfangled and probably much more practical to T's future than a tired model of a molecule would be.
He wows me all the time.