We came back together a year later, not far from where we'd gathered before. The six of us, in the second residency of our year-long program. We found ourselves in a grand family home this time, rather than on a farm, on the Boquet River in Elizabethtown, far upstate New York. Tall columns out front, two sets of stairwells, just the right number of bedrooms. Each with a desk. Mine faced a window, with a view to the Adirondacks, showing off like the Adirondacks do in October. That part was the same.
* * *
We circled each night to hear each other's work. In a sun room with white couches and crickets we dubbed The Florida Room; in a snug library with blue shelves and a fireplace that J. lit. In some ways I don't know the women in my cohort well–we've only had two weeks together, online meetings each month, many emails–but I do know them. Two of us are writing memoir, two write fiction and one is writing a fantastic work of autofiction that proves how little these genre distinctions matter. They're all story, and as we gathered each night, hearing bits of each other's work, it became clear how much our stories have bound us to each other.
Our work is so different, but similar themes and images are emerging. Art. Pendants. Parents. Photographs. Graveyards.
The house where we stayed was wrapped in a white picket fence that went on and on. A graveyard on the other side. I wandered through it on my morning walk.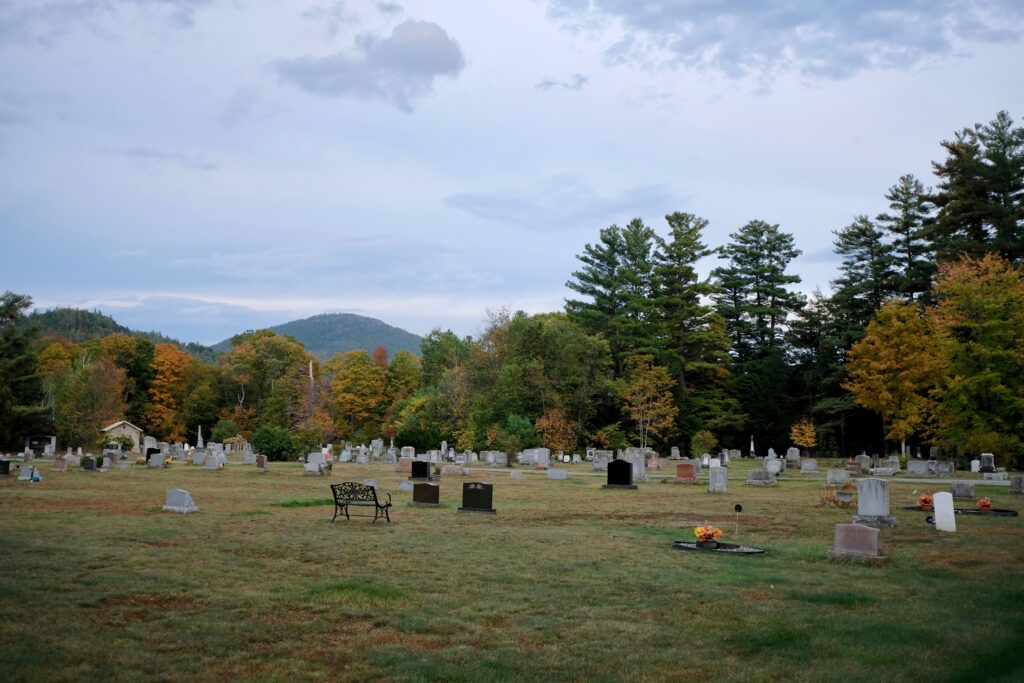 * * *
One important idea I learned from Kate last year: scenes and images will come while drafting if we don't think too hard, and many of those scenes and images come from the unconscious. It's not for us to polish and perfect those scenes and images right away–it's better to let them sit, let their meanings reveal themselves. Still, Kate knows the satisfaction of early polishing. "I'm definitely the lapidary," she told us last year. (Or did she say lapidarian? Lapidariast? Regardless, I had to look it up!) "But until you have a full draft of your project, you have no business perfecting sentences."
Last year I did not quite believe her.
* * *
I recently listened to a revision panel from the Tin House Summer Workshop on the excellent Between the Covers podcast. In it, R.O. Kwon tells how it took ten years to write her novel The Incendiaries, and how she spent the first two writing and rewriting the first twenty pages. "I had this idea that I needed a perfect foundation," she says, using the building of a house as a metaphor. She eventually discovered that this is not a good idea–or a good metaphor. It's impossible to build a foundation if you have no idea what the house is going to look like.
After two years, she threw her work away.
I've been working at my memoir for four (!) years now. I worked on other essays too, but for the first three years I mostly kept rewriting the first three chapters, trying to get the voice and the style right. Starting again. And again. And again.
Later, Kwon developed several techniques to propel her more quickly through drafts–typewriter apps for her computer, white letters that can't be read after she types them–which she shares in her own fascinating interview on Between the Covers.
* * *
Each morning we gathered around the dining table for our seminar. Kate scattered old postcards for Birds & Muses, her literary services, across the table, coasters for our coffee and tea. The topic of this residency: revision. Kate urged us to go back to our drafts and interrogate them. To look for hot spots: words, scenes, images, ideas. She urged us, especially, to consider our characters' desires throughout our drafts, and the obstacles to those desires. To track our characters' evolution: micro-movement within chapters, bigger change over the course of the book.
I thought about this, sitting at my desk, gazing out at green, gold, orange, interrogating my draft. I'm writing memoir, which makes me my own main character. Of course I know my own desires. Right? I flipped through each drafted chapter, which I'd printed out and crammed into my carry-on. Usually I write with a question in mind, something I'm trying to figure out. But considering each chapter, I recognized a desire bubbling beneath the chapter's question. Like: I want to feel brave enough to do this homeschooling thing. Or: I want to feel like I know what I'm doing. Had I allowed those desires to propel the narrative? Well, no. It wasn't what I was thinking about as I wrote.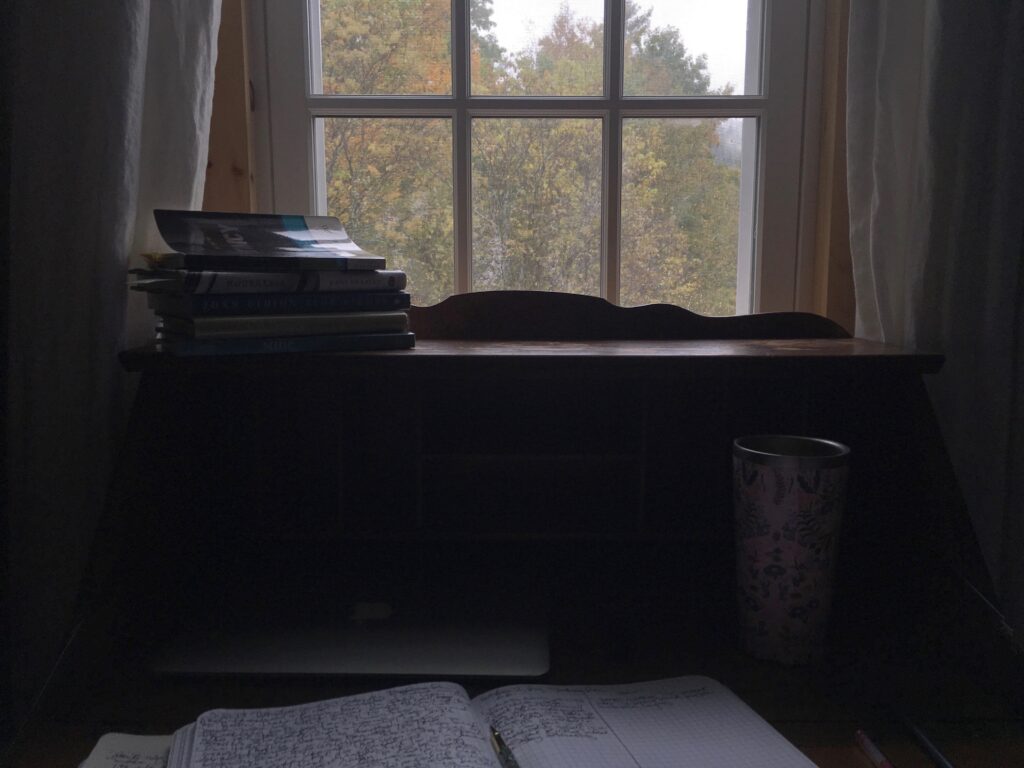 * * *
Kate has the best books–I loved wandering the shelves of her house last year. She always brings a few big baskets to our residencies, puts them out for us to peruse. This year she recommended a few advanced texts, with helpful sections on revision. Deepening Fiction by Sarah Stone and Ron Nyren (published later in a more affordable version that doesn't contain anthologized stories, under the title The Longman Guide to Intermediate and Advanced Fiction Writing.) The Making of a Story by Alice LaPlante. The Artful Edit by Susan Bell.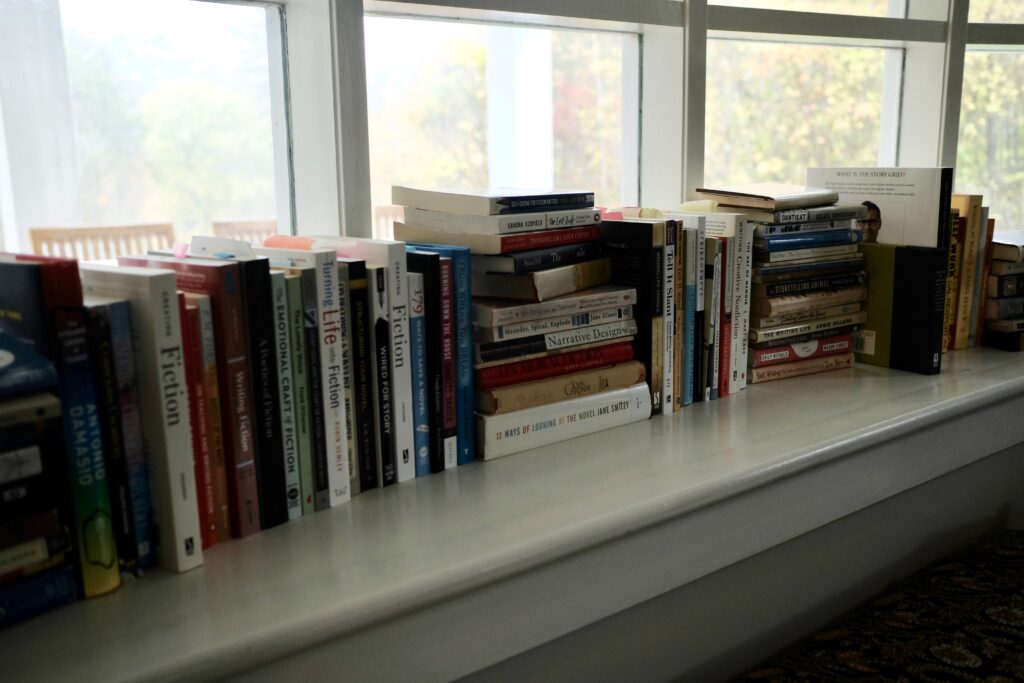 Each book lists specific tools and exercises for revising. For revising overall structure. For revising character, setting, dialogue, the passage of time.
I've always revised intuitively. I put drafts aside for months, sometimes years. (I've been going back to an essay about a trip to Spain for fifteen years now.) I've never had a plan for revising–I just dig into what seems to need fixing. I move around sections, rewrite parts, smooth over lines so they please me.
This was a new way of looking at the process.
* * *
One morning during seminar, Kate had us write a one-page summary of our books. Basically, the text that might appear on the back jacket. We only had ten minutes and I tried: [Working title] is the story of what happened when a former public school teacher followed her gut and didn't send her oldest child to kindergarten… My cohort listened to my description and objected. They didn't think I'd captured the larger essence of what I've been writing about. They wanted more. They tossed out phrases: …the evolution of her family… and …the surprising life that unfolded… and …as she applied her formidable intellect and heart to the process… (I adore you, G.!)
I scribbled the phrases down.
A year ago these women knew little about homeschooling, beyond the typical cliches–well, other than M., who, coincidentally, also homeschooled her son. Now they've become advocates for my work and the notion of homeschooling as a radical act. I cherish them for it. One morning at the oval table in the kitchen, three of them rallied over oatmeal, after they'd heard me describe my project to an editor, an agent, a publisher. They'd observed what the word homeschooling can set off in a listener. A perceived narrowing that doesn't justify the expansive life I'm writing about. They brainstormed ways for me to expand my pitch, beyond I'm writing a homeschooling memoir.
They believe in me. They want people to listen without their eyes glazing over.
* * *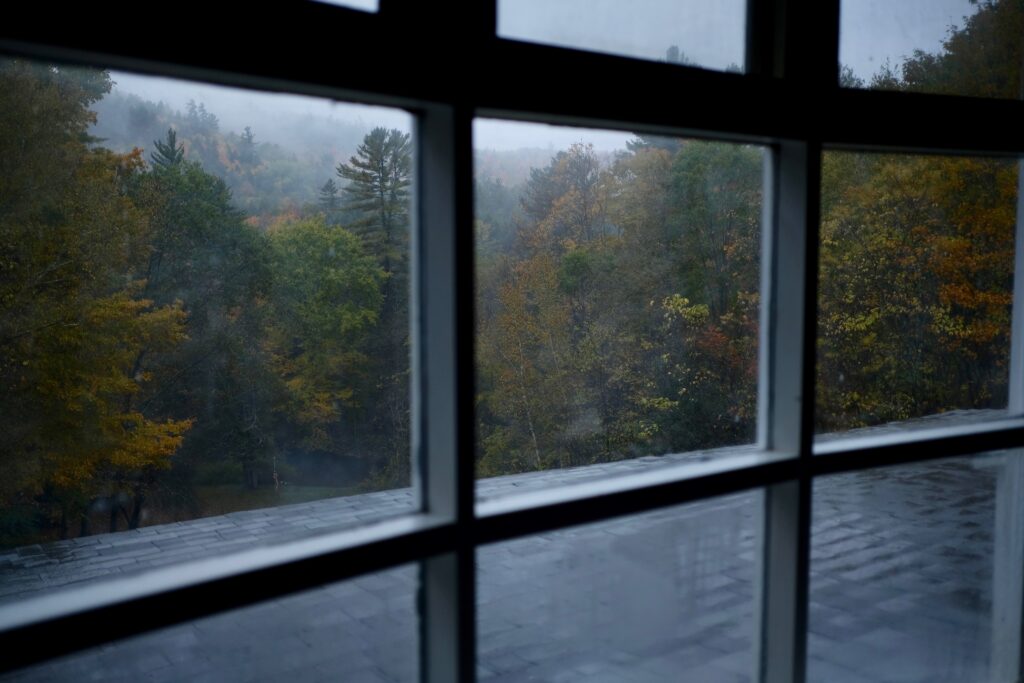 One part of the story that my cohort seems to appreciate is how our homeschooling life had as much to do with my own education, my own evolution, as it did with the kids' learning.
One of the hardest parts of this thing I call homeschooling my MFA is that I have no graduation, no master's thesis to assure me that I've arrived at some level of achievement. That I'm good enough.
A lot of homeschoolers come up against this feeling, especially as they enter their teens. My own kids did. They began to wonder if they'd done enough, if they'd measure up to kids in school. As their mother–and a former teacher–I wanted to argue that their concerns were unfounded, that they were so much further along than they believed themselves to be.
But I understood their worries.
I understand their worries.
One reason I've kept writing and rewriting chapters is that I can't bear to see my work in a rough, amateur state. I keep polishing to push down my own worry: I'm still not good enough.
* * *
My body stayed on west coast time. Each night I'd stay up late, reading. There were some commonalities in the texts Kate shared. Each mentioned the drawbacks of what can happen in an MFA-style workshop. (Bich Minh Nguyen wrote an excellent overview of this for Lit Hub, including her method for running workshops differently–a method very similar to the way Kate works with us.)
The trouble with traditional workshops, Kate said, is that they give you the sense that others have the answers and you don't. "No," she told us. "The answers are inside you."
Another commonality: all three texts included early drafts of professional writers, alongside completed versions of their work. Three drafts of the opening of ZZ Packer's Drinking Coffee Elsewhere. Different versions of Raymond Carver's work. Deep dives into Fitzgerald's Gatsby drafts in The Artful Edit.
Something opened up in me, studying these writers' early work. I began to see how much revision happens in later drafts. How much artistry happens in revision.
I mean, I knew this but I suppose I didn't really know it.
I thought about the revision tools I was gleaning from these books.
I thought about what Kate said the year before: But until you have a full draft of your project, you have no business perfecting sentences.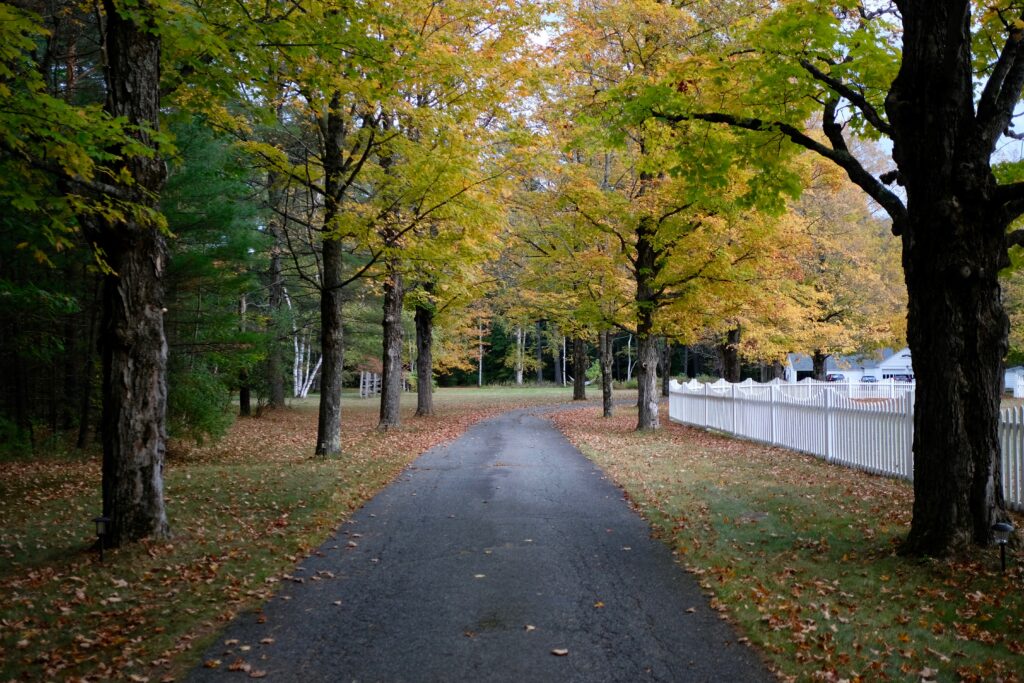 * * *
Some of my favorite times during the residency were taking the back set of stairs down to the kitchen for a cup of tea, and finding one of the the other women there. The conversations we'd have, waiting for water to boil.
G. and I talked about intermittent fasting and nasty chemicals in dish soap. Also about how much pressure I put on my early drafts. How I work so hard to polish them, to find their structures, their underlying metaphors.
Someday you'll be able to read G.'s book, and you'll discover her astonishing voice on the page. The fluidity of her mind. Her inventiveness.
I taught her to use Scrivener; she gave me useful advice. Like this: "Try to write from your right brain only. Before putting logic to it."
* * *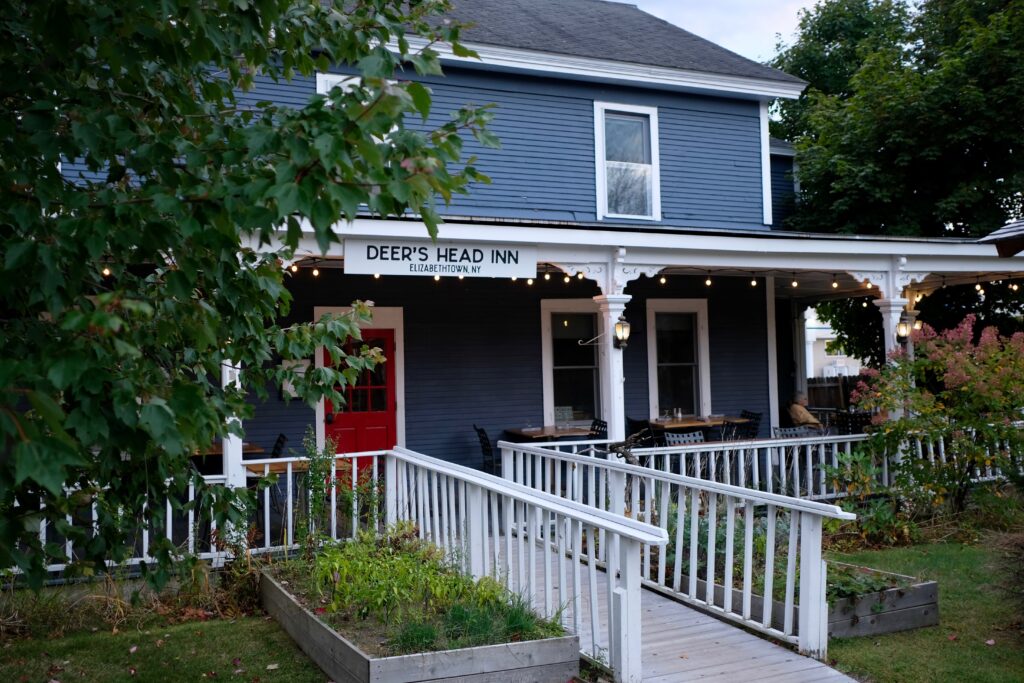 Each morning I walked off the property and around Elizabethtown. There were no goats like last year; I walked through a town rather than down a country road. Passed the thrift store, the town hall, The Deer's Head Inn, its door the same red as the trees across the street.
Those red trees. Just like last year.
During this year with Kate I had a goal of drafting a chapter each month. The first months were easier–I was simply revising those same chapters I've been writing again and again and again. Later chapters, which I was drafting fresh, were harder–but I managed to crank through rough versions of them. Then my dad was hospitalized in May and my progress slowed. Still, I managed to get through nine of the twenty chapters I'm planning before we met for our second residency.
My draft is a mess. Nowhere near the book I'm envisioning it to be. If an agent or editor asked for a chapter I'd have nothing to give them.
Walking toward the Adirondacks, I thought about the early drafts of those authors in the books. I thought about the revision tools I was adding to my belt. My draft began to look different in my mind.
Back on the property, I took photos of an old apple tree. Not the tree from last year, but laden like it all the same.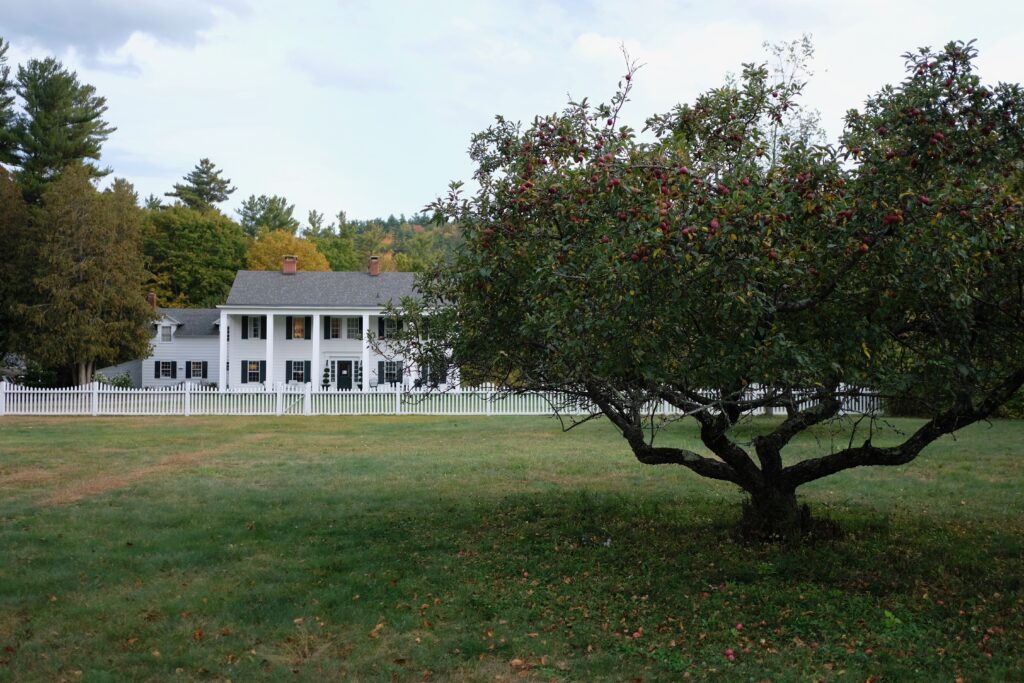 * * *

We each had an evening to give a presentation on our project, to convey what it means to us. Each night we circled a new speaker, leaning in and listening. Laughing. Sometimes blinking back tears. Last year we were just getting to know each other. Now we're invested. We want each other's books to be out in the world.
G. says we've become believing eyes for one another.
On my turn, the last night, I explained my book's structure and what I've learned about my love for white space. I summarized each drafted chapter, showed a photo, passed around its first page. As the year went on, those draft pages became increasingly marked up with notes during my monthly video conferences with Kate. (I posted a photo of one of those pages on Instagram and people went nuts for it. These days we're all drawn to analog.) As the year went on, I began to understand what that first draft is for. It gives Kate and me something to talk about. It's not meant to be a polished, lovely thing–it's simply a place to poke about for meaning.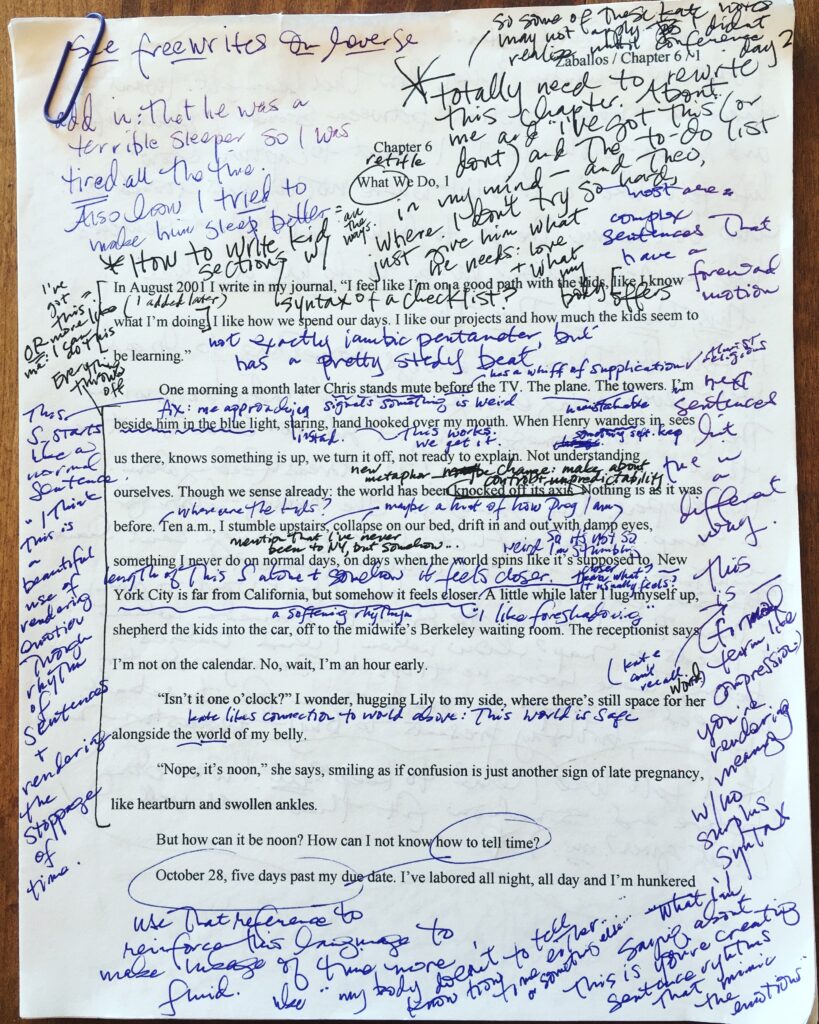 * * *

One morning our cohort gathered outside around a fire pit for a smudging ceremony. It sounds new-agey and maybe it was, but something happened when we closed our eyes. Kate circled each of us with a bundle of smoking sage while we considered what we wanted to be cleansed of, what we wanted to let go. It was cloudy that morning but the sun kept nudging through, warm on my face. There were birds.
Gather in a circle and any space can become sacred.
I knew right off what I wanted to smudge away. That sense that I'm still not good enough.
* * *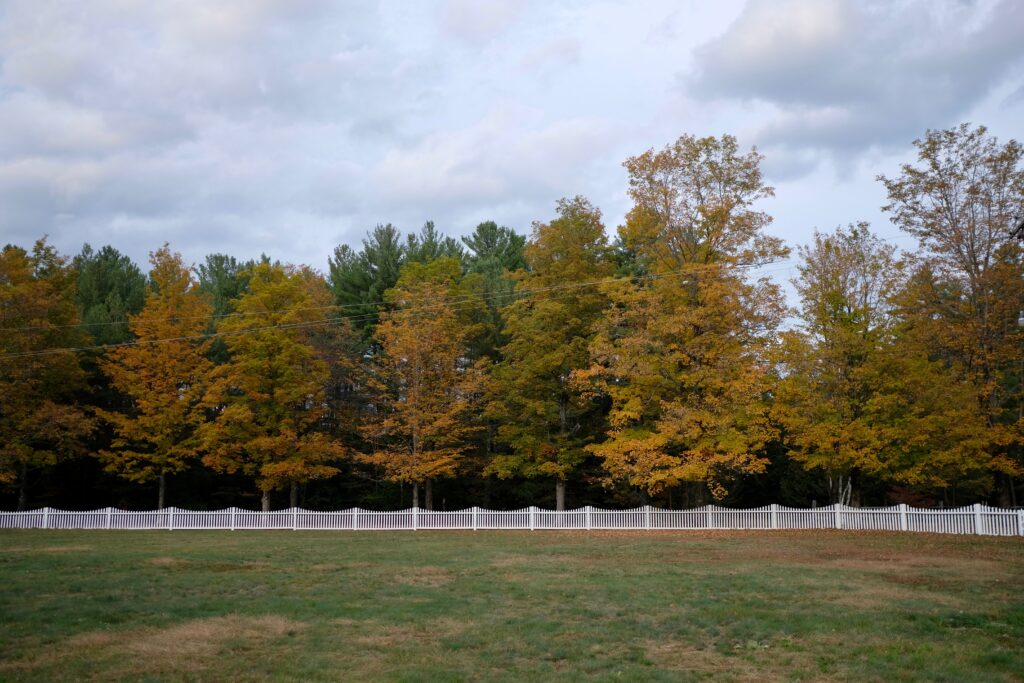 I left the deep fall of upstate New York and flew back to the dry October heat of California. To fires and power outages. Completely disconcerting, like going backward in time.
I have a plan for this next year. I'll just go backward for a while. Back to those early chapters to revise once more. I want to prove to myself that I'm ready. Good enough. That I have the tools to make the work what I want it to be.
I won't stay there for long, though. I want to get back to drafting a chapter each month. I'll have to work fast, without stopping, without polishing. Keep my inner lapidary at bay. I'm thinking about drafting by hand–something I've never done, but I like the idea of pushing forward. Staying in my right brain. Not having the screen's easy access to re-reading and rewriting. I just need to get the ideas down, even if the work is messy, so amateur that it pains me.
It's a draft. I see it differently now.